Write moment in Warsaw
RabindranathTagore's anthology released in Polish
Surender Bhutani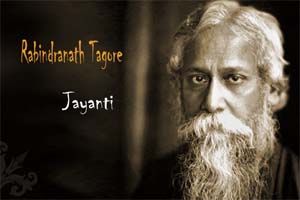 Comprising poetry, short stories and famous play Post Office, the Tagore anthology was translated by Warsaw University's Bengali Department
A Polish anthology of Nobel laureate Rabrindranath Tagore, translated from the original Bengali instead of English, was released in Warsaw recently by the Indian Ambassador to Poland. "I speak more than 10 languages. In none of them can I find words to describe the genius of Gurudev Rabindranath Tagore, an outstanding son of India and eminent citizen of the world. His powerful writings, paintings and music have inspired generations across the globe," said Ambassador Deepak Vohra, while releasing the book last weekend.
Comprising poetry, short stories, essays, paintings, letters and the famous play Post Office, the material for the anthology was selected and translated by Warsaw University's Bengali Department, led by Elisabeth Walter, who herself was a student of the Bangla language and literature at Santiniketan.
"It is amazing that the teaching staff has done such a laborious work in a such a short time. They have brought India and Poland much closer to each other than ever before and that, too, when we are celebrating Tagore's 150th birth anniversary. If one wants to understand India better one can select two persons, Gandhi and Tagore. If Gandhi was a political idealist, Tagore is a permanent idealist in world literature," said J.J. Singh, president of the Indo-Polish Chamber of Commerce and Industry (IPCCI).
The anthology was financed by the Chamber.
Nobel Laureate Amartya Sen has written a special introduction for the anthology.
The teaching of Bengali language and literature started at Warsaw University in the 1950s, when Hiramon Ghoshal came to Poland, and he bears credit for nurturing a number of eminent scholars like Walter, Barbara Grabowska, Bozena Sliwczynska, Weronika Rokicka and many others in the last six decades.
Two years ago, Walter had brought out the first Bangla grammar book in Polish. Her translation of Post Office remains a favourite for the young actors whenever they want to enact an Indian play. The Polish National TV has shown this play several times in the past two decades.
"Sky is the limit to refine one's mind with the beauty of Bangla literature. But we have limited resources and limited opportunities to cope with the recent trends in Bangla literature. Though there is a big demand to learn Bangla from the student community, we admit students only once in three years, as we have to compete with Tamil and Sanskrit for attracting the students. Hindi, of course, has more demand as they admit students every year," Walter said.
Though the Indian Council for Cultural Relations (ICCR) funds two visiting professors in Hindi and Tamil, it has never funded any visiting professorship in Bengali language and literature.
Warsaw University is the only Polish university where there is a provision to learn the Bangla language and literature. Apart from Tagore, many other outstanding Bengali writers have been translated into Polish over the years. — IANS