Living out a legacy
Globetrotting Satvik Veena maestro Salil Bhatt talks of his experiments and evolution
S. D. Sharma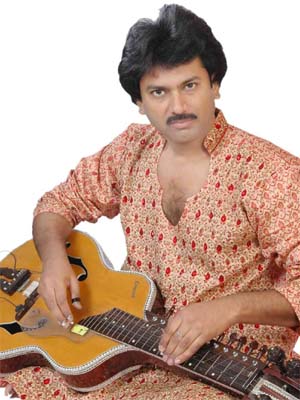 Hailed as the young face of Indian classical music and decorated with titles like Global Indian and the Prince of Ragas and winner of a host of national and international awards, Satvik Veena maestro Salil Bhatt (40) has emerged as the foremost proponent of the Indian heritage among the Gen Next of classical music.
Representing the 10th generation of the 500-year-old Jaipur-origin Bhatt ancestry of Hindustani classical music, the exuberant and indomitable Salil Bhatt is all poised to maintain and replicate the glory achieved by his illustrious guru and father, Padmashri Pt Vishwa Mohan Bhatt, winner of the 1994 Grammy award.
The achievements of Salil from very young age speak highly of his versatile genius, his competitive calibre and brilliance, which are indeed a testimony to his bright future as also that of Indian music.
In Chandigarh recently, for a live concert on the invitation of the Pracheen Kala Kendra, Salil Bhatt shared his experiences, experiments and evolution from an introvert child prodigy to a legend in the making.
Blessed to be the son of the world-renowned Pt Vishwamohan Bhatt, your stardom in music was eventually assured? Comment.
Many blissfully ignorant persons think so, but initially things were the other way round for me. My father and guru is a strict disciplinarian and I was so scared that I used to watch him in rigorous riyaz from behind the curtains before daring to face him for my lessons. I remained bereft of his full attention since it was some 35 years ago, when he himself was practising hard to come up to the expectations of his revered guru and sitar wizard, Pandit Ravi Shankar.
Our 44-room huge joint family mansion at Jaipur had more stalwarts like my uncles sitarist Shashi Mohan Bhatt, violinist Ravi Mohan Bhatt, violinist Mohinder Bhatt, Manju Mehta and Krishan Mohan. I was the youngest to be commanded by them and they gave me tough musical exercises beyond my conceptual grasp, which made me an introvert but hard worker.
It proved to be a blessing in disguise, which you will observe in my speed with slide and prix embellished with melody.
Anyways, people expect at least the same level of brilliance, if not better, from the progeny of any celebrity artiste, which keeps me under pressure, too.
Vocal music is endowed with more emotional appeal compared to instrumental music. Do you agree?
It is an old presumption and now the scenario is completely changed in view of the language barrier, when the music is there to scrap the boundaries of caste, creed, colour and country. As our classical vocal compositions are woven with texts borrowed from Indian mythology and only the few familiar with it may relish it, even in the Indian milieu. Instrumental music has a far wider reach, especially for the foreign audience, and as a result of its popularity, there are offers galore for fusion and jugalbandi between top musical genres and instruments. My albums Slide to Freedom (Part I and II), Out of the Shadows or Mumbai to Munich and others, in collaboration with different genres, have won acclaim and even a pre-Grammy nomination.
Your memorable live concerts abroad?
In fact, all concerts are important for me but my first-ever performance in Birmingham, when I was just 20 years' old, went off to a great finish from a very nervous and mundane start. I never looked back thereafter. My latest concert in Karachi for the Tehzeeb foundation, too, was significant, as like the Indian audience, the people there really relished the nuances of Hindustani music and honoured my father-guru with the Tehzeeb foundation award.
What does the audience expect of an iconic performer and your future plans?
Art lovers, especially abroad, relish any performance where the artiste is lost in his creative musical expression and the audience is lost in the creation of the musician. Besides, in all genres of musical art, people expect you to be an erudite and perfect performer, capable of explaining the fundamental and finer nuances of the recital, raga exposition, rhythmic patterns and sequences for the better grasp and appreciation of the audience. I have performed extensively at all venues in the world during the 25 years of my career and God willing, I have resolved to disseminate the rich grandeur of Indian classical music in every major city of the world.