food talk
The curious case of kakari
Kakari ki subzi, which takes no time to rustle up, is a diet watcher's dream come true
Pushpesh Pant
LONG years ago, when on a visit to Lucknow we were, as children, greatly amused to hear the call of an old vegetable vendor, who would herald the onset of summer with a romantic ditty advertising the appearance of slender, tender cucumbers — "Le lo! Le lo! Laila ki oongliyaan hain, Majnu ki pasliyaan hain! Nayaab kakariyaan hain!."
Truth be told, we have always fancied kheera — the more rotund and robust cucumber but then we have been accused of pahari parochialism. In our native hill of Uttarakhand, folk songs retell the tragic tales of local lovers and the kakari reminding romantically inclined of the famous star-crossed couple are rare. They are suspected of bitterness and maligned for insipid taste. Hill folk don't have to cope with heat stroke and kakaris refreshing re-hydrating qualities are easily overlooked. We have seldom been tempted to join the queue to grab one slit along the length and sprinkled with namak mirch and a sprinkling of kagazi nimbu ka ras. During the navaratra, a friend's wife treated us to a satvik kakari ki subzi with hot phulka and we realised what we have been missing.
Not only we didn't lehsun-pyaaz but we also loved the piquant achari masala and tamatar ki tari that recalled the joys of a homemade sauce that is paired with pasta for the discerning diners. Do we have to add that it is also a healthy diet watcher's dream come true and takes no time to rustle up?
This is going to be our staple as the mercury shoots up. Go ahead and enjoy and God bless all the lovers even those whose fingers are stubby and whose ribs are invisible through layers of fat.
Kakari ki subzi
Ingredients
Cucumbers kakriyaan (washed and lightly scraped) 250 g
Tomatoes (large, grated or pureed) two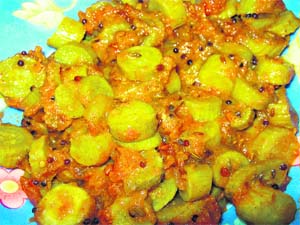 Ginger paste 1 tsp
Sugar 1 tsp
Coriander ½ tsp
Cumin powders ½ tsp
Rai ½ tsp
Methi seeds ½ tsp
Garam masala ½ tsp
Black rock salt ¼ tsp
Turmeric powder ¼ tsp
Oil 1 tbsp
A large pinch of cumin seeds
A small pinch of hing
Salt to taste
Method
Cut the kakari into not too-thin round slices. Heat oil in a non-stick pan. When hot, add cumin seeds. When these begin to crackle, add the ginger paste, stir briskly on high heat for 15 seconds. Then pour the tomato puree. Now put the powdered spices, along with sugar, reduce heat to medium low and fry till the fat leaves the sides. Add the kakari and stir to mix well. Cook for a minute, cover and turn off the flame. Let it soften a bit in its own steam. Adjust seasoning and enjoy hot or cold.