Globoscope
Delightful animation
Carlos Saldanhaís Rio enters the psyche of our feathered friends and also the ambience of that touristy place
Ervell E. Menezes

MY favourite animation films are the ones that deal with the animal kingdom like The Lion King or The Little Mermaid. They seem to gel better than humans. Not surprisingly, Rio comes in the same category as it enters the psyche of our feathered friends and also the ambience of that touristy place. With director Carlos Saldanha, it isnít surprising that he has chosen that carnival city which he knows like the back of his hand. But he also has a cute little story that allows him to scan every little nook and cranny of that quaint place.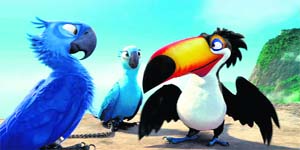 Thereís scarcely a dull moment during the film
To start with, we have a macaw bird named Blu (voice of Jesse Eisenberg), who been brought from Rio to Minnesota when he was just a fledgling. He has been raised by Linda (Leslie Mann). Both are grown-ups now but are inseparable, doing everything together, like brushing their teeth to having coffee together. Blu has not known any other company.
So his world is turned upside down and inside out when an ornithologist turns up and wants him to be mated with the last remaining blue macaw. So Blu has to travel back to Rio for the event, which is hilariously handled. The lady love is cute Jewel (Anne Hathaway) but she is more intent on escaping from her cage than indulging in any foreplay. It is an amusing situation and when a man, who smuggles exotic birds, comes on the scene, it creates chaos.
You have all sorts of animals running riot with the humans to add company. The script is concise and to the point, supported by action and humour. Thereís scarcely a dull moment as one breezes through the simple plot before getting to the happy ending. By then, one is so attached to various characters that leaving them could well leave a lump in the throat and a tear in the eye. But thatís life as they say but it is great while it lasts. So, donít hesitate to go to Rio. That too on the double.