Risqué remix
BOLLYWOOD BATTLES WITH THE TREND OF LEWD LYRICS AND REMIXING OF HIT SONGS
Jyothi Venkatesh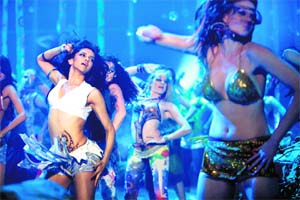 Starring Deepika Padukone, the latest Dum Maaro Dum track is also a remix of a Zeenat Aman number, from 1971's hit Hare Rama Hare Krishna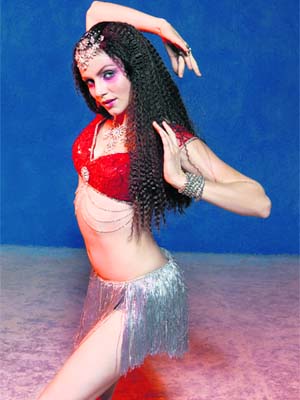 Laila o Laila of Chalo Dilli, featuring Yana Gupta, is based on Zeenat Aman's Qurbani song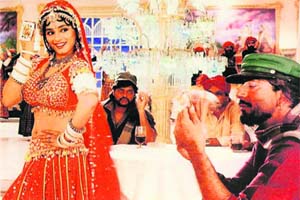 The choli ke peechhe song from Khalnayak had sparked off a debate about bawdy songs some years back

THE current trend of bold and lewd lyrics in flicks like Dum Maaro Dum and Chalo Dilli is not something new to Bollywood. Nevertheless, the latest spate of risqué lyrics like Pyaar Do Pyaar Lo (Thank You), Dum Maaro Dum (DMD), Laila o Laila (Chalo Dilli) and Saali Bitchby singer Ishq Bector has left eyebrows raised and made purists squirm in their seats, some even openly voicing staunch disapproval for such obscene songs.
Even as ISKON has objected to the DMD song, the lyricists who are penning these numbers do not seem to be unduly perturbed. Old-time lyricists like Javed Akhtar and Prasoon Joshi, however, lament the bankruptcy that has set into the creative field of music of late and mince no words about the short shelf life of bawdy scores.
In an era where crap content and crudity has become a paradigm of popular film music, it comes as no big surprise to hear lewd lyrics and bizarre tones coming in the form of remixed songs, which are being churned out to cater to the lowest common denominator.
Talking about the trend, filmmaker Onir, whose film I Am is all set to release soon, says, "I will not sell a Blackberry as an iPod. If you have content, you do not have to sell dances. I will not do something as cheap as selling songs with the aid of vulgar lyrics. My mother and my sister introduced me to music. I respect women. In my film, Bas Ek Pal, I celebrated female sexuality, but I will never sell a female body as a product. I am always conscious, as a filmmaker, that all my female characters are shown as strong and will never portray something which would embarrass me in front of my mother or sister."
Thanks to the rising popularity of the track, director Rohan Sippy, who is behind the reinvented lyrics of Dum Maaro Dum, confesses that he wanted to create a "provocative, aggressive track, and the youngsters seem to love it."
He adds, "In any case, we have purchased the rights for the song legally from music company Sa Re Ga Ma, which holds the all-time rights for the same."
Interestingly, some of the songs that are creating a buzz in Bollywood these days originally featured the beauty queen and film star of the 1970s and 80s,ZeenatAman. Along with the new version ofher1971 Hare Rama Hare Krishna hit, Dum Maaro Dum, that is featuring in the film of the same name, the remix of hersong from Qurbani, Laila o Laila, is also making waves. Though the former beauty queen did not like the DMD score, she has given a thumbs up to Lailao Laila, which has been incorporated by director Shashank Shah in Lara Dutta's first home production, Chalo Dilli, starring Vinay Pathak and Lara in the lead. Zeenat says, "I liked the song when I heard it first. They have managed to retain the original version and, at the same time, given ita new flavour. It's got a rustic, ethnic feel and I liked it very much. So, I'm supporting it."
Yana Gupta, who has performed inthe Laila o Laila number, says that she is thrilled with the praise she has got from Zeenat. Yana adds that though she has not copied Zeenat, the latter's praise means a lot toher.

Filmmaker Subhash Ghai says that he never resorted to a remix of any of the evergreen hits in his films because it only reflects the bankruptcy of the directors who do so.
On having incorporated risqué lyrics like choli ke peechhe kya hai in his film Khalnayak, he retorts, "If you feel choli ke peeche was vulgar, you could say that aanchal mein kya ji, picturised on Dev Anand, was also vulgar, but I maintain that both songs were not obscene at all."
Dev Anand, on his part, is upset with the makers of DMD for using his cult song as the film title. Producer Ramesh Sippy has clarified it was an issue of timing and it's their misfortune that the legend is unhappy with them. The popular Dum Maaro Dum score from Dev Anand's superhit Hare Rama Hare Krishna has been remixed and used in Sippy's film, which has been directed by son Rohan. The remix has unusual lyrics and new music, with an underlying feel of the hit song and has been picturised on Deepika Padukone.

"Dev Anand is upset, but we have the rights of the song. It would have been nice if we had his blessings, too, but there was some timing problem. Before we could show him the song and take his blessings, the news was out in the Press and he, therefore, got upset. There was no way he could have been pleased then. That's our misfortune," Ramesh Sippy had confessed at the FICCI-Frames conclave. Ramesh said that initially they did not plan to use the DMD track in the film. "When we started the film, we didn't intend to use the song. We took this title because our film was about drugs and how youngsters are lured by them today.
SUGGESTIVE SPEAK
Aaj aankh sek raha hai, kal haath sekega ... aaj mere liye chair kheech raha hai, kal meri skirt kheechega
Film: Dum Maaro Dum
Gul batti kamre ki ho jaye toh ... pyaar do pyaar lo, arey bechain dil tharki ho jaye toh pyaar do pyaar lo
Film: Thank You
Oye kudi teri saali, nikali bitch ... ajj dikhaye tu tan, mainu apne asli rang
Music video: Saali Bitch
Later, we decided to use the song. That's the thing with iconic songs. When you take such a big hit song in a new film as it is, people ask what extra effort you have put in. But if you change it and add our own inputs to give it a different colour, then people say you have tampered with a classic song. So, this conflict will always be there," he added.
Veteran playback singer Abhijeet Bhattacharya has gone on record to say that if the composers of the new songs feel that this is what the youth wants, they are wrong, because people are unhappy that the lyrics of cult songs are being messed up and made so vulgar. "It is nothing but their desperation to sell themselves that can lead to such disgusting work," he laments.
Javed Akhtar, who confesses that he has indeed turned down quite a few assignments that required him to pen obscene lyrics, asserts that this trend of crass lyrics has been massively rejected by the audiences of this country. Javed adds, "These people are now trying such lyrics at their own risk, but there is no room for perversity in songs."
While lyricist Sameer categorically trashes the theory that youngsters like obscenity and feels that it is high time that we do a serious check on what goes into the words, lyricist Prasoon Joshi is of the opinion that such songs are only leading to all talk and no connect.
Hip-hopper Ishq Bector, whose Saali Bitch became an instant rage on the Web, begs to differ. "If you don't like it, refrain from listening to it. I think we need to grow up — these are the words we use in our day-to-day life, so why is there any need to raise such a hue and cry?"