Dress with feminine charm
The skirt is the best outfit. It does not cling to your body. Neither does it show off your curves, says Banalata Bipani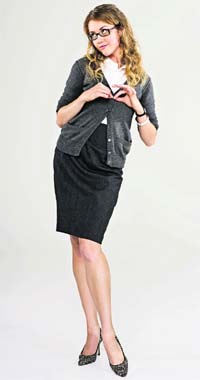 IT is conceded that no fashion talk involving outfits will be complete without mentioning skirts. In fact, you can concede that skirts are for a woman, when a trouser means to a man. After a dress, the skirt is the second best woman outfit for its feminine charm, easy to wash and maintain, and above all it is not at all complicated.
First, remember that a skirt (tight-fitted mini) can be as sexy as your itsy-bitsy dress. Otherwise, if you like to be covered, a long skirt can do that without making you look the behenji type.
Till a few seasons back, long (ankle length) gypsy skirts were in, but now they are being slowly replaced by knee- length skirts. For the summer, avoid thick materials like velvets. Rather, go in for natural fibres such as cotton. You can have light dainty floral embroidery on the skirts and panels. Choose fresh colours such as light green, sky blue and white. For the textures, you can opt for crochet, lace panels crushed cotton, embroidered fabric and pink tucks. Basically, any kind of detailing looks interesting on skirts.
The skirt is the best outfit, for it does not cling to your body, and neither does it show off your curves. Alternatively, if you have the poise and the legs (slim and well toned), you can set the streets on fire by wearing real tight micro-mini with a tiny bra top. A piece of advice ó before deciding on minis, you should be comfortable in showing off your sexy legs. Some women who have fat on their legs still wear minis, and it looks outrageous on them. Although knee-length skirts are in, ankle-length skirts (an improvised version of the ghargra) with India inspired embroidery, Rajasthani coins and mirror work never really go out of fashion. College girls love these skirts (since most colleges frown on short stuff). Such indo-Western innovations are still selling like hot cakes in the West.
On the other hand, model and upcoming actresses dig very colourful short skirts as they make their look sexy and hot. If you have good legs and you want to show them off, very short skirts is your best options.
Bohemian skirts can be paired with a nice racer back ganji. A woman looks sexy if she wears a fitted formal knee- length skirt with a fitted menís shirt with two front buttons open. A working woman should opt for a fitted skirt with a fitted shirt along with a formal bag and a scarf.
If you have a casual skirt, team with a vest or a top with prints of flower, fruits or anything fresh.
If you wish to attend a page 3 party, then you have to show some skin, and for this a mini or a tight-fitted knee-length skirt (which adequately reveals your sexy curves) with a tube, halter or off-shoulder top is perfect. Your top can be backless or a deep back or showing off your well-formed cleavage. If you have a flat stomach, dare to wear a short blouse which ends well above your navel, thereby exposing your belly button. This will shell-shock the guys. Short kurtis go very well with minis. You can opt for a 20 per cent see-through mulmul or soft cotton kurti.
Denim skirts or wrap skirts never go out of style. They are versatile in the sense they become day wear if teamed with a T-shirt and night wear, if worn with an embroidered georgette or chiffon top, denim skirts can be worn with just about any kind of top. A real saviour for regular party animals who are scared to wear the same stuff again, here they can wear the same denim at least twice a month with different tops and still look chic. Try the classic blue denim mini, especially the stone-washed type. ó MF