When music meets history
With five and a half acres of facility at Qila Sarai in Sultanpur Lodhi to be soon converted into a music academy, the dilapidated building is going to reverberate with musical notes, writes Vandana Shukla

MANY caravans have passed by it. The crumbling walls of Qila Sarai in Sultanpur Lodhi, Punjab, have been a witness to a long march of history. In the process, it acquired a strange coinage for its name — a sarai and a qila. And it adapted to varied roles in the process of history. As the name itself suggests, the sarai served the tired travellers in the past, who would stay over for a while to rest. The structures within suggest building of a number of cells for a jail. The imposing ruins of the sarai, precariously standing in parts, despite its dilapidated condition, had been given over to the Punjab Police Department, which has built new structures within its imposing central courtyard to accommodate families of its personnel. Two older structures — a badly ruined diwan and the other, a mosque, which is well cared for — will undergo some changes one more time. This time around, for the better. The sarai is going to reverberate with musical notes in the days to come.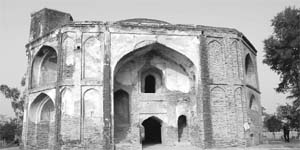 Punjab has been the fountainhead of four major music gharanas but so far not a single academy has been established in the state to propagate musical traditions of any of the gharanas



The upcoming academy at Qila Sarai will be dedicated to the study of devotional music
In an unusual gesture of concern for its heritage, the Punjab Government sanctioned Rs 2 crore to Anad Foundation in the state Budget of 2011. The foundation, which works towards the conservation of heritage through Anad Conservatory — an institute of arts, aesthetics, cultural, traditions and development studies — has been given this rare support by the cash-strapped government for setting up an institution dedicated to the study of devotional music at Qila Sarai, Sultanpur Lodhi.
Though, Punjab has been the fountainhead of four major music gharanas namely Patiala Kasoor, Sham Chaurasi, Talwandi and Kapurthala, so far not a single academy has been established in the state to study and propagate musical traditions of any of these gharanas. The tradition crumbled as many stalwarts of the four gharanas migrated to Pakistan during Partition. The remaining few struggled in penury in the absence of patronage; private or government. Surprisingly, it is far away in Kolkata's ITCSRA (ITC Sangeet Research Academy) that Patiala gayaki is taught under the guidance of Pt Ajoy Chakraborty.
The state apathy did not change its rule for propagating Sufi music, which has a very rich tradition in the land, nor did it offer any support to the qawwals of Malerkotla. Similarly, Gurbani sangeet, another important musical tradition of Punjab, has also not received attention from the government, in terms of research and grant.
The five and a half acres of facility at Qila Sarai, to be converted into a music academy, will undergo major conservation work. "For the building, as well as for intangible heritage, we do not wish to fossilise tradition, nor do we plan to freeze them in a time-frame. These are procedures of cultural perspectives, which are not of mere technical purview. We plan to restore and re-construct the place in such a way that the intangible elements begin to grow here, as naturally as in a womb," says Bhai Baldeep Singh, chairman and founder, Anad foundation. To realise this fine balance between history, conservation and contemporary relevance, a team of 16 experts from different parts of the globe will work as volunteers. The names include Prof. Paolo Ceccarelli, Prof. Suad Aimiry, Prof. Claudio Allesandi, Prof. Randy Hester, Sajjad Kausar, Prof. A G K Menon, Amarjeet Kalsi, Masood Ahmad Khan, Prof. Kamil Khan Mumtaz and others.
All classical music is rooted in devotional music, the sole difference being that classical music got codified and was bound by a grammar in shastras. "The purpose of devotional music is to help the singer withdraw from the song", says Bhai Baldeep. To help achieve this, the conservatory will work on two grounds. Traditional musical instruments that disappeared from the realm of devotional music like the rebab, taus and veena will be re-constructed at Lodhi. Eminent visiting faculty will be invited from across the country to train students in different genres of devotional music like haveli sangeet, dhrupad, abhang, Gurbani and others. In October, the sarai will also host a festival of devotional music.
Trained under master luthier Gyani Harbhajan Singh of Dandian village, Hoshiarpur, and Parminder Singh Bhamra, who picked up special techniques of polishing instruments at Florence, have trained Bhai Baldeep as luthier to produce rebabs and other stringed instruments.
Why Sultanpur Lodhi of all places for a music conservatory? The answer lies in the long association of Guru Nanak with Sultanpur Lodhi." If Guru Nanak did not happen, so much of bhakti tradition wouldn't have taken place. It was here in Kali Bein that he disappeared and emerged with the mool mantra. Bhai Firanda, the rebabi, met him here and it was here that Guru Nanak gave the gift of strings to Bhai Mardana.
The sarai is also steeped in history. Built by Sultan Khan Lodhi in the 12th century and rebuilt by Emperor Shah Jahan in the 16th century, Dara Shikoh and Aurangzeb studied Islam here, it also finds mention in Ain-e-Akbari," adds Bhai Baldeep, hoping that the faculty of music and arts at the sarai will help initiate a cultural renaissance by restoring the revealed music.