Eco-friendly lingerie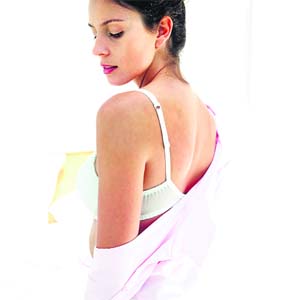 WITH Earth Day celebrated recently, a leading retailer in the UK has already gifted shoppers an eco-lingerie range. Marks and Spencer has made 'going green' even easier as it has launched the world's first ever carbon-neutral bra in the UK market, reports the Daily Mail.
The new Autograph Leaves lingerie collection that includes four styles of bra, three knickers and a set of suspenders is certified by the Carbon Trust Footprinting Certification Company, which calculated the range independently. The collection was manufactured at the M and S eco-model factory in Thurulie, Sri Lanka.
The innovative renewable energy features and reduced waste initiatives implemented at this site have helped reduce the carbon intensity of the energy used by an estimated 33 per cent, compared to typical factory production.
"Nature is the inspiration behind Autograph Leaves so it's fitting that this range benefits the environment, too," claims Paschal Little, head of Lingerie Technology at M and S.
The factory's local community is also benefiting from this initiative. Working in partnership with nine local farmers, M and S is planting over 6,000 trees in the desolate land between the Kanneliya and Polgahakanda forest reserves.
The Autograph Leaves collection is available online and was launched in stores last weekend. — ANI