Glories of Golden City
From sand dunes to exquisitely carved havelis, the desert city of Jaisalmer has something for everyone, writes Sudhamahi Regunathan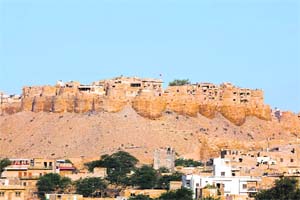 Carved out of yellow sandstones, Jaisalmer Fort was built around the 12th century on the Trikuta hills
— Thinkstockphotos/Getty Images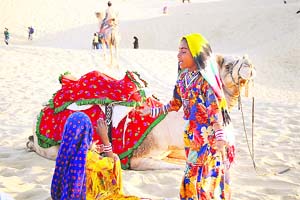 At Sam sand dunes, local artistes entertain visitors — Photo by the writer
Jaisalmer may be a surprise package to showcase as a destination in the summer. But then every season has its own charms.
The heart of the Indian desert in Rajasthan may turn on the heat but do pack a light shawl as evenings may be treacherous. So, don't even try to venture out during the day. Try the delicious cuisine of Rajasthan, instead. Of course, dal bati churma is something most people are familiar with but try pyaz ki subji, or the green chilly pickle.
A night safari to the desert is the best way start the holiday. The destination is about 45 km, west of Jaisalmer, a place called Sam. Most city hotels have arrangements to take tourists there. About 30 km down the way, there is a point where the vehicles stop and you may carry on a camel safari. By that time, the sun is at the point of setting. The flat desert land opens up before the eyes and the very expanse is breathtaking.
Apart from camel rides, carts drawn by camels are also available. It can be a fascinating experience for most first-timers. The camel rocks from side to side, not to mention forward and backward on its humps. The animals' hooves sink into the desert sand, so you feel a heave each time you move.
For the first five minutes, most people are screaming as they rock either on the animal or the cart. Then the silence descends slowly, as the eye meets the vast expense of desert and an overall calm takes a soothing hold. Soon the completely barren desert begins. Sand dunes spring suddenly from plain ground.
At one point the camel stops, and you can the feel the sand, climb the sand dunes, build sand castles, as the sand quickly cools down.
Often, at times, if the camel mahout is willing to take you further in the interior, you must go. There one finds the most wonderful vastness of imagination, mingling with the sand and space, the music of winds, the cud-chewing camel, the bored mahout and gasps of touristy wonder.
Often local villagers come and perform to earn their livelihood. The strains of flute riding the sand and deepening shadows mesmerise. Sam also offers many camps close by for those who want to stay back and enjoy a night under the stars. These camps provide tents for visitors. Staying here for a night is a wonderful experience. In winter it gets bitterly cold and tariffs are high. Now, as the season tapers off, the tariff is low and the temperature just near about 22-25`B0C at night.
Inside the camp, there is a small performing area in the centre where local dancers and musicians display their talent. A fire burns to add to the ambience.
Next day make an early morning exit and get to your hotel by breakfast because the sun rises fast and hot. Local attractions include Jaisalmer Fort, built around the 12th century on the Trikuta hills. It is the second oldest fort in Rajasthan. Even today, you will find that nearly one fourth of the old city's population resides within the fort. It has the subtle fusion of Rajput and Islamic architectural styles. There is a group of Jain temples, dating back 12th and 15th centuries, situated in the fort. Built in the Dilwara style, these temples are carved out of yellow sandstones, like all other structures in Jaisalmer.
A walk back through the narrow lanes of the old city can be memorable. Also there are many artefacts you can buy there. Many of these come from Badmer or Jodhpur and yet they are not so expensive and quite beautiful. Jaisalmer offers a complete Rajasthani experience with its sand dunes, havelis and off course, cuisine.
FACT FILE
HOW TO REACH: It is located 575 km west of Jaipur.
BY AIR: Jodhpur is the nearest airport. A military airstrip has recently been opened to limited civilian flights.
BY RAIL: Jaisalmer is well connected to various major cities.
BY ROAD: Buses and taxis are available from Jodhpur and Bikaner. A daily bus runs to and from Jaipur.
PLACES TO SEE: Jaisalmer Fort, made of yellow sand stones, is located in the heart of city.
Jaisalmer Havelis: Built by the wealthy merchants, the havelis (mansions) of Jaisalmer are famous for their exclusive stonework and carvings; yellow and red stone facades and peacocks decoration. Must watch are Patwon ki haveli, Salim Singh ki-haveli and Nathmalji ki haveli.
Other attractions: Gadsisar Sagar Tank, Bada Bagh, Tazia Tower, the Desert National Park (it attracts large hoard of migratory birds due to its close proximity to Bharatpur. One can come across the great Indian bustard, harriers, buzzards, vultures, short-toed eagles, tawny eagles, Spotted eagles, laager falcons and Kestrels).
Sam Sand Dunes: Sam has a magnificent stretch of sweeping dunes, with sparse or no vegetation. The best way to get here, of course, is on camelback.
Khuri Sand Dunes: Situated just 40 km off the town, Khuri is a must visit for tourists seeking solitude. It is a peaceful place with houses of mud and straw, decorated like the patterns of Persian carpets.
PLACES TO STAY: There is a variety of hotels to suit all budgets. In various desert camps, tariff for one ranges from Rs 3,500 to Rs 5,000. During the off-season the rates are about Rs 1,500 to Rs 2,000.
LOCAL CUISINE/ PLACES TO EAT: Ker-sangri, dal bati churma, gatte ki kari, bajra ki roti, lahsun chutney, murgh-e-subz are a must try. Trio, Choki Dhani and Desert Boy's Dhani are some of the good places to eat.
PLACES TO SHOP/ LOCAL SPECIALTIES: Jaisalmer is famous for embroidery, Rajasthani mirror work, rugs, blankets, antiques and old stonework. The bazaar outside Jaisalmer Fort is a good place to shop for semi-precious jewellery, Rajasthani paintings and wooden carvings etc.
Other tips: Carry snacks and water as there can be some places, which have no eatery.
Best time to visit: October to March.