Different strokes
Pallab Bhattacharya brings out the artistic side of a seasoned bureaucrat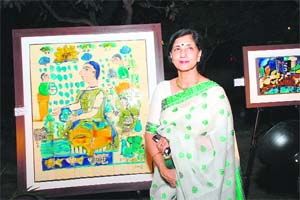 Painting has been a passion for Sudha Pillai, member-secretary of the Planning Commission, from an early age, and has remained so even after she chose the civil services as her profession — Photo courtesy: Paharpur Business Centre art gallery
SHE may have been a hardnosed bureaucrat for close to four decades going through the stress of work in key positions but the artist in Sudha Pillai, an IAS officer, has always remained alive, drawing landscapes, faces of women and much more.
The painter in Pillai, an outstanding IAS officer and the member-Secretary of Planning Commission with the rank of Union Minister, came out in full bloom at an exhibition of her work now on at an art gallery in New Delhi recently.
The exhibition, featuring 37 of her paintings, evocatively brought, out in beautiful colours the subjects of Pillai — "Mumbai at 7am," "Autumn in the black forest," "The advent of spring-Geneva," "Paris by night" or "blushing maidens" among others.
An overwhelming majority of her works are on ceramic tiles—26 of them to be precise, but one can also see Pillai's mastery of paper media, synthetic fabric, Pune silk, khadi shawl, rice paper and canvass to express her skills.
What instantly attracts the viewers is the restrained use of colour in the paintings highly evocative but not garish and just the way one would want to seek.
Kapila Vatsyayan, eminent scholar of arts, says, "I'm deeply moved by the spirit of Sudha Pillai's works and her command over different mediums of paintings. This speaks a lot of her artistic skill."
According to Pillai, she has chosen subjects that are of direct concern and relevance to her. "My paintings celebrate life in its infinite manifestations and in creation and creativity".
Pillai believes "painting has to be distilled through a lot of motifs. It cannot be direct, otherwise, it becomes propaganda. There should be certain amount of ambiguity in it."
How does Pillai, the 1972 Kerala cadre IAS officer, manage to find time for painting after fulfilling her role of a senior bureaucrat? Well, she does her creative work mostly at night after the stress of a busy day in office, says her husband and Union Home Secretary Gopal Krishna Pillai, also an officer of the same batch.
Painting, Sudha Pillai says, helps her to keep calm and focussed after a stressful day in office. "I paint to unwind myself".
A masters in psychology from Panjab University and in public administration from Kennedy School of Government at Harvard University, Sudha Pillai, a Punjabi, is married to her batchmate from Kerala.
Painting has been a passion of Sudha Pillai froman early age and has remained so even when she chose the civil services as her profession and thereafter served in different capacities.
According to the painter, "Painting reaches deep into the psyche —even subliminal thoughts one may not be aware of find ready expression with a brush. When I start painting, I do not have anything in mind. The painting takes shape as I draw."
It is not only the artist in Sudha Pillai that comes through the paintings but also the green activist in her.
One-third of the sale proceeds of the exhibits, which was on display at the Art Gallery, Paharpur Business Centre (PBC) in Nehru Place, New Delhi, went to former US Vice President Al Gore's "The Climate Project—India" for supporting the Delhi government initiative in taking the climate message to 5,000 schools in the national capital covering one million students in the next few months. — PTI