Play acting
Darren Aronofsky's Black Swan required rigorous training for the two main actresses prior to the shooting. Shoma A. Chatterji checks out examples of performance cinema in the Indian perspective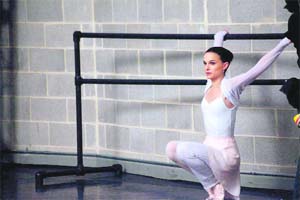 Natalie Portman trained in ballet for six months, besides undergoing body-toning exercises, swimming and a rigorous diet plan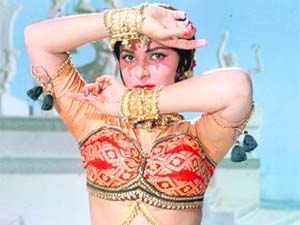 Dance per se in Guide transcends the limits of sheer performance to play a character in the film and, at the same time, gives a voice to Rosie
THE 'ooh's and aah's about Oscar-winning performance of Natalie Portman in Black Swan are yet to subside. Though a trained dancer, performing as a prima ballerina in the film was a different ball game for Portman. Together with her co-star Mila Kunis, she trained in ballet for six months, besides undergoing body-toning exercises, swimming and rigorous diet followed by choreography training. Kunis did cardio and pilates seven days a week for five hours over five months and had to be on a diet restricted to 1200 calories a day.
So is it in the genre of 'performance' cinema? It is quite difficult to define 'performance' cinema in precise terms because the definition differs from one scholar to another as well as from culture to culture depending on the evolution within cinema in each culture in terms of performance, technological changes, and performing artists and so on.
According to Stacey Stocky, who teaches at the University of Denver, performance cinema combines both cinema and performance in dynamic ways, defining a media of creative work, while also instigating the development of new, defined genres. Henry Warwick, a theoretician, who has written extensively on 'Performance Cinema' says that a performance film "sits between traditional, passive, cinematic experience and the dynamic experience of, say, a live music performance."
At best, Black Swan collates to what Roland Barthes wrote in Camera Lucida (1980). "The power of authentication exceeds the power of representation." He wrote this with reference to the photographic picture but lends itself beautifully to a different derivation of 'performance cinema' where the film illustrates perfection in an art which is not necessarily related to cinematic forms like acting or technology, etc. A powerful example of performance cinema is the live manipulation of cinematic instruments and presentation of cinematic visual and audio visual data by performers and/or actors in front of an audience.
Like standard cinema, performance cinema requires a "moving picture". Like live music, it calls for an audience. The audience, just by the act of viewing, participates in the construction of the event as a meaningful experience.
We have some, though not many, examples, too, in the Indian cinema of performance cinema. Chak De India is the first recent film that comes to mind which extends the parameters of performance cinema by taking hockey as an example. The young performers chosen from across the country for the 'National Women's Hockey' team in the film. The treatment places hockey as a sports on a different plane. Chief National Coach Maharaj Krishna Kaushik of the Indian Women's Hockey Team that won the Gold at the Commonwealth Games in 2002, joined forces with Mir Ranjan Negi, former goalkeeper of the Indian National team, on whose real story the film was based.
Screenwriter Jaideep Sahini requested Negi to coach the actors portraying the hockey team. Negi remembers, "I trained the girls for six months, waking up at four in the morning, travelling from Kandivili, a Mumbai suburb, to Churchgate. We would retire around 11 p.m. It was tiring. But we were on a mission. They could not run, could not even hold hockey sticks. The girls worked very hard. I salute them."
Some actresses like Chitrashi, Sandia, and Raynia were cast because they were actual hockey players. ReelSports, under the direction of Sport Action Director Rob Miller, also worked with Negi to train the girls and Shah Rukh Khan for the film. Of working with Khan, Negi recalls that everything was planned, "including the penalty stroke that SRK missed. That shot alone took us nearly 20 hours as I was keen that it should be very realistic. I took the help of my former teammates. But more importantly, it was so easy working with SRK. He is unbelievably modest and was willing to do as many re-takes as we wanted."
Dhan Dhanadan Goal directed by Vivek Agnihotri featured professional actors. Though the players were not necessarily professionally trained and the film was not a hit, it was enriched by good performances. John Abraham is convincing because right through the film, his football scenes are a true cinematic treat to watch. He did the role of Sunny Bhasin, an Indian-origin player living in Southall in London. He joined the Aston Football Club but was sidelined during the selection`A0allegedly for the colour of his skin. The story was good but commercially, it turned out to be a flop.
Vijay Anand's Guide raises dance in Indian mainstream cinema to a high level of aesthetic excellence. Waheeda Rehman's (Rosie) performance not only highlights her talent, but also stresses the socio-psychological role dancing plays in her life, her love, her changing moods and her relationships with the men and women she encounters in her rough journey.
Though pure dance in the film may be absent, if 'pure' is to suggest classical Indian styles, the hybridisation necessary for the medium and the audience is not corrupted at any point of the film by sexual vulgarity. Dance per se in Guide transcends the limits of sheer performance to play a character in the film and at the same time, gives a voice to Rosie. Through dance, she asserts her identity both as Rosie and as Nalini.
Guide, perhaps other than Chak De India, offers just the right 'model', though perhaps a bit Indianised and detracting from its traditionally Western definition, of Performance Cinema.
Other than this, as 'item numbers' and their picturisation in recent films illustrate, new media is made up of a complex system. In the changing technological scenario, cinematic techniques like editing, cinematography, sound, music and production design provide the basis for understanding performance cinema. Black Swan depicts the camera's absorption of the aesthetics of the ballet form as if it is being performed live. In the final analysis, performance cinema stresses on the equal importance of 'performance' — TWF