Now, Sholay in 3D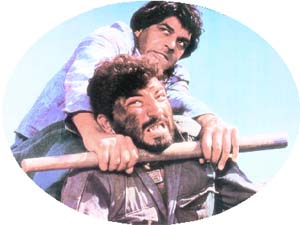 Filmmaker Subhash Ghai will convert Ramesh Sippy's 1975 classic film Sholay in 3D format. Ghai's banner Mukta Arts has collaborated with filmmaker Ketan Mehta's Maya Digital to undertake the project of turning Sholay in 3D.
"We have a department working with Maya Digital to convert Sholay in 3D," Ghai said. The decision has reportedly not gone down well with the Sippys as they have not been kept in the loop about the development.
However, Ghai rubbished the speculation. "The negotiations are on. The copyright of the film keeps changing. Hopefully, we will convert it in 3D," the filmmaker said.
Sholay directed by Ramesh and produced by his father G. P. Sippy, and starring Amitabh Bachchan, Dharmendra, Hema Malini, Amjad Khan, Sanjeev Kumar and Jaya Bachchan among others, released in 1975. The film, which boasts of some of the immortal characters and dialogues of Indian cinema, broke all box-office records and was the biggest blockbuster for several years.
Its characters: the petty criminal buddies Jay and Veeru (played by Amitabh and Dharmendra respectively), Thakur Baldev Singh (Sanjeev Kumar), Basanti (Hema Malini), Gabbar Singh (Amjad Khan in an unforgettable debut) and Thakur's widowed daughter-in-law Radha (Jaya) remain etched in the public memory even today.
Ghai has also dubbed Rituparno Ghosh's Bengali film Nauka Dubi in Hindi as Kashmakash.
The film is an adaptation of Nobel Laureate Rabindranath Tagore's famous novel about two couples; the wives getting swapped following an accident on a river that causes their boat to capsize.
The film brings together the granddaughters of Bengal's matinee idol Suchitra Sen, Riya and Raima, alongside Prosenjit Chatterjee and Jisshu Sengupta. Gulzar has translated the lyrics.
On reports that Ghosh was livid over the decision to dub Nauka Dubi in Hindi, Ghai said, "This is false news that he is miffed with me. I had a word with him and there is no problem. To make Nauka Dubi in Hindi as Kashmakash was our empathy.
"I had taken permission from him to use his concept. He said "I don't have knowledge of Hindi but whatever you want you can make". I told him I want to change songs so I asked Gulzar saab to write the lyrics. We sent the music to Rituparna and he liked it," the filmmaker said.
The film will release on Tagore's 150th birth anniversary on May 6 as a tribute to the Nobel Laureate, he added. — PTI