Films are a powerful medium: Nandita Das
Dibyojyoti Baksi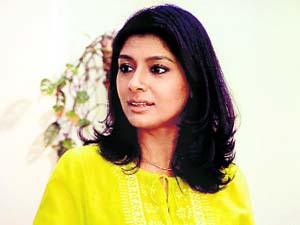 WHY do people want to ban films and books? Because these have the power to affect the subconscious, however subtly, believes actor-director Nandita Das, who has won national and international awards for her socially relevant films.
"No film has brought in any revolution but you and I are also what we have seen, what we have read," said Nandita, 41.
"Everything has an influence on our subconscious mind and, therefore, the responses we have in various situations are because of all those influences," she added.
Her directorial debut with Firaaq was highly acclaimed in the global circuit. A political thriller set in the aftermath of the 2002 Gujarat communal violence, it got two national awards and even a popular Filmfare Award.
Nandita feels people can feel threatened by films.
"There are films that can make a subtle difference. Why do people want to ban films? Why do people want to ban books?" the actress said.
"Itís just a film ó why not let the two hours just pass by. But itís because they realise that a film has the power to get into your subconscious in a subtle way that people are threatened by it."
"I think that especially films that deal with such subjects in an interesting, entertaining, gripping manner can become threatening," Nandita said.
Nandita has acted in films like Fire, Earth and Bawandar. She bagged the best actress award at the Santa Monica Festival in 2001 for Bawandar, the best actress award for Amaar Bhuvan in 2002 at the Cairo Film Fest and also served as a Cannes jury member in 2005.
She plays a lead in director Onirís new film I AM on four stories of struggle for individual identity. It deals with the journeys of four characters, who are entwined with one another.
Nandita Das, Rahul Bose, Juhi Chawla and Sanjay Suri play the lead roles in the film, which shows how social presumptions stand firm against exercising personal choices.
"This film deals with personal choices, it deals with discriminations, it deals with identities, it deals with all those things that all of us grapple with," said Nandita, who plays Ashia who chooses to be a surrogate mother. She had multiple reasons to do the film.
"The main reasons why I did this film ó first Onir is an extremely sincere director, secondly the stories were powerful, I could relate to them and it says something that our society needs to see and, third, he democratises the whole funding of the film," she said.
Asked if she is planning to direct any film soon, Nandita said, "I would like to direct again as I find it very, very challenging, interesting and exciting but also very consuming and emotionally engrossing." ó IANS