Television
In the name of science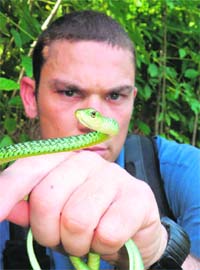 Shultz in Wild Recon risks his life for what he calls a service to humanity
HIKING through thick jungle undergrowth, diving hundreds of feet to research shark species or skydiving into hard-to-get-to habitats of venomous snakes, Donald Shultz stops at nothing to collect rare specimens for scientific research.
In each episode of Wild Recon every Tuesday at 9 P.M. on Animal Planet, he visits exotic locales to face some of earth's mightiest and deadliest creatures in their natural habitats.
Death adders, saltwater crocodiles, gaboon vipers etc are all part of work for the intrepid adventurer.
And his mission — to get viable bio-samples of these poisonous creatures and hand them over to researchers, who will hopefully unlock the mysteries of animal DNA, identify the blueprint for undiscovered anti-venom or even find a cure for a life-threatening diseases with these samples.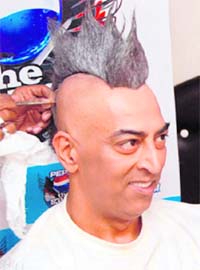 After winning the Bigg Boss in 2009, stardom beckons Vindu on small screen
The reality king
FOR a guy, who till recently, was known as the son of actor Dara Singh, Vindu Dara Singh is finally coming on his own as a reality star on television.
What propelled him to stardom was winning the Bigg Boss in 2009.
After the win, he was a contestant in Zor Ka Jhatka, hosted by Shah Rukh Khan.
Now good friend Akshay Kumar (Vindu played his sidekick in Kambakht Ishq) has invited Vindu's second wife Russian model Dina Umarova to be a contestant in Khatron Ke Khiladi season-4 to be aired on Colors.
Considering the 47-year-old Vindu had nothing to show on his bio except a few blink-and-miss roles, the reality TV sure seems to have brought glad tidings for him! — NF