Workout Address
It's not only about exercise, choosing a gym these days involves much more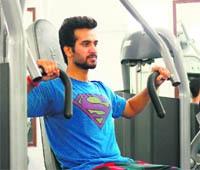 There is a gym in every cubbyhole of the city. Is it the music playing in the background? Or is it the pretty face working out in the forefront? Or is it the trainer moving about the premises? The place could be one sprint from your house; at times it still doesn't 'work out'. So, what works out the most for Chandigarh youngsters when it comes to choosing a fitness centre? Interestingly, the deciding factors are not so obvious.


Vikram Singh Virk
Letting your smile reveal a tattoo is what your friendly orthodontist is up to nowadays
If you thought after nape, lips, navel, arms….even earlobes, ink addicts had run out of body parts to tattoo, here come dental tattoos.So this one's straight from Lady Gaga school of thought. And are the orthodontists calling dental tattoos "the latest trend in India"….let us find out.
The ugly side of Barbie
A former anorexia sufferer has created a life-sized Barbie as a means to raise awareness about the dangers of eating disorders. The mannequin, which stands 5ft 9in tall, has a 39-inch bust, a tiny 18-inch waist and 33in hips is put to demonstrate just how unhealthy the doll's proportions would be on a real woman.
When it comes to discotheques, Chandigarh scores over Ludhaina, but the latter can definitely boast of better private parties. Jasmine Singh finds out more…
Minal Singh, 21, scrolls her phone book for her friend Aarya Dhir's number, who is a designer in Ludhiana. Posh city, fancy cars, designer labels, Ludhiana is nothing less than a mini-Toronto. She dials…"Hey there. How you doing? I am visiting my cousin in Ludhiana for the weekend. What are the happening discotheques there?" she questions. A pause…followed by a throaty laughter from the other end surprises Minal.

Party frenzy: Discs are a favourite party venue in Chandigarh


Tracking the lost stars
Bollywood is changing. There is no more dancing around the trees, song sequences or overtly dramatic music sequences, which the Manmohan Desai era made legendary.
Tabu:Despite acting in fewer movies, Tabu is still one of the best actresses around. Known for her no-nonsense attitude, she will soon be seen in the film adaptation of Yen Martell's Life of Pi. She is also acting in another Bollywood film called Banda Yeh Bindass Hai.
Sridevi:Sridevi had the knack of being sexy as well as funny. She's done several roles showing her versatility. She ruled Bollywood for nearly three decades, but then called it a day and just appeared for parties and social gatherings. However, we hear that she's making a comeback with Mr India 2.
The meaty song gets going
The peppy music of Y Films' first venture, Luv Ka The End, was launched at a fun-filled event held at the studio. Shraddha Kapoor hosted it, while Aditi Singh Sharma enthralled audiences by singing the title track of the film.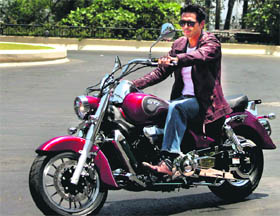 Wheel of Fortune: Bollywood actor Arjun Rampal during the launch of Garware Motors bikes GT650R and ST7 in Mumbai on Friday. — PTI
Vinay is Minissha's fan
Bollywood celebrities have their list of fan following. However, it's not very often that actors say that they are fans of another actor's work. Minissha Lamba, however, is different. She has a big fan in one of the industry's best actors, Vinay Pathak.
Jeremy carries the Legacy
Oscar-nominated star Jeremy Renner has been offered the lead role in the reboot of The Bourne Legacy.The series has been made popular by Matt Demon's Jason Bourne character but the actor is not returning in the new movie. Renner is being roped to play a different character, another super assassin, who attended the same programme as Jason, in the movie.


Pun'jab' Sandeep Joshi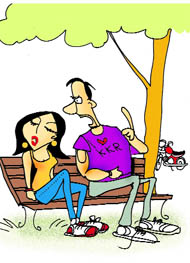 IPL Divide: If you continue to support Kings XI Punjab, this will be our last meeting!
Jim Carrey goes to Office
Funnyman Jim Carrey is guest starring on the final episode of the hit comedy series The Office.The Yes Man star will join Ricky Gervais, Will Arnett, James Spader, Ray Romano and Catherine Tate as guest stars interviewing for Michael Scott's (Steve Carell) management position.
U…vie for the best!
For someone who did Indian Idol 4 as a mentor and senior voice-trainer, coming straight and clean on the Talent versus TRP debate is a welcome break! "There's no dearth of talent on these shows, but they are not the best platform to promote talent. Very much because whosoever garners maximum votes is declared the winner, and channels really don't care as much about who wins as they do about their viewership."
Three stars for Cannes
Aishwarya Rai, Sonam Kapoor and Freida Pinto-will walk the red carpet at Cannes this year, though on different occasions. Ash, a regular at the prestigious gala for past 10 years, feels with "both beautiful women" India will have a "stronger presence".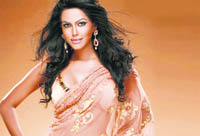 Studs & femme fatale: Natasha Suri
Chatter box
Natasha Suri to host Superstud?
Suitors for Ratan Ka Rishta
Urvashi's blouse drama
Rishton Se Badi Pratha controversy
Babymoon for Sai and Shakti
Generation Next Awards
X-Factor unveiled
Farah Khan back as judge
Title getting longer...
Flirting away to glory