Crossroads of Choice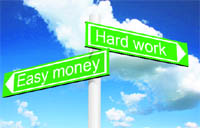 Making a choice between the government sector and the private sector is a tough task for youngsters on the threshold of their careers. In most cases it is stability and job security with low remuneration vs a fat pay cheque wrapped in almost no job security.For quite a few decades government jobs were on the top of the priority list of job seekers in India and landing a secure government job was considered a big achievement for any youngster.
Career Hotline


Research-oriented field


Ideal choice to enter hospitality sector


Specialisation pays
Careercature
Sandeep Joshi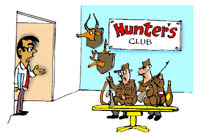 Any place for job hunters here ?
Pursuit of excellence
The Rayat-Bahra Group of Institutes, which is one of the major groups in the education sector in the region, has taken the industry-academia interface to the next level under its innovative Centre of Excellence in Mohali.
Course watch Financial literacy
In a bid to cater to the growing need of financial knowledge among people from all walks of life, Quantum Dynamics Education, an institute of life skills, has introduced short-term vocational courses on financial study that will help people understand and upgrade their fundamentals of investment and wealth management in an interesting and engaging way.
Get your Spirits High
Bartending is an art and a very enjoyable experience for those who are passionate about it, writes Hemant Kumar Kochar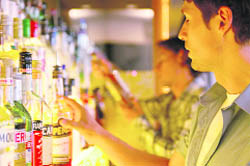 Job prospects have certainly widened if one looks at the career choices available nowadays. Youngsters these days are listening more to their hearts than heads while embarking on a career path. The usual prospects of engineering, medicine and management, though highly honoured, have given way to off-beat and unconventional career choices like video jockeying, photography, coffee/ wine tasting, bartending, sports management etc.
The spouse effect
The stress of an unemployed spouse can affect the productivity and home life of the employed partner, according to a new study. University of Colorado Boulder associate professor Maw-Der Foo, who studies employee workplace issues and interpersonal relationships, and lead author Professor Zhaoli Song of the National University of Singapore examined married couples in Shenyang, China, where one partner was employed and the other was not. The daily stress felt by each spouse was assessed.
Way with words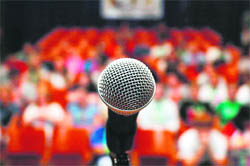 Effective communication of one's thoughts is one of the primary conditions of success. Those who can't talk well and freely and express themselves eloquently and adequately are seriously handicapped in achieving their career goals.Just as skills like reading, writing and listening are developed through training, the art of speaking also can be mastered through specialised training. It is a fact that communication of thoughts, feelings and emotions is so fundamental that nothing in the world is possible without it.
Productive meetings

Meetings are an inevitable part of the corporate world irrespective of the size of an organisation. Businesses need to hold meetings to monitor the progress and the efficiency of employees. In fact, most professionals spend almost half of their working time in meetings either as leaders or participants.Meetings are not only an effective way for employees to communicate within organisations but also of getting things done. Unfortunately, they are often plagued by lack of focus, aimless discussion and unprepared participants.
Happiness @ work
If a junior has done a good job, appreciate it. Don't try and make changes just to stamp your superiority. His skill as a warrior and a charioteer earned Shalya control of Karna's chariot on the 17th day of the Mahabharata war. By virtue of his experience, he instructed Karna to shoot at Arjuna's heart. Karna, in his arrogance, aimed at his adversary's head. Krishna sunk his chariot into the ground and the dart knocked off Arjuna's helmet. Had he listened to his illustrious charioteer as Arjuna did to Krishna, history would have had a different tale to tell.
Campus Placement
Lovely Professional University has recruited 32 students from PEC University of technology, Chandigarh for faculty and other key positions during campus placement drive. Lovi Raj Gupta, Senior Dean LPU along with Prof Bhupender Verma, Associate Dean; Rohit Dhand, Associate Dean; KG Gopalkrishna, Associate Dean and Manish Gupta, Deputy Registrar interviewed students in Chandigarh recently.