M A I N N E W S

Ladakh's 'worst' sex ratio is a Census glitch!
Leh Council itself claims it has 1,030 girls against 1,000 boys
Jupinderjit Singh & Ashutosh Sharma/TNS

Jammu, April 26
Leh district of the state may have reported the worst sex ratio of 583 girls against 1000 boys in the country in the 2011 Census but it has successfully averted the dubious distinction of being called a "girl killer" region.

Twenty days after the shocking figures were declared, Ladakhis can finally hold their head high as Census officials admitted they had included the defence and para-military forces in the count. Now, the Census Department would conduct sample survey in Nubra and Leh to assess the figures afresh.

The Director Census -Jammu and Kashmir Dr Farooq Pakhtu admitted to The Tribune that the sex ratio was detected as worst in the country because defence and para-military personnel were also counted. As the high number of those are males, the sex ratio was directly affected.

There was further embarrassment in store for the Census Department. The Ladakh Autonomous Hill Development Council (LAHDC) has brandished its own figures based on survey of the Health department. Dismissing the 583/1000 sex ratio in Leh, Dr Sonam Wanchuk, Executive Councillor (Health), stated that the ratio was, in fact, in favour of girls, "We have as per our data 53, 475 females against 51,909 males.

Rigzin Spalbar, Chief Executive Councillor of the LAHDC, said they were contesting the figures ever since those were released on April 7 this year, "You go to any school and you would find more girls than boys."

The Ladakh Development Council (LDC), social activists and the state Tourism Minister Rigzin Zora, who

belongs to Ladakh, were up in arms refusing to accept the Census figures calling it highly derogatory for the people where women have held a dominant position in society since ages.

When asked to comment on the dismal figure, Zora became furious saying the figures are wrong and claimed the number included defence personnel. "How could they report population of Ladakh as over 2.80 lakh as our figures of 2010 reported the population to be around 1.05 lakh?"

He said the picture went wrong because of the counting of the defence personnel and the Director, Census Operation, has agreed to it. He said another factor could be that a large number of females are studying in Jammu, Chandigarh or Delhi and may not have been counted.

He insisted that women in Ladakh enjoyed more rights and power than they did in other parts of the state, "We have women in all spheres of life, including Air Force, IAS, Army and other vocations where males generally dominate."

Dr Farooq Pakhtu said the sample survey would help in rectifying any anomaly. "Our brief was to count anyone who was present there for a considerable period of time," he said.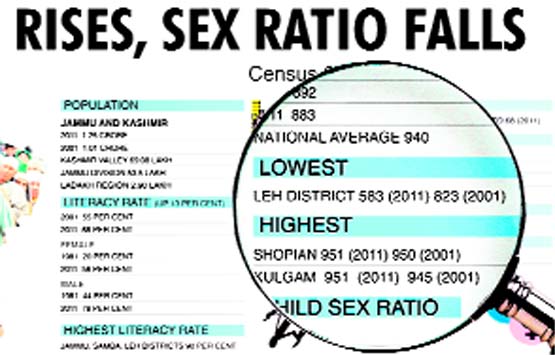 Mystery of the 'missing' girls
Census Dept admits error in ratio as defence personnel there were counted
LDC and the state Tourism Minister say that Census figures were highly derogatory for the people
Minister says that the females studying in Jammu, Chandigarh or Delhi may not have been counted