M A I N N E W S
Lobsang Sangay to be Tibetan Prime Minister
Lalit Mohan/TNS
Dharamsala, April 27
Lobsang Sangay, a research fellow at Harvard Law School and former activist of the Tibetan Youth Congress (TYC), will be the next Tibetan Prime Minister-in-exile (Kalon Tripa).
After Chief Election Commissioner Jamphel Chosang declared the results today, Lobsang will be the third directly elected Tibetan PM since the elections were held for the first time in 2001. He will succeed current incumbent to the post-Samdhong Rinpoche.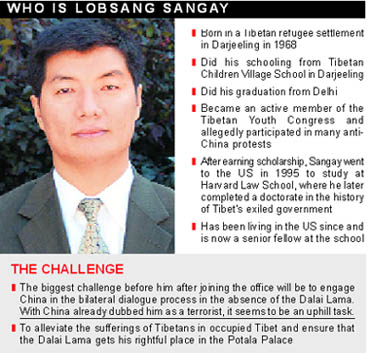 In a message on his campaign website, Lobsang, who won the elections by a margin of more than 8,600 votes ahead of the closest contender, wrote: "Your overwhelming support is humbling and I will do my utmost to live up to your expectations".
"With profound humility, I accept the Tibetan people's support and the post of Kalon Tripa. I urge every Tibetan and friends of Tibet to join me in our common cause to alleviate the sufferings of Tibetans in occupied Tibet and ensure that the Dalai Lama gets his rightful place in the Potala Palace," Lobsang said in his message.
Lobsang is currently in the US and is likely to reach Dharamsala in mid-May, sources here told The Tribune. He will join the office in June. The biggest challenge before him after joining the office will be to engage China in the bilateral dialogue process in the absence of the Dalai Lama. With China already dubbing him as a terrorist, it seems to be an uphill task. Out of the 83,399 voters around the world, 49,184 (approximately 59%) voted in the elections held on March 20, 2011.
Lobsang secured 27,051 (55%) votes out of the total votes cast, leading the next two contenders, Tethong Tenzin Namgyal and Tashi Wangdi, by 8,646 votes and 23,878 votes, respectively. Tethong got 18,405 (37.42%) and Wangdi got 3,173 (6.44%) votes. Lobsang Sangay won owing to the strong support from young Tibetans.
The CEC said Tibetans in Kathmandu could not take part in the elections as the Nepalese authorities barred them from polling. He, however, said votes from other parts of Nepal and Bhutan were able to reach the EC office.
The Election Commission also announced the results for the 15th Tibetan Parliament-in-exile. As many as 21 new candidates, including six women, have made a fresh entry to the next Parliament that will formally take over the House in June. The Tibetan Parliament comprises 44 seats, 10 each from the three traditional provinces, two each from five religious traditions, including Bon, and 2 each from North America and Europe.
However, only 42 candidates are declared elected by the commission as U-Tsang Province remained short of two members for want of the required minimum number of votes. To be elected as a member of the Tibetan Parliament, a candidate must at least secure 33 per cent of the votes.