villa verve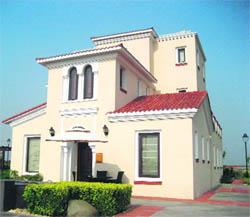 We are living in an era where everything is readymade. End customer is the king and he wants everything to be served to him on a platter. The customer simply wants a 'one-stop' solution. Cashing in on these sentiments the mandarins of real estate industry too have started offering ready-to-move in residential solutions to clients and villas are among the top end choices in this regard. "We are living in jet age, where time is money.

Modern architecture and plush interiors. Photo courtesy Emaar MGF
Tricky proposition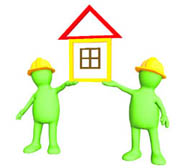 Q. I have sold a residential property in India. As per the Income Tax Act, 1961, I am liable to pay tax on long-term capital gains. I get exemption from this tax in case I purchase another property within a period of three years. I do not have any other residential property in India. Please clarify whether this exemption from long-term capital gains tax will be available in case I buy a residential property outside India, say in Australia. If so, under which Section of the said Act?
Well-maintained is well built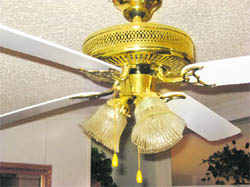 Most Indians have a fascination for large sized houses. In spite of high property prices those who can afford big houses go for as big a house as their budget allows. Crores of rupees are spent on construction and interiors, best specification materials are chosen, houses are completed and inaugurated with much fanfare. But when it comes to the maintenance part the whole enthusiasm seems to evaporate. It, no doubt, is difficult to maintain a large house.

Clean fans and non-leaking door closers show a home owner's keen eye for maintaining a beautiful house
Launch Pad
Ansal Properties and Infrastructure Limited has launched Group Housing "The Fernhill" in Sector 91, Gurgaon. The project is being developed on a Joint Development Agreement aggregating to developable area of 14 acres. These are high rise buildings consisting of 2 BHK, 2BHK+Kids Room, 3 BHK & 4 BHK apartments. The sizes of the apartments are in the range of 1348 sq.ft. to 2321 sq.ft. The project has been launched at Rs 2795 per sq ft with an inaugural discount in the range of Rs 100 to Rs 200 per sq ft depending on the size of the apartment.
The tech advantage
Technology-driven solutions are gaining ground in the Indian realty sector as the number of end users familiar with Internet usage has increased manifold in the past few years. This has opened up new vistas for the sector as well as entrepreneurs who have come up with innovative ideas to add new dimensions to the process of buying and selling property. Kshitij Miglani is co-founder and director of Bangalore-based company that has come up with India's first online application that provides a login/user interface to buyers.