No time to REST ON LAURELS
With several senior players asking to be rested after back-to-back tournaments, a debate has been sparked off again on how much cricket is too much
Abhijit Chatterjee
The nation had waited for 28 long years for the triumph: a win in the Cricket World Cup. But, unfortunately, the players who made this possible, M. S. Dhoni and his squad of 15 players, were denied any rest or even time to rest on their laurels as they plunged straightaway into IPL 4. Some of the players, including the skipper, could not even go home to savour their moment of triumph. Chandigarh lad Yuvraj Singh made a whistle-stop trip to City Beautiful before rushing off to take up his new responsibility of captaincy of the new Pune Warriors squad.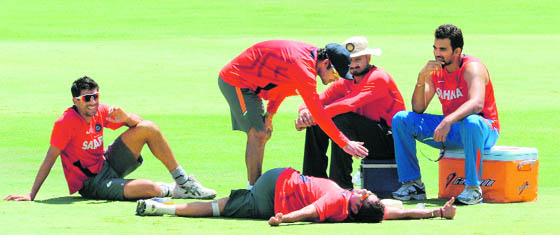 Senior players, such as Sachin Tendulkar, skipper M. S. Dhoni, Virender Sehwag and Zaheer Khan, have written to the BCCI to allow them to skip the West Indies tour Photos: AFP
ICC itinerary
ICC not keen to see star Indian players missing Caribbean tour
The ICC has said it would not be proper if all Indian star cricketers skip the West Indies tour to take rest, according to a report from New Delhi.
Fitness mantra
ANAEMIA ALERT
Sunita Bhatti
Do you feel too tired or low and do not feel like doing any activity? You may be suffering from the most common ailment prevalent among Indian women — iron deficiency, anaemia.