The legacy of Punjabi poet Shiv Batalvi, whose death anniversary falls on May 7, lives on but more needs to be done to widen its reach
Being Batalvi
S.D. Sharma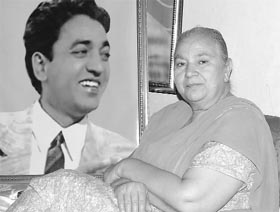 Shiv Kumar Batalvi's wife Aruna remembers him as a warm and caring family man Photo: Rajesh Sachar
Joban rutte jo bhi marda, phul banne jaan tara...
(Whosoever dies in the age of blossoming, emerges as a fragrant flower or a shining star)
This couplet voicing the anguish of legendary Punjabi poet Shiv Kumar Batalvi, following a premonition of his death, which later proved to be his requiem, was scripted much earlier than his untimely demise in the wee hours of May 7, 1973.
But, as enshrined in the couplet, Batalvi had been both a "phul" and a "tara," since his ornate compositions retain the fragrance of a flower while he shines like a star with his towering literary genius on the horizon of Punjabi poetry. The immortality of his wok lies in the fact that he gave newer dimensions to Punjabi poetry that extended far beyond his times.
Endowed with impulse and imagery, Batalvi had been hailed as the John Keats of Punjabi poetry by his admirers, fellow writers, critics and connoisseurs. During his short yet memorable literary span, he produced about one dozen classics of astounding merit, with Loona, the pinnacle of his genius, eventually making him the youngest recipient of the coveted `A0Sahitya Akademi Award in 1965.
The childhood memories of the rural ambience and warmth of the people of the sleepy Barapind Lohtian village (now in Pakistan), where Shiv was born in 1936, remained etched on his mind and found reflection in the rural idioms used in his writings. Living amidst the realities of life, as any middle-class`A0person, his formative years were spent at Batala, where his poetic potential blossomed to prominence, virtually dwarfing the works of many contemporary bigwigs.
His family members and close associates share memories and views on his legacy:
Affectionately called "Arun" by Shiv, his wife Aruna remembers him as a loving, affectionate and caring life partner, who continues to inspire her family and lives on in their thoughts. "Believe me, Shiv was so much emotionally attached to me that I never felt the necessity of even enquiring about some female names that were linked with him."
"Contrary to general belief, Shiv was never in a pensive mood at home and writing serious poetry was a routine for him, which he could do even in a jolly mood." Recalling Shiv's concern and love for his family, she refers to the poet's visit to England, "I used to receive one letter daily, except on Sundays, and then two on Mondays." Recalling his affectionate and jovial nature, Aruna says he spent many sleepless nights holding the children in his lap, whenever they fell sick.
Showing a message scribbled by Shiv in the Carmel Convent school diary of son Meharban, Aruna says it was of paramount importance to ensure that his progeny was well educated. "With the grace of God, both son Meharban and daughter Pooja hold doctorates in Punjabi and Economics, respectively," Aruna shares with a pride. She expresses gratitude to the Punjab Government and Punjabi University, Patiala, for their regular support, especially for the Shiv Batalvi memorial, now under construction at Batala.
Says Dr Meharban Batalvi of Punjabi University, Patiala, "Going by the contribution of Shiv Batalvi, as a prolific poet whose literary merit transcends time and boundaries,`A0I take pride in the fat that he was the gem of our family." On a discerning note, Meharban opines that most of Shiv's admirers relish his popular songs, but people need to read more of his classics for appraising the profundity of his thought, majestic sweep of imagination and amazing versatility to write on varied themes. "This would be the best tribute to the poet and a step forward in propagating the legacy of Shiv."
Former professor and Shiv's early mentor Dr Harish Puri of Ludhiana reminisces: "Younger in years but older in lyrical wisdom, prodigious Punjabi poet Shiv rose to eminence for his poetry, which pulsated with an impassioned outburst of emotions, with richly carved idioms and metaphors."
"Brimming with joy one day, Shiv came to me with an inland letter from actor Balraj Sahni, in appreciation of his poem, Peeran da Praga, wherein the Punjabi scholar and actor had predicted that Shiv would rise as a colossus on the Punjabi literary firmament for his indomitable writing style. Similar adulation followed with his further contribution to Punjabi literature. However, now, it is imperative to maintain and propagate his rich legacy through seminars, workshops and printing of his books in other languages so that his writings reach a wider readership," says Puri.
Adds Dr Deepak Manmohan of `A0Patiala, acclaimed litterateur and an old associate of the poet, who was awarded a doctorate on the literary works of Batalvi: "Shiv was not a poet of pathos alone, as projected by many na`EFve people and critics, but a versatile complete poet who had touched diverse themes of socio-cultural relevance, patriotism, human values and much more in his verses."
Maintains Manmohan, "Shiv had made brilliant use of rural imagery and phrases in romantic poetry after Syed Waris Shah. The new-generation poets must emulate his imaginative vigour in producing rural folk metaphors, which immortalised the verses. Since Shiv was not aligned to any group or political party, he remained bereft of the honours he eminently deserved. However, it is not too late to establish a Chair in his name in various universities, and carry out detailed research work and translation of his works, which will help promote his rich legacy."
While legendary singers like Jagjit Singh, Chitra Singh Surinder Kaur, Bhupinder Maitali, Jagjit Zirvi and now Ashok Masti and R.D. Kailey have sung the poetry of Shiv, the melodious rendition of a lot more of his poetry is still to be brought to the audience.
C. R. Moudgil, director, Haryana Punjabi Sahit Akademi, opines, "Shiv took Punjabi poetry to a spectacular level and owed his popularity to the Punjab Language Department." He, too, feels that established educational and cultural `A0organisations `A0must institute annual awards in his name and give research scholarships to carry forward Shiv's rich legacy.
Eminent writer and former editor of Punjabi Tribune Gulzar Singh Sandhu of Chandigarh pays an ode to him thus: " A poet `A0of folk consciousness and modern sensibility, Shiv excelled with a freshness of vocabulary, diction, imagery and rhythmic flow of words, which appear to be floating on sea waves or in the air."
On keeping alive the legacy, Sandhu says, "Efforts must be made to see that his poetry gets global recognition. The Sahitya Akademi, Delhi had translated some of his books and others must follow suit."