PEDIGREE APART
Whilst royalty has its share of fairytale weddings between commoners and princes, many an Indian middle-class girl in India has married into wealth and status to become a modern-day princess and how!
Vimla Patil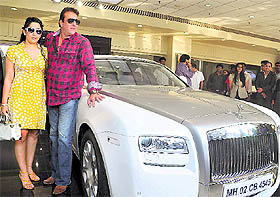 ueen Elizabeth of England had signed 'The Instrument of Consent" for the marriage of her grandson Prince William with commoner Catherine (Kate) Middleton. According to the Royal Marriages Act of 1772, a sovereign's agreement is necessary for validating the royal union. The marriage into royalty will transform the destiny of Kate Middleton.

From obscurity to overnight star wife, non-entity Manyata's change of fortunes can be judged from the fact that she was gifted a Rolls Royce by husband Sanjay Dutt recently. Photo: AFP
From Tibet, with love
Lieut-Gen Baljit Singh (retd) on how Lhasa apso and Himalayan blue poppy were discovered
"Eric Bailey has brought home thirteen Tibetan dogs and is going to make a fortune by them."
The above sentence is from the letter written in October 1929 by Sir Francis Younghusband to his daughter. Twenty five years preceding that observation make a fascinating story of how men and events moved to create history.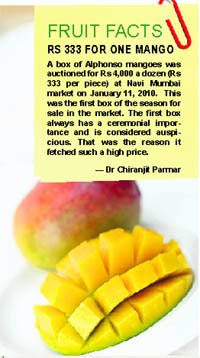 Art under attack
S. S. Bhatti
The Indian Academy of Fine Arts (IAFA) in Amritsar has been working for the cause of fine arts in the north-west region. However, a dispute among members of the 83-year-old premier institution, one of the very few in the country to be recognised by the Lalit Kala Akademi, New Delhi, over controversial changes in its constitution recently has hurt the sentiments of artists and residents of the city.
Mona Lisa's identity to be revealed
The art world's most enduring mystery surrounding the identity of the woman in Leonardo da Vinci's famous portrait Mona Lisa may soon be solved. The remains of a woman believed to have been the model for Leonardo Da Vinci's 'Mona Lisa' will be exhumed in a bid to recreate her face, according to a media report.
Cool climate with sugarcane
Sugarcane, grown in Brazil to power automobiles as an alternative to gasoline, has a double benefit —if cultivated in massive scale, it also helps in cooling the climate. Researchers from the Carnegie Institution's Department of Global Ecology found that sugarcane crops help lower the temperature of the surrounding air by reflecting sunlight back into space and "exhaling" cooler water.
Let's respect her privacy
The offence of transmitting porn clips of gullible women through the MMS needs to be made non-bailable. The punishment should be imprisonment for 10 years, writes Tripti Nath
The transmission of porn clips of unsuspecting women through multi media service (MMS) on mobile phones is fast emerging as yet another form of gender violence and cyber crime in India.
Go organic on roses
Roses, which are often attacked by pests, should be treated organically. The chemicals used on them are dangerous for our health, writes Daksha Hathi
Who can resist roses and little babies? They are both irresistible! But there are two important things we should know about them for the sake of the
environment.
Poetic capital of Persia
The oasis town of Shiraz is the quintessential Persian city full of music, art and architecture. It is also known as the city of poets, gardens, wine, nightingales and flowers, writes Sudha Mahalingam
Solemn and sombre, the women stand silently around the slab sheltered by an ornate blue-tiled octagonal pavilion. Without exception, all heads are wreathed in black headscarves, revealing little of the tresses underneath.
Now a shopping channel for shoes only
Jonathan Brown
Dressed in an elegant black pinstripe trouser suit, with immaculately-coiffed blonde hair and perfect blood red nails, it is easy to see why Catherine Paver was known to friends and rivals alike as "the Maggie Thatcher of the shoe trade".
You can't compare me with my father
Says Rohan Sippy in conversation with Jyothi Venkatesh about his latest film Dum Maaro Dum
You are coming back as a director after quite a long time.
I agree that after Bluff Master, which I had directed, I concentrated on our home productions like Chandni Chowk To China, Taxi No 9211, The President is Coming etc, it has taken me quite a while to come up with my next directorial venture Dum Maaro Dum, which took me two years to put up together after Shridhar Raghavan wrote the subject.
Hipper Bollywood woos younger audiences
Shilpa Jamkhandikar
Bollywood is dyeing its hair blond, getting itself a sports car and donning a pair of worn-out jeans. In other words, it's trying to get younger and hipper. The Hindi film industry, until now ruled by stars mostly in their forties, is looking to woo younger audiences with edgier storylines and younger talent.