Poetic capital of Persia
The oasis town of Shiraz is the quintessential Persian city full of music, art and architecture. It is also known as the city of poets, gardens, wine, nightingales and flowers, writes Sudha Mahalingam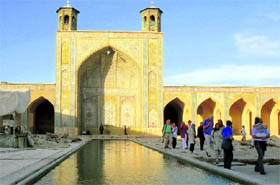 The Vakil mosque, adjacent to Vakil bazaar, with row upon symmetric row of beautiful arches and columns, its domes covered in geometrical patterns, its walls clothed in Persian calligraphy is a mesmerising sight
Solemn and sombre, the women stand silently around the slab sheltered by an ornate blue-tiled octagonal pavilion. Without exception, all heads are wreathed in black headscarves, revealing little of the tresses underneath. As I draw near, I find that some of the women sport trendy black manteaus over blue jeans; the manteaus reach up to their knees, yet show off their slender contours to great advantage. The women are hunched over the marble slab inscribed with calligraphy, while a few men stand at a discreet distance.
This is Shiraz, the gorgeous oasis town in the south of Iran. The spot is the tomb of Hafiz, the poet so beloved of Persians. Mullahs in the Qom province may decide on the dress code for Persian women, and how long their manteaus should be, but their writ runs no further. Many women sport latest offerings from the couturiers in Paris and Milan. Those who can't afford the originals wear ersatz labels.
Shirazis are passionate about poetry, as they are about music, art and architecture. Shiraz is also home to another famous Persian poet — Sa'adi whose tomb, like that of Hafiz, is always crowded with lovelorn young Iranians. Young lovers come to the tombs of Hafiz and Sa'adi to seek their blessings for a life of love and togetherness.
Shiraz is the quintessential Persian city — virtually unrivalled in refinement and culture. Watched over by Zagros ranges, the city is home to some typical Persian gardens — rolling meadows, ornate fountains, trellises sporting grapevines, ponds crowded with blooming lotuses and miles of leafy avenues that provide welcome refuge from the relentless desert sun.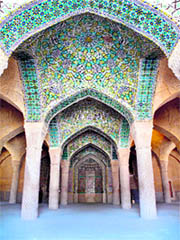 An inside view of the Vakil mosque
Shiraz is the city of music, theatre, museums and soirees, but unfortunately, most visitors to the city just pass through it en route to Persepolis, the ruined capital of the Great Persian Empire established by legendary Darius in 522 B.C.
Shiraz has some beautiful avenues hooded with the benevolent branches of tall cypresses. There is such harmony in the way the streets are laid out in neat grid-like patterns. Residential localities are distinct from the bazaar areas and there is little dissonance in the architecture. Stained glass windows of intricate designs and shapes abound.
The covered bazaar of Shiraz offers such delights as exquisite turquoise jewellery, Persian saffron, which can be bought for a song, lovely Persian carpets that can cost the earth and moon together, and yards of silk and taffeta seductively spread out to coax those reluctant Turmans out of your wallet.
Shirazi shopkeepers enjoy haggling as much as making a sale and are ever courteous and chivalrous. If your limbs ache from all that walking around, just enter one of the numerous hammams that dot the city and indulge in a luxurious warm bath under a brilliantly coloured tiled canopy even as you are serenaded by melodious Persian music.
Shiraz is as much Muslim as it is Persian and home to some very beautiful mosques. The Vakil mosque, adjacent to Vakil bazaar, has been renovated recently to its full glory. Now it gleams like a just-bathed and dressed new bride. The mosque is a feast for the eyes, with row upon symmetric row of beautiful arches and columns, its domes covered in mesmerizing geometrical patterns, its walls clothed in Persian calligraphy. The mehrab is quite ornate, and the prayer area is divided by a discreet latticework screen, which separates the worshippers by gender.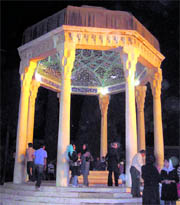 Young lovers come to the tomb of Hafiz to seek blessings for a life of love and togetherness
Women visitors cannot enter without a chador, even with headscarves. But there is no need to despair. There is counter there for such exigencies, where a woman produces a few yards of black taffeta which one can wrap around when one enters the prayer area.
Shiraz is also the orchard of Persia. The produce market is full of stalls and carts laden with luscious plums, peaches, oranges and pears, not to mention bunches of green grapes the size of amla. The winding bazaar has several lanes and gullies each devoted to specific produce — there is a lane full of dates and other dry fruits, another is devoted to nuts of assorted shapes and sizes and delicious roasted wheat and barley.
In the evening, visitors must visit one of those chaikhanas where men and women sprawl on charpoys and kilims (woven rugs), under a starry sky, drinking spiced black tea and inhaling orange blossom-scented smoke from a handcrafted hookah. The bubbly aromatic smoke drives away all my tiredness and can lulls one into a wonderful state of tranquillity.
Fact File
HOW TO REACH: From New Delhi, Mahan Air offers flights to Tehran, From Tehran, many domestic flights are available to Shiraz (one hour). Also comfortable daily sleeper trains are available from Tehran.
WHERE TO STAY: There are a variety of hotels to suit all budgets. There is also university guesthouse for students.
WHAT TO SEE: Numerous mosques, (besides the Vakil Mosque, there is Atigh Jame' Mosque, which is one of the older mosques of Iran, and Nasir al-Mulk mosque); maqbaras and tombs, including the tombs of Hafez, Saadi, and Khaju e Kermani, and lovely bazaars. There are some lovely gardens, too, such as the Eram Garden (Bagh-e Eram). It is a striking location for visitors with a variety of plants as well as a historic mansion.
NEARBY ATTRACTIONS: Pars Museum, Persepolis, the ancient Persian capital built by Darius is just an hour away. Pasargade, the even earlier capital established by Cyrus, The Great, is a two-hour drive from Shiraz.
WHAT TO DO: Lounge around in chaikhanas, smoke apple and orange scented hookahs, visit university campus and museum, have a relaxing massage in a hammam.
WHAT TO BUY: Carpets, kilims or rugs, silverware, turquoise jewellery, saffron and dry fruits.
SPECIAL TIPS: Indians need an invitation from a local individual or organisation to get a visa. All women visitors must wear headscarf and some full covering dress.