Commercial property boom in Patiala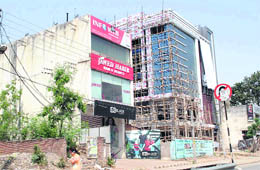 With the recent auctions of the freehold shop-cum-office sites in PDA-Omaxe City and SCOs on Jail Road receiving an overwhelming response from bidders, the commercial realty sector in the royal city of Patiala seems to be back on the track. The trend is being witnessed in other parts of the country, too. A report of RICS India Commercial Property Survey released recently said, "...

Commercial complex coming up on Bhupindra Road in Patiala Tribune photo: Rajesh Sachar
Housing prices may go up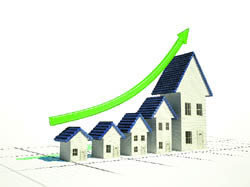 According to industry body CREDAI housing prices could go up, as the borrowing cost for developers is set to increase following the hike in short-term lending rates by the RBI. Reacting to the RBI's decision to raise the repo and reverse repo rates by 50 basis points, Confederation of Real Estate Developers Association of India (CREDAI) Chairman Pradeep Jain said, "This is going to increase the cost of funds for both developers and home buyers". "Property prices would go up since the input cost will increase because of the increase in borrowing cost to developers", Jain, who is also Chairman of Parsvnath Developers, added.
tax tips
No rebate on loan for plot
Q. As per the House Building Advance rules of the company in which I am working we can take the HBA for purchase of plot and construction on the site thereof. We can take 40 per cent amount of HBA entitlement for the purchase of a plot and the remaining 60 per cent in two installments of 30 per cent each after registry and approval of the building plan. In my case I have taken loan of Rs 5 lakh for purchasing a plot and Rs 25 lakh for construction on it. Am I entitled to get a deduction for interest paid with regard to the loan taken for purchasing the plot?
REAL TALK
Heading for price correction


With several educational, industrial, office, hospitality, retail and healthcare projects in its kitty the Innovative Infradevelopers group has carved a niche in infra development over the past 20 years. The group's current focus is in the NCR and it recently launched Legend Heights, a mega commercial project complete with retail, corporate offices, hotel & spa and food court in Gurgaon.

Sumit Bansal, Joint MD, Innovative Developers
CREDAI CONVENTION
Pledge for transparency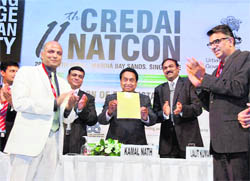 The Indian real estate industry, whose image has suffered after a series of corruption scandals pledged to maintain transparency and quality towards all its stakeholders at a convention organised in Singapore. Hundreds of developers, who gathered in Singapore for the 11th annual convention of the Confederation of Real Estate Developers' Association of India (CREDAI), also promised to become more sensitive to the interests of their stakeholders.

Union Minister of Urban Development Kamal Nath releases a publication during the inauguration of 11th CREDAI Natcon in Singapore recently. PTI Photo
REALTY GUIDE
Fraud by property dealer
Q. I entered into an agreement for sale of a residential plot in an Urban Estate of PUDA. An Agreement to Sell was prepared by the property dealer on non-judicial stamp papers of Rs 300 value, some amount as earnest money was paid to me and the original agreement was kept by him. However, I took a photocopy of the agreement papers from the property dealer after repeated requests. The property dealer failed to get the sale deed executed in the office of Sub-Registrar by the stipulated date and has made some additions and alterations in the original Agreement to Sell.
REALTY BYTES
Acron Infra Projects of Mumbai has recently been awarded the work of constructing Smondoville - a residential complex in Neotown Electronic City, Bangalore for "Patel Realty". Acron Infra Projects will construct seven multi-storey residential towers each comprising of a stilt plus 12 floors totally measuring over 400,000 sqft.
green house
Go for that exotic touch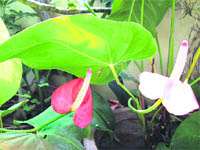 The kind of response we receive from our readers is a clear indication of the vast variety of readers that we have as they include experts, amateurs and even those who have never tried their hands at gardening before. Keeping everyone in mind we at times have to take up issues that may be very basic for the expert group. Our aim is to make the raw hand a unit of green fingers. But what I will introduce you today is something that will interest one and all.

The spectacular anthuriums