COLUMNS



THIS ABOVE ALL

TELEPROMPT

GOOD MOTORING

LIFE'S LESSONS

LEXICON

FOR CHILDREN



CROSSWORD

RHYME TIME
Earlier Feature


TELEVISTA


AUDIO SCAN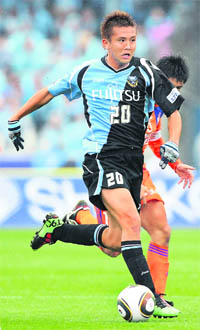 With the announcement of Premier League Soccer, can Indian football enter a new era? Vaibhav Sharma checks out
How many times have we heard the arguments as to why the Indian football is not a force to reckon with? People have come up with the most inane reasons on why our footballers are not up to the mark. And yet, we harbour dreams of seeing our less-privileged and even lesser-known 'Men in Blue' play at the biggest stage of all, the FIFA World Cup!






The new Premier League Soccer may see the likes of former Arsenal man and Japanese international player Junichi Inamoto

PLS a League apart?
So what exactly is it about the PLS that can make it different from the existing national league, the ONGC I-League? For starters, despite the fact that the I-League has expanded, and has helped in taking the game to various parts of the country, it still has not been able get a hold on the audiences.
Tagore in our times
GenNext may not be singing Tagore songs but his philosophy does hold relevance today, writes Ritusmita Biswas
In the 150th year of Rabindranath Tagore's anniversary celebration, for the modern youth, the bard seems nothing but a literary figure confined to their textbooks. This is more evident among the students of elite schools, who prefer to opt for ballet, salsa or any other western dance/music form rather than opting to learn Rabindra Sangeet.
Notes of harmony
Gurudev wanted his music to be heard beyond the boundaries of Bengal. He invited French artist and scholar Alain Dani`E9lou to Santiniketan in 1932 to transcribe Rabindra Sangeet for the western audience, writes Vandana Shukla
Music works as a bridge that takes us to unknown territories — esoteric, exalted, and, at times, geographical. Had Francesca Cassio not read Rabindranath Tagore's poetry as a child, her musical trajectory might have remained limited to western classical music. But this trained opera singer from Italy, a musicologist who specialises in ethnomusicology, took the thread of Tagore's musical poetry and a whole new tapestry was woven around the musical systems of the East and the West.