Notes of harmony
Gurudev wanted his music to be heard beyond the boundaries of Bengal. He invited French artist and scholar Alain Dani`E9lou to Santiniketan in 1932 to transcribe Rabindra Sangeet for the western audience, writes Vandana Shukla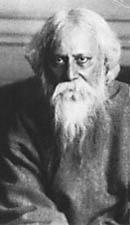 The first-ever fusion music was conceptualised by Tagore
Music works as a bridge that takes us to unknown territories — esoteric, exalted, and, at times, geographical. Had Francesca Cassio not read Rabindranath Tagore's poetry as a child, her musical trajectory might have remained limited to western classical music. But this trained opera singer from Italy, a musicologist who specialises in ethnomusicology, took the thread of Tagore's musical poetry and a whole new tapestry was woven around the musical systems of the East and the West.
Francesca's fascination with Tagore's poetry, that opened new vistas of thought and beauty, took her to Visvabharati University (Santiniketan) in 2005, under a project she took up with ICCR (Indian Council for Cultural Relations). There she discovered the genius of Tagore, the musician. What she did not expect to discover was the fact that perhaps the first-ever fusion music was conceptualised by Tagore. The universalist that he was, Gurudev wanted his music to be heard beyond the boundaries of Bengali-speaking audience.
To actualise this dream, he invited Alain Dani`E9lou, (1907-1994), French artist and scholar, to Santiniketan in 1932 to transcribe Rabindra Sangeet for the western audience. In his autobiography, Dani`E9lou writes that Tagore requested him to transcribe some of the compositions in the western vogue of the time, for voice and piano. It was Tagore's wish to make it possible for some of his songs to be sung for a western audience.`A0Dani`E9lou, a perfectionist that he was, worked for over 50 years on the project and translated into English and French about 18 songs which he transcribed for piano. The songs were transcribed in such a way that the original melodies could be recognised, but with a harmonic piano accompaniment that supports and emphasises the underlying meaning of the poems.
His translations are such that the words not only match the meaning but also fit the melodies, with the length of the syllables as well as with the sound of the vowels and consonants.`A0
After achieving this almost impossible task, Dani`E9lou started looking for a voice that would do justice to the nuances of the grammar of Indian classical music, as well as carry the harmonic features for a western audience. It was not an easy combination to find. Dani`E9lou passed away in 1994 without finding the voice. Then, one fine day, Francesca arrived at Santiniketan ( in 2005) to unearth Dani`E9lou's work that was waiting to be discovered by a voice that could do justice to Rabindra Sangeet for a western audience.
Francesca, who won a national award for music in Italy when she was just nine, embraced several features of Indian classical music. She learnt naad yoga of Dagarabani under the tutelage of Ustad Rahim Fahimuddin Dagar, also a disciple of dhrupad singer Amelia Cuni; later she learnt the finer expressive nuances of thumri gayan by Girija Devi, while working on her Ph D thesis on ethnomusicology at BHU, Varanasi, under the guidance of Prof Ritwik Sanyal.
During her research at Santiniketan, she learnt about Gurudev's visit to Harmandar Sahib, Amritsar, and the impact Gurbani had on him. In fact Tagore composed a few songs inspired by Gurbani. "The mystic, philosophical level found in Gurbani is what he was trying to express through Rabindra Sangeet," says Francesca. So, her quest to touch the mystic element of the music of Gurbani brought her to the door of late Bhai Avtar Singh and Bhai Gurcharan Singh, 96. Later, she became a disciple of Bhai Baldeep Singh. All these stalwarts of Gurmat sangeet sing the Bani in dhrupad style.
Training in varied perspectives of Indian classical music changed her voice, turning it supple and adaptive for the nuances like meend, a unique feature of the Indian classical music, opera singers find hard to handle due to their high-pitched trained voices that lose naturalness of the tenor. With her sustained search and training, Francesca was able to discover universal elements in both music systems, that she could interpret as a music bi-lingual. She produced two CDs, Tagore's Songs of Love and Destiny, based on the translation and music arrangement for voice and piano by Dani`E9lou, with Ugo Bonessi, an internationally renowned pianist.
The litmus test for this fusion was her performance in Kolkata, where she could move the fastidious Bengali audience to tears with her English renderings of their beloved poet's musical gems.
Francesca continues to build musical bridges; she is the first westerner to head the chair of Sikh Musicology at the Department of Music, Hofstra University, New York, as assistant professor, and is a lecturer of Indian music at the Conservatory of Vicenza, and lecturer of ethnomusicology at the University of Trento, Italy. She is also associated with Anad Conservatory of music at Sultanpur Lodhi, Punjab.