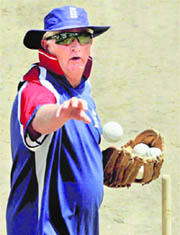 Duncan decoded
Duncan Fletcher's appointment may have driven detractors and supporters into debate mode, but ultimately it is what he brings to the table that will decide his utility for Team India, writes Sunil Narula
Duncan Fletcher might just prove to be the best coach that the Indian cricket team was looking for after the exit of Gary Kirsten. Or, he might just turn out to be an ordinary coach under whom the Indian team fails to achieve much. It's too early to say that Fletcher is the right man for the job. At the same time, it's also early to write him off. At this stage the best we can do is to see things that are in favour of Fletcher. And also analyse the points that are against him.
Photo: PTI

TIME OUT with TUSKERS
Ravinder Jadeja aims to be back with the Indian eleven, though his immediate focus is to contribute to his IPL team
Amit Khanna
That the IPL throws up unannounced talent is an open secret. But what often goes unnoticed is the fact that the big-ticket entertainment show also provides many a helpline to international players currently out of favour with their national selectors. Even a string of cameos in the shortest format are, at times, enough to pull one out from the wilderness and you can again nurse the dream of wearing the national colours soon.
Mommy makeovers
The latest fad of mums: bust lifts and tummy tucks
An online survey conducted on a random sample of 1,085 mothers, aged 18 plus, has revealed that given a choice, more mommies would today prefer a 'makeover' than ever before. A survey by the American Society of Plastic Surgeons (ASPS) shows that if cost were not an issue, 62 pc of mothers would consider a "mommy makeover" that includes a tummy tuck, breast augmentation and/or breast lift.