IT'S A BEAUTIFUL DAY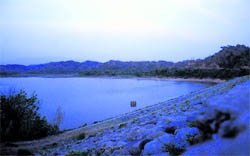 Nature's shrine
Not far from Chandigarh is this place where silence prevails. One can only hear the sound of the wind, rustle of the leaves, occasional clinking of temple bells interspersed with the cries of the peacock — the temple of Jayanti Devi, some nine kilometres from PGI, offers an astounding view of surrounding fields, villages and small rainwater dams.
peace rules: A panoramic view of the Jayanti Dam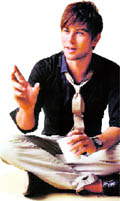 Men will be men
Experiments by University of South Florida psychologists suggest that manhood was difficult to earn and easy to lose, and also showed that aggression was the preferred way for men to hold onto this precarious status. "Gender is social. Men know this. They are powerfully concerned about how they appear in other people's eyes," said Jennifer K Bosson. "And the more concerned they are, the more they will suffer psychologically when their manhood feels violated. Gender role violation can be a big thing, like losing a job, or a little thing, like being asked to braid hair in a laboratory," she added. In several experiments, Bosson and her colleagues used the hair-braiding task to force men to behave in a 'feminine' manner, and recorded what happened.
Do you trust your hubby?
A new study has found that one in three women look after the household finances as they don't believe their other half can keep up with paying the bills. It said women are so doubtful of their husbands' abilities with money, that only one in five is willing to take financial advice from them.
First-day-first-show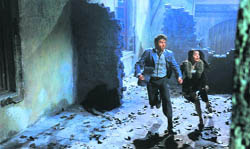 Horror extravaganza
Vikram Bhatt's latest experiment, Haunted 3D, is a crowd-puller. While the show is running housefull, people seem fascinated with the concept of 3D. While some fell in love with the songs, a few thought that the concept of a horror love story was interesting. Starring Tia Bajpai, Mimoh Chakraborty and Mahaakshay Chakraborty, the movie has received mixed reviews.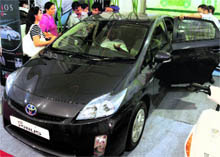 In AUTO mode
The 250 cc Honda CBR bike was the cynosure of all eyes at the ongoing Auto Mall in Chandigarh
It's love at first sight. And we did see many a boy go weak in the knees after a mere glimpse. No wonder, we even overheard somebody saying, "I was waiting for this moment and now when it's in front of me, I'll make sure I take it home as soon as possible."

black beauty: The Toyata Prius
Kalki's Shanghai experience
Lady luck is smiling on Kalki Koechlin. After giving a powerful performance in Dev D, the actress has now grabbed another good role in Dibakar Bannerjee's political thriller Shanghai.
Book Mark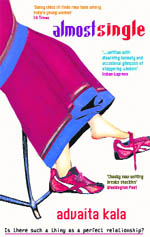 Love for chic-lit
Garima, associate consultant, shares what made her like her latest read Almost Single
Garima describes herself as someone who is fond of reading, but not an avid reader. Garima Prashar associate consultant Infosys has best sellers on her bookshelf and banks heavily on recommendations of friends, family's and colleagues'. "I have read fiction, non-fiction, philosophy, thriller, romantic novels, auto-biographies making a good mix up of several these genres," shares Garima. Garima's latest read, Almost Single by Advaita Kala, was recommended to her by a friend. From chic-lit genre on the lines of 'Sex And The City' and 'Turning 30', Garima calls the book 'a must read for every girl'. "Guys can have a good laugh out of the book. It will give them some insight into how complicated yet bold women are," says Garima.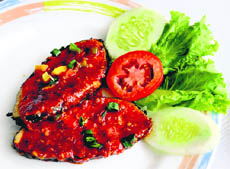 Veggie surprise!
A 10-day 'Googly Food Festival' is sure to delight all the vegetarians
Veggies gear up; a food festival that celebrates 'ahimsa food' kicks off this Friday! The 10-day festival has an apt name too - 'Googly Food Festival'. A googly in the true sense, the festival will have all kinds of vegetarian delights but with a non-vegetarian taste! And well, they will look like non-vegetarian dishes too!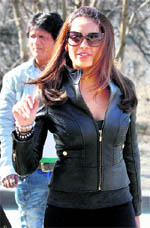 playing hard: Bollywood actress Bipasha Basu speaks to reporters in the Arctic seaport of Murmansk, 1,450 km (906 miles) north of Moscow, Russia. Bipasha arrived in Murmansk to star in Players, a new movie made by an Indian film company. —AP

Cheat (de)code
Do you suspect that your partner is unfaithful? Don't worry - here's a new gadget that is designed to recover information that has been wiped from an Apple iPhone. Manufactured by Paraben, the USB stick - called the iRecovery Stick - can also retrieve deleted contact details and even mapping solutions, which show the destinations that the phone user has visited.
TRENDSETTER
Variety is the spice
Every person has a sense of style. Yet, there are only a few who'd attract a second glance or make heads turn. The magic could lie in tousled hair or it could lie in torn jeans! This week's face in the crowd Aanchal Bajwa, IT student, University Institute of Engineering and Technology, Panjab University, is the best possible amalgamation of varied style statements.
WEight watch
Game for food?
A new study has found that teenage boys eat more food after playing a video game. The Canadian study involving 22 normal-weight teenagers found that the boys ate 163 more calories on the day they played video games and did not make up for this by burning more calories while gaming or eating less later in the day.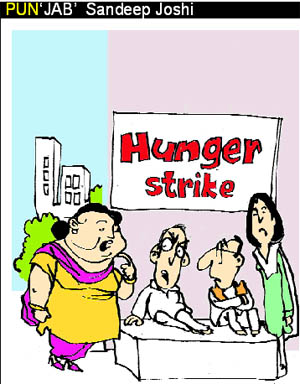 causes galore: Can I join you? I want to shed 10 kg weight.
Shraddha does an 'Aaou'dition'
The lead character of LKTE pretty much carries the story of the film. So when it came to the casting, we needed someone who was not just a good looker and dancer, but also someone who could act well. Considering the fact that whoever would be signed on to be the first lead of Y-Films would get into a contract for three films, it was a big thing. Naturally, it turned out to be a most gruelling audition process spread over seven days, five intense scenes including a massive breakdown, three dances, and more. But eventually, what got Shraddha Kapoor the part was more than her talent to act. Ashish Patil, the producer of LKTE is a big fan of Shakti Kapoor and he asked her to do an 'Aaou' like her dad. Without a moment's hesitation, Shraddha jumped and not only did that but also a "Crime-master go-go", a "balmaaaaa", a "Nandu sabka bandhu" and lots more. She basically captured the personality, the irreverence of the Y-Films brand and turned out to be someone with no inhibitions.
It's official. They're back

After months of media speculation, it's official now! Yash Raj Films is pleased to announce its next project. Directed by Kabir Khan and produced by Aditya Chopra, the romantic-thriller Ek Tha Tiger, stars Salman Khan and Katrina Kaif in the lead roles. Yash Chopra, speaking about the project, said it was a very happy moment for him. "Everyone knows my association with Salim saab, having worked together on Deewaar, Trishul and Kaala Patthar. It is a very happy moment for me and YRF to have his son Salman with us for the first time. Over the years, Salman has become a matured and talented actor and both he and the beautiful Katrina have a tremendous connect with their audiences. Combined with Kabir's edgy directorial skills, we can all look forward to a thrilling film. I really loved the script which is based on a story written by Adi and I am sure that the whole team will do an excellent job on this project."

Comic reunion: Salman Khan with Katrina Kaif
Dinner for two
Hollywood actress Courtney Cox was spotted attending a dinner party with her best friend Jennifer Aniston's former husband Brad Pitt and seemed quite comfortable with him.
No Bigg deal


Bollywood actress-turned-filmmaker Pooja Bhatt says she was offered a place in the fifth season of sensational reality show Bigg Boss but she turned it down for its very concept. "Was just offered the next Bigg Boss. Living in a communal fish bowl out of choice is not quite my scene (sic)," Pooja posted on her Twitter page Friday. It is possible that Pooja took the decision following her brother Rahul's stint on the show last year.