150 YEARS OF TAGORE
Meetings with remarkable individuals
Reviewed by Balwinder Kaur
Leading Ladies: Women who Inspire India
By Sudha Menon. Fortytwo Bookz Galaxy. Pages 422. Rs 295.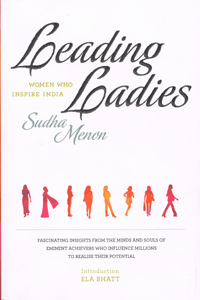 We spent our childhood enthralled by tales of heroes and heroines; their quests, trials and victories. It is one of those things that unite man, our preoccupation and fascination with larger-than-life figures. Leading Ladies by Sudha Menon recreates that magic with these real-life accounts of achievements, so grand that mere fiction seems dull by comparison. These are fables for adults as the success of these ladies inspires us to find their qualities in ourselves. This book answers those often asked questions, what makes achievers who they are and how they do what they do.
Leading Ladies gives us a glimpse of the real person behind the public face of 15 of India's most successful female achievers in the form of condensed biographies. Sudha Menon uses her 22 years of journalistic experience to elicit their secrets of how they battled their weaknesses, conquered their demons and overcame tremendous odds. Among these pages, you will meet businesswoman extraordinaire Kiran Mazumdar-Shaw, medal-winning athlete P. T. Usha, acclaimed performer Mallika Sarabhai, financial genius Naina Lal Kidwai, notable singer-composer Shubha Mudgal and many more.
Few are aware that the national movement Teach for India involving students, celebrities and regular people began with Shaheen Mistri, a once privileged teenager who has now spent 20 years changing the destinies of slum children by empowering them with quality education. As one volunteer remarked: "I don't make a fortune, I make a difference." Mallika Sarabhai stood up for communal harmony risking her life. Despite being afraid she refused to back down. Anu Agha took the reins of multibillion dollar company Thermax Ltd. in the wake of her husband's death out of a sense of responsibility. Her charitable efforts are fuelled by her deceased son's social conscience. Dr Amrita Patel, Chairman, National Dairy Development Board, spends her precious spare time endlessly seeking support and funds for charity. Their lives and days are filled with trials and suffering common to all but they do not let anything stop them. They continue to speed down that road shaken from the bumps, aching with the effort and bruised from the potholes but not broken.
After reading this book these women no longer feel like strangers, as just faces in glossy magazines or headline staples. They have fearlessly shared themselves; their tears and triumphs. While their achievements and plaudits are great, they do not intimidate or alienate but merely inspire. They aren't special just because of their titles, awards or salaries but because of their indomitable spirit. You feel a connection with them and what you learn from them will influence your approach to life, leaving you stronger and wiser.
This book teaches every woman that her strength takes many forms, making it a feminist bible. All these ladies speak glowingly of their fellow women and see them as a driving force for change. These women, irrespective of their professions and backgrounds, are no different from the women in our lives, as they too are brimming with love and kindness giving wholeheartedly as mothers, daughters, sisters, wives, friends and co-workers. This book provides the next step in the advice girls received from their parents, making it a must have for all women.
There is something for everyone in this book. Its innovative structure presents at a quick glance highlighted quotes which supply much food for thought. We also see many vignettes of contemporary Indian history. It contains advice and success mantras for many professionals. Parents will find valuable child rearing advice. It is a personal survival guide, providing powerful insights into today's real-life challenges and how to make the right choices.
The author herself acknowledges that most of the ladies in the book belong to the business world as this is her area of expertise. Women from diverse socioeconomic and professional backgrounds would be more relatable. This book is not a onetime read as the level of detail can be overwhelming.
The tremendous skill of the author illuminates not dazzles, leaving the spotlight on these amazing ladies. The writer feels that these women became her comrades and they will become your companions as well, for all who read this book will carry its glowing beacon all their life and can use it to brighten their darkest and weakest moments.