150 YEARS OF TAGORE
Urdu Book Review
Empathy, introspection and the sardonic eye
Reviewed by Amar Nath Wadehra
Dard ki Fasal
by Krishan Betab Educational Publishing House. Pages: 104. Rs. 100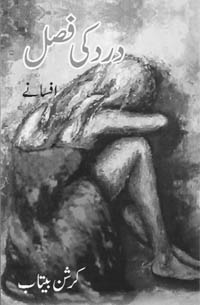 Duniya nay tajarbato-havadis kee shakal mein
Jo kuchch mujhay diya hai lauta raha hoon main
(Whatever the world has given to me by way of experiences and accidents, I am returning the same) — Sahir Ludhianavi
Invariably, pain sets off a range of emotions leading to actions that may prove to be cathartic. This collection of 14 stories portrays human beings in variegated situations with pain-induced reaction as the conspicuous undercurrent.
Krishan Betab's stories beautifully portray whatever he has experienced, witnessed and perceived in his life. His stories are free from ideological, communal or religious bias. The story, Bada hai Dard ka Rishta exemplifies this. Noor Mohammad used to work as a guard for a Hindu nobleman's family in Jind. During Partition, while leaving for Pakistan, he entrusted his family jewellery to a friend. This jewellery was earmarked by his wife for their daughter's marriage. After several years, Noor was able to come to India to get the jewellery. However, his friend refused to give it to him. The dejected Noor went to the nobleman's mansion, where the guards could not recognise him. Noor narrated to them his tale of woe which was overheard by the nobleman's daughter-in-law. The servants were surprised when Noor was not only invited into the house but also treated as a family member. The daughter-in-law promised him that she would get the jewellery made exactly as his late wife had earmarked for their daughter.
Empathy with the poor and the victimised, compassion for the downtrodden; a soft corner for women, children and the elderly are some of the salient features of Betaab's stories. Female characters feature prominently in the narratives. He has frequently juxtaposed today's woman vis-`E0-vis the patriarchal society. The thought processes of the educated woman can be glimpsed even as the mindscapes of conservative/uneducated women, too, have been explored. In Manzil he portrays the metamorphosis that Paro undergoes when she suffers at the hands of her husband. He is in an illicit relationship with his brother's wife and wants to get rid of Paro. He hatches a conspiracy whereby he manages to prove her to be a woman of loose morals and get divorce in a court of law. Paro's parents turn against her, too. When even her best friend looks askance at her, she decides to remarry and live right in front of her ex-husband's house.
Bhagoda (the fugitive/deserter) maps out the psyche of Karan Singh, who was a cook in the Indian Army during the British Raj. When he witnesses the bloodbath perpetrated in the wake of the partition, especially the trainloads of slain Hindus and Muslims moving in opposite directions, he deserts his unit in the NWFP and reaches India. When 1984 happens, he becomes terribly disturbed and wonders whether he would once again become a deserter.
Betab is much respected among the fiction writers of today's Punjab. Perhaps, this is because he is able to portray a wide range of moods in his stories. Apart from empathy and introspection, he is quite capable of casting a sardonic eye upon human foibles and hypocrisy. This is brought home tellingly in Barf ka Aadmi. It places a temple and a tawaif's kotha opposite each other. The pujari is much respected in the community. He lives with his wife in a small house within the temple premises. The couple is young and strikingly good looking but childless. Everyday kirtan is performed which is attended by young and old, men and women, the seeker and the satisfied. Across the road lives Tarabai the tawaif. Every morning, she turns her face towards the temple from her house and pays obeisance to the deities. Looked down upon by the pujari couple, Tarabai – an immoral guardian of the moral society – offers solace to the seekers in her own way. One day, the pujari's wife dies.
The forlorn widower tries to keep himself busy with the temple's chores. But not for long; the call of the flesh is too strong. In his room is a painting of Menaka seducing Vishvamitra. It triggers something within him and, one night, he steals into Tarabai's house. Reminds one of a witty couplet, "Pehlay to ruk kay sheikh nay dekha idhar udhar/phir sir jhuka kar dakhile-e-maikhana ho gaya".