ART & LITERATURE

'ART & SOUL
ENTERTAINMENT

TELEVISION

GARDEN LIFE

NATURE

FOOD TALK

CONSUMERS, BEWARE!

FASHION

GLOBOSCOPE

BRIDGE

ULTA-PULTA
EARLIER FEATURE

TRAVEL

RELATIONSHIPS

DREAM THEME

TIME OFF

150 YEARS OF TAGORE
Global Gurudev
Rabindranath Tagore was not just a modern Asian, but was accepted and adored equally by the West, writes Ashok Vajpeyi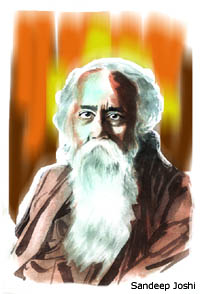 I was a young student who was intellectually and aesthetically being groomed by a schoolteacher. He gifted me for my 'Upanayan' ceremony a set of books, which contained three books of Agyeya and one of Rabindranath Tagore. It was the English version of Gitanjali, with an introduction of W. B. Yeats, whose greatness I was completely unaware of. I read it at one go and felt strangely dissatisfied. At the age of 14, I was hardly able to grasp the depth, the spiritual dimension of the poetry. But I did write a prose-poem under its impact.
Bard beyond the known
Ritusmita Biswas
Rabindranath Tagore and the Bengali identity are synonymous. Each and every intellectual Bengali (and often others, too!) prides himself on being inspired by Tagore and his work. In fact, this versatile creative genius is vital to Bengalis and "Bengaliana". Ask any average Bengali what Kabiguru, as Rabindranath is fondly remembered, means to them and he will tell you all about the accomplishments and achievements of this Renaissance man.
Tagore echoes in Punjab
Gurudev wielded great influence on letters and arts in Punjab. Many modelled themselves after this great figure of Bengal's renaissance, writes Nirupama Dutt
Bengal and Punjab, so far away, are yet so near in many a significant moment in history. One could play on a limerick and say that the sons of Punjab are very good fighters, whilst the sons of Bengal are mostly writers! Major socio-political movements that started in Bengal, found their echoes in Punjab, be it the national struggle for Independence from the British regime, or the revolutionary ripples of the Naxalite movement of the late 1960s.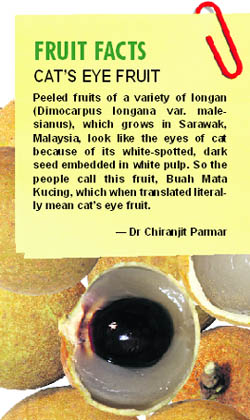 Fountainhead of wisdom
Although it is difficult to fathom the depth of Rabindranath Tagore's prophetic vision, his sound ecological wisdom is as relevant to our times as it has been in the past, writes Mina Surjit Singh
The years between 1913, the year Gitanjali won for Rabindranath Tagore the Nobel Prize for Literature, through George Orwell's negative utopia in 1984, and Roland Emmerich's 2009 cinematic representation of the big-bang end of the world in his film 2012, are still fresh in our national and global psyche. A history which has been one of hitherto unparalleled technological development and progress in all areas of knowledge, it has also witnessed an accelerated journey of violence and degradation of our natural rhythms and ecosystems.
Patience, hallmark of his women
Tagore's women come across as strong and independent even when they seem trapped in conventional roles, says Shoma A. Chatterji
Rabindranath Tagore created, redefined, reinvented, deconstructed and presented the woman of tomorrow. Images of Tagore's women come across as strong and independent even when they seem trapped in conventional roles. Women everywhere will find a close friend in Tagore. Positive or negative, central or marginal, young or old, normal or psychotic, rural or urban, married, single or widow, traditional or modern, his fictional women are strong with personality traits rarely found in Bengali literature of the time in so many different ways, so frequently and spread out over a hundred years of literature and history.
Colours of peace
Ranjita Biswas recaptures the festive spirit of Basant utsav at Santiniketan. Gurudev, inspired by the concept of joy and brotherhood of Holi, had decided to celebrate it as the festival of spring
Spring has brushed the trees with red now. Drinking in the vibrant beauty a flame- coloured palash and Krishnachura, my mind meanders to Santiniketan where gulal and red flowers merge into a riot of colour during the Holi festival. Rabindranath Tagore was so inspired by the concept of joy and brotherhood of Holi that he decided to introduce it as Basant utsav, festival of spring, in Santiniketan, his abode of peace.
The birthplace
Rajendra Rajan goes on a pilgrimage to Thakurbari where Tagore was born
It is a bit of struggle to spot Thakurbari, the birthplace and ancestral abode of Rabindranath Tagore, in the narrow bylanes of Jorasanko. Though it seems in a state of neglect, the palatial house is a quite place, away from the maddening crowd of the historic city.
Mesmerism of Rabindra Sangeet
Shoma A. Chatterji
Rabindranath Tagore's name is linked to his literary creations. Internationally, Tagore, as a lyricist and composer of songs, is a lesser-known creative genius. Bengalis born during World War II till the early 1960s, were brought up on Rabindra Sangeet. These songs were sung by old masters like Bechu Dutta, Santideb Ghosh, Pankaj Mullick, Santosh Sengupta, Rajlakshmi Dutta, Jaganmoy Mitra and so on.
Timeless frames
Tagore's impact on cinema as a medium goes beyond just the stories and songs that have over the years enriched Indian films, writes Saibal Chatterjee
The unlikeliest film in which Rabindranath Tagore ever registered his timeless presence was Island, a bewitching and powerful narrative that Dutch-born Australian auteur Paul Cox crafted in 1989. The film was set in a small, somnolent Aegean isle and revolved around three disparate women played by Irene Papas of Greece, Eva Sitta of Australia and Anoja Weerasinghe of Sri Lanka.



His screen heroines