150 YEARS OF TAGORE
Global Gurudev
Rabindranath Tagore was not just a modern Asian, but was accepted and adored equally by the West, writes Ashok Vajpeyi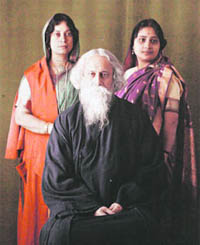 WORLDLY WISE: Tagore talked about the universal man, beyond caste and creed
I was a young student who was intellectually and aesthetically being groomed by a schoolteacher. He gifted me for my 'Upanayan' ceremony a set of books, which contained three books of Agyeya and one of Rabindranath Tagore. It was the English version of Gitanjali, with an introduction of W. B. Yeats, whose greatness I was completely unaware of. I read it at one go and felt strangely dissatisfied. At the age of 14, I was hardly able to grasp the depth, the spiritual dimension of the poetry. But I did write a prose-poem under its impact.
The lyrical romanticism and the deep sense of mystery of Tagore's verse was somehow being seen by me with a degree of suspicion since my own sense of reality, the experiences of a small central Indian town, were at vast variance from the somewhat pure and pastoral world Tagore's poetry seemed to be creating. As my exposure to poetry and reality expanded and I started to respond to the metaphors and images, their resonances and intimations, I came to realise that Tagore's poetry did not so much reflect the given reality. Instead, it created its own reality. The discovery that a poet could create rather than merely reflect reality was an exhilarating realisation. The other interesting discovery was the way Tagore existed in the form of his books, music etc. in all middle-class Bengali families I knew and visited. Such a massive presence of a poet and writer in ordinary life was comparable only to Tulsidas in the Hindi-speaking world of our town. As we celebrate his 150th birth anniversary, it is amazing to note the continuing presence of Tagore in many homes and locations, not only in Bengal or among Bengalis, but far beyond them.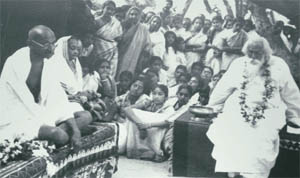 TRYST OF TITANS: It was Tagore who first called Gandhiji (L) a 'Mahatma' and the latter gave him the honorific of 'Gurudeví
Tagore, or Thakur, as he should be more properly called, was in many ways the first Indian poet to become a world poet. He was recognised as such by being given the Nobel Prize in 1913, the first Indian and Asian writer to get it. He travelled widely in the world. His impact was, at that time, truly and amazingly global. Two great Chilean poets, both later Nobel Laureates, Gabriela Mistral and Pablo Neruda, came under his influence. Mistral wrote prose-poems after him and Neruda was so enamoured of him that he included a translation in Spanish of a Tagore poem as his own in his first collection. It was pointed out and the mistake got corrected later. Tagore till today remains the most translated poet from India. Kabir may be the second such Indian poet, though interestingly, Kabir entered world literature through the English translations of some of his poetry by Tagore.
Tagore has been unique in many respects. He was the one who handled many disciplines with equal authority and achieved greatness in almost all of them. Besides poetry, he wrote novels and short stories and was a master storyteller. Many of his novels and short stories such as Ghare Baire, Char Adhyaya and Shesher Kobita are widely acknowledged as masterpieces. He wrote wonderful essays, which offer both a critique, sometimes radical, of western modernity and a reinvention of the Indian tradition. He talked about universal man, a category beyond caste, religion, gender, race etc. and had the courage to question nationalism in its heyday. In his times, he, as a writer, became a major public figure whom both Gandhiji and Jawaharlal Nehru greatly respected.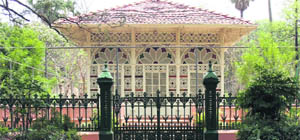 CLASS APART: Tagore created Asian centres in Santiniketan at a time when no Indian university had even thought of this
It is noteworthy that Tagore wrote more than 2000 songs. No one in the world in any language would have perhaps written so many. He could be called the most prolific singer-poet of the world in the 20th century. Also, he composed music for his songs and a whole music stream has been named as Rabindra Sangeet. This again is a rare distinction, since in India no other music before him has been perhaps named after a person. Tagore also wrote excellent plays and dance-dramas and also performed in and directed the first productions of many of them.
Later in his life, Tagore while doodling took to painting. He ended up painting hundreds of works, which have now turned into the national treasure of India. Along with Amrita Shergil and Jamini Roy, Tagore is credited with having shaped Indian modernism in visual arts. Tagore was a great, path-breaking and innovative educationist. His Santiniketan offered an alternative model of education, combining it with proximity to nature, Upanishad-ic wisdom and Asian roots. In fact, he became the first major Indian to remind his countrymen of India's Asian roots and heritage. He created China Bhavan and Nippon Bhavan in Santiniketan when no Indian university had even thought of any Asian studies.
Tagore travelled widely and created a large number of friends and admirers. He wrote an extremely insightful travelogue and letters about his visits. It is widely believed that it was he who first called Gandhiji a 'Mahatma' and it was Gandhiji who gave him the honorific 'Gurudev'. Still, he had the rare courage to raise doubts about many ideas and actions of Gandhiji.
As we reconsider the rich legacy of the titan today, it is well worth remembering in the current ethos of cultural amnesia that Tagore drew from folk and classical traditions of India and emerged as a truly creative and critical mind open to modernity. In him, ancient India and the modern West, the celebrative spirit and the interrogative soul integrated without any difficulty and tension. He was an Indian modern, as also an Asian modern, whom the West readily accepted and adored. There is no poet comparable to Tagore in any Indian language having attained a major status in poetry, fiction, drama, essays, ideas, institution-making, music, dance and visual arts. Perhaps, there was none in the world as well having such a large dimension.