150 YEARS OF TAGORE
His screen heroines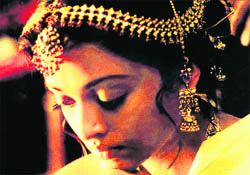 In Rituparno Ghosh's Chokher Bali, Aishwarya Rai interpreted the multi-layered character of Binodini, a rebellious Bengali widow
Madhabi Mukherjee, Charulata (1964)
In what was arguably Satyajit Ray's most accomplished film, Madhabi Mukherjee plays the eponymous heroine. A married woman in an upper class Bengali colonial home is driven into ennui by a self-absorbed newspaper publisher-husband. She develops a bonding with her younger brother-in-law (played by Ray's screen alter ego, Soumitra Chatterjee). With Charulata, an adaptation of Nashtanirh, Madhabi became the quintessential Tagore heroine.
Swatilekha Chatterjee, Ghare Baire (1985)
As Bimala, one of Tagore's fictional women of substance, stage actress Swatilekha was pitted against Victor Banerjee (as Nikhilesh, Bimala's bourgeois husband) and Soumitra Chatterjee (as Sandip, a committed anti-British nationalist). The woman, encouraged by her husband to play an active part as the fire of revolt sparked by the Partition of Bengal in 1905 spreads, is attracted to the fiery Sandip. But she eventually sees through the deceit inherent in the glib-talking revolutionary's ideals and conduct.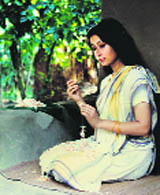 Odissi dancer Nandini Ghosal played Ela in Char Adhyay
Nandini Ghosal, Char Adhyay (1997)
Set in the tumultuous years of revolutionary militancy, a complex Tagore novel about nationalism and desire was turned into an equally complex Hindi film by Kumar Shahani, probably the closest any celluloid essay has come to approximating Tagore's concept of cinematic purity and autonomy. Odissi dancer Nandini Ghosal played Ela, whose feelings for Atin, who is drawn into the terrorist movement by his love for the woman, are tempered by her commitment to the cause.
Shabana Azmi, Daughter of this Century (2001)
In Tapan Sinha's five-episode Hindi film, in which the veteran director focussed on five women drawn from Bengali literature, Shabana Azmi played Kadambini in Jibito O Mrito (Dead or Alive). A childless widow, she is given up for dead. When the pall-bearers go looking for wood to cremate her, she awakens and walks away. She returns first to her father's village and then to her father-in-law's house, only to be turned away. She is now seen as a spirit of 'dead' woman. She finally drowns herself in the family pond only to prove to her kin that she was indeed alive.
Aishwarya Rai, Chokher Bali (2003)
In Rituparno Ghosh's meticulously mounted magnum opus, the Bollywood diva interpreted the multi-layered character of Binodini, a rebellious Bengali widow, who ploughs her own independent furrow through the obstacles that stand in her way in the form of societal restrictions. Two men, one married to her friend Ashalata (an ingénue played by Raima Sen) and the other a confirmed bachelor, are attracted to Binodini and the young woman revels in her ability to cast a spell.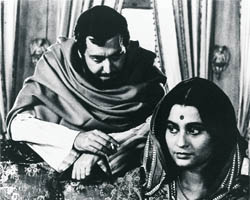 Swatilekha Chatterjee as Bimala in Ghare Baire
Rituparna Sengupta, Chaturanga (2008)
Damini, the widowed female protagonist of one of Tagore's most intricately wrought novellas, is brought alive by Rituparna Sengupta in this screen adaptation by theatre and television director Suman Mukhopadhyay. She is the embodiment of temptation — she threatens to deflect the male protagonist from a moral trajectory that sees him move from steadfast atheism to spirituality.
Raveena Tandon, Laboratory (2010)
A deglamourised Raveena Tandon, in her first Bengali film, essays the role of Sohini, a simple, rustic Punjabi girl, who marries a scientist who dies within a year, leaving behind a daughter and a lab. Laboratory, directed by Raja Sen, follows Sohini's efforts to keep her husband's dream alive even if it means sacrificing her daughter's happiness. — S. C.