150 YEARS OF TAGORE
Mesmerism of Rabindra Sangeet
Shoma A. Chatterji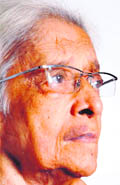 Suchitra Mitra
Rabindranath Tagore's name is linked to his literary creations. Internationally, Tagore, as a lyricist and composer of songs, is a lesser-known creative genius. Bengalis born during World War II till the early 1960s, were brought up on Rabindra Sangeet. These songs were sung by old masters like Bechu Dutta, Santideb Ghosh, Pankaj Mullick, Santosh Sengupta, Rajlakshmi Dutta, Jaganmoy Mitra and so on.
The entry of film songs, light music and the popularity of pop stars like Elvis Presley and the Beatles and the spreading of English education among the middle-class pushed Rabindra Sangeet to the background.
Another obstacle in its popularity was the rigid hold, Visvabharati had on the copyright of Tagore's works that included his 2000-odd songs. Once the copyright ceased in 2001, Visvabharati lost its grip on Tagore's music and it was liberated forever.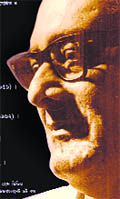 Hemanta Kumar
Visvabharati was so rigid about singers following the rules of Rabindra Sangeet that they did not allow any improvisations, innovations or variations and promptly ostracised any singer who dared to break this cardinal rule. An example is Rabindra Sangeet exponent Debabrata Biswas.
Among all-time purists who trained in Visvabharati even when Tagore was alive are Kanika Bandopadhyay, Suchitra Mitra, Santideb Ghosh and many others, who themselves havetrained many generations in Rabindra Sangeet. Not trained strictly in the genre, are names from Indian film music — Hemanta Kumar, Manna De, Lata Mangeshkar, Asha Bhonsale and many others.
Tagore drew from all schools of music to create his own – Baul compositions, Western compositions, Hindustani classical ragas and even Carnatic ragas.
His early creations bear the influence of kirtan and Ramprasadi tunes popular in Kolkata. In the following years, from his travels through Europe, he picked up notes from the West and blended them into his compositions. He also composed songs on the love of Radha and Krishna in Brijabhasha. His songs are compiled in the Geetabitan. Amaar sonar Bangla, ami tomaye bhalobashi is the national anthem of Bangladesh. "The strains of his Ekla cholo re made popular at Gandhi's prayer meetings still receive a spontaneous response across the country," says Dr Reba Som, Director, Tagore Centre, Kolkata, who has written a book, The Singer and His Songs on Tagore's songs.
"Tagore's songs sung by Italian singer Francesca Cassio in the English translation of Alain Danielou, keeping to the original musical scores, received much acclaim at concerts held in Kolkata, Delhi and Mumbai," she adds. Alain Danielou (1907-1986) wrote in his autobiography that Tagore personally requested him to transcribe some songs from the Rabindra Sangeet according to the Western vogue of
the time.
Danielou worked for over 50 years to transcribe only 18 of Tagore's compositions for the piano.
During the last 40 years of his creative life, Tagore fell back on a number of ragas such as — Todi, Bhairavi, Asavari, Sarang, Puravi, Iman, Malhar and Kear — and blended them to create distinct and memorable variations. He did not introduce any new style but blurred the lines between classical and regional modes.
Today, we hear Tagore songs fused into other forms of modern music, both Indian and Western of different schools. Young singer Sounak Chattopadhyay began to train in Rabindra Sangeet after learning Hindustani classical music. His album Nuton o Shonaton Rabindranath integrates traditional Tagore songs with Hindustani classical bandishes.
Filmmakers like Anjan Dutt, Amit Sen and others have done lyrical fusion pieces of Tagore blended into modern numbers in their films beautifully.