150 YEARS OF TAGORE
Timeless frames
Tagore's impact on cinema as a medium goes beyond just the stories and songs that have over the years enriched Indian films, writes Saibal Chatterjee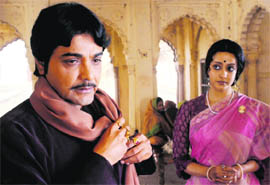 Produced by Subhash Ghai, Noukadubi, starring Prosenjit Chatterjee, Raima Sen and Riya Sen, was released as Kashmakash in Hindi
The unlikeliest film in which Rabindranath Tagore ever registered his timeless presence was Island, a bewitching and powerful narrative that Dutch-born Australian auteur Paul Cox crafted in 1989. The film was set in a small, somnolent Aegean isle and revolved around three disparate women played by Irene Papas of Greece, Eva Sitta of Australia and Anoja Weerasinghe of Sri Lanka.
What was a Tagore composition doing in this film? Cox, whose internationally acclaimed credits include Calcutta, a 30-minute documentary made in 1970 at the height of the Naxalite violence in the metropolis, used a Tagore song over the opening titles of Island (as well as elsewhere in the film) to heighten the impact of the sensitive tale of loss, longing and regeneration involving three women, each fleeing from a painful past.
The song Maajhe maajhe tobo dekha pai/Chirodin keno pai naa (I catch a glimpse of you only once in a while/Why aren't you in my sight all the time), was rendered by Kolkata-based Rabindra Sangeet exponent Ritu Guha. Here, the island was a metaphor for both confinement and freedom; it underscored the bittersweet bonding that the women develop with each other in a way that was deeply poetic. So, Tagore's innate lyricism was a perfect fit for Cox's moving portrait of "arriving and departing".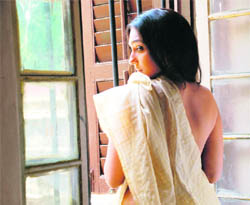 Suman Mukhopadhyay adapted Chaturanga, one of the most difficult novels of Tagore, for the screen
Back home, Tagore's literary creations — stories and songs pregnant with emotions and ideas — have, of course, inspired filmmakers across the subcontinent ever since Naresh Mitra made the silent film Manbhanjan (1923) and legendary singer-composer Pankaj Mullick used Tagore's lyrics for Pramathesh Barua's Mukti (1937).
About 70 feature films, 50 of them in Bengali, have thus far been adapted from Tagore stories but given the sheer volume of his literary output, the number seems a tad low. Tagore's stories deal with complex human dilemmas and social issues and are often wrapped in layers of abstractions. They have, therefore, never been easy to adapt for the screen, certainly not as much as Sarat Chandra Chattopadhyay's emotionally more straightforward stories.
Few filmmakers have used Tagore songs quite as spectacularly as Ritwik Ghatak. All three films of his career-defining Partition trilogy — Meghe Dhaka Tara (1960), Komal Gandhar (1961) and Subarnarekha (1962) — weave the magic of Tagore songs innovatively into the pain-tinged narratives.
Not long before his death, Ghatak had said in an interview: "I cannot speak without Tagore. That man has culled all my feelings long before my birth. He has understood what I am and put it all in words. I read him and I find that all has been said and I have nothing new to say."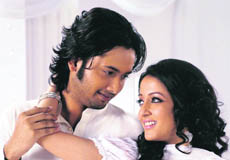 Based on Tagore's works, Natobar Not Out, starring Raima Sen and Bangladeshi actor Mustafa Prakash, was a Bengali comedy made in 2010
And he wasn't the only one. Satyajit Ray, Tapan Sinha and Rituparno Ghosh have successfully adapted Tagore novels and short stories for several of their films, besides frequently turning to his poetry to underscore emotions. The poet has also surfaced on a number of occasions in the domain of the pan-Indian Hindi-Urdu cinema, both as a source of stories and a songwriter.
Bimal Roy's neo-realist masterpiece Do Bigha Zameen (1953) was inspired by a Tagore poem, Dui Bigha Jomi, about an impecunious villager, who is forced by the crushing burden of debt to migrate to the big city.
From the travails of a hapless victim of rural exploitation to the drama of the militant revolutionary movement in Bengal in the 1930s to the spectacle of fluid human relationships playing out amid the inexorable swirl of history — Tagore's influence on cinema has been amazingly wide-ranging.
In 1997, Kumar Shahani brought the novella Char Adhyay (Four Chapters) to the screen, capturing the energies of varied art forms — painting, theatre, music and dance — to delineate the story of two lovers trapped in the throes of a violent struggle for freedom. In 2008, theatre-director and filmmaker Suman Mukhopadhyay returned to the same terrain by adapting another difficult Tagore novel, Chaturanga (A Quartet of Colours), for the screen.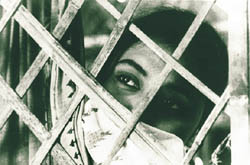 Meghe Dhaka Tara weaves the magic of the wrtiter's songs innovatively into the pain-tinged narratives
Tagore's appeal obviously hasn't waned one bit in the new millennium. Rituparno Ghosh's latest film, Noukadubi (Kashmakash in Hindi), based on a Tagore novella, was released on May 6 to coincide with the bard's 150th birth anniversary. It is Ghosh's follow-up to 2003's Aishwarya Rai-starrer Chokher Bali.
Produced by Subhash Ghai, the original version of Noukadubi, starring Prosenjit Chatterjee, Raima Sen and Riya Sen, will open only in Bengal, while the Hindi dub, complete with translations of two Tagore songs by veteran lyricist Gulzar, will play in theatres in the rest of India.
On the Nobel laureate's 100th anniversary, in 1961, Ray had delivered a double bill: a long documentary on the poet as well as the classic Teen Kanya (Three Daughters), based on three Tagore short stories, Monihara, Postmaster and Samapti, the last of which also formed the basis of Sudhendu Roy's Hindi film, Uphaar, 10 years later.
In 1964, Ray made one of his finest films, Charulata, based on Tagore's Noshto Neer (A Wrecked House), following it up in 1987 with another film set in the same milieu, Ghare Baire (Home and the World), inspired by a Tagore novel of the same name.
The past few years have seen a flurry of films that have drawn upon the Tagore treasure trove, including a 2010 Bengali comedy, Natobar Not Out, starring Raima Sen and debutant Bangladeshi actor Mustafa Prakash. Its association with Tagore was in the form of a character that inspires the male protagonist to rediscover his creativity as a versifier.
Last year, Raja Sen directed a screen adaptation of Laboratory, a short story that Tagore wrote in 1941, the final year of his life. The tale is unusual in that it is the only one in Tagore's oeuvre that has a Punjabi woman as the female protagonist. The role was played by Raveena Tandon in her first Bengali cinema outing. Its strongly feminist message is a thread that runs through many of Tagore's celebrated stories peopled by firm-willed women.
In 2008, documentary filmmaker Subhrajit Mitra made his maiden feature, Mon Amour: Sesher Kobita Revisited. Inspired by a Tagore lyrical novel, it was cast in the form of a contemporary drama.
Tagore's views on cinema, however, were at odds with the direction the medium took in India. In a letter to Murari Bhaduri (theatre legend Sisir Kumar Bhaduri's brother) in 1929, he adumbrated that cinema should ideally be a "flow of Images" that should not rely on the written word to communicate. What he was obviously propagating even before India's first talkie had been made was a form of 'pure cinema' that would have its own logic and rhythm.
Tagore directed a film for New Theatres in 1932 — Natir Puja. It was a filmed version of a performance of a dance-drama by students of Santiniketan, which he shot with two static cameras. He was disappointed with the result and all but disowned the film. He would probably have done much the same to the dominant strain of Indian films as a whole for its verbosity, over-emphasis on artificiality, simplistic narrative constructs and lack of cinematic purity.