POT of love!
There is something that makes mothers' meals special…This Mother's Day we pay tribute to mommies who have been dishing out culinary delights each single day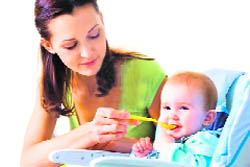 Up-MAA might not be your staple diet, but meals cooked by maa sure are! Each one of us swears by dishes prepared by mommy dear. Take any celebrity food column and you are bound to find a recipe cooked by mom in 'favourites'.Cooking meals is a given with motherhood. Even superstar Julia Roberts, mother to three – Henry (3) and twins Hazel and Phinnaeus (6) recently revealed how much her children love the food cooked by their her with much pride.
Missives from maa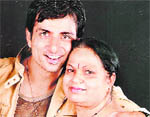 I opened her drawer after a long time. I was looking for some letters she said she had left for me. My mother loved to write, especially poems that she penned for me.She would tell me that these poems and letters would remind me of her, long after she is gone. She indeed went, far and pretty soon.



golden moments: Sonu Sood along with his late mother

Mommy, mommy cool
Remember Wake Up Sid! and how Ranbir Kapoor snubbed his on-screen mother Supriya Pathak for her lack of command over English?
A leaf from life
When the rich experiences of life are summed up in a few lines, you realise the worth of each word that form them! For each word means much more than its literal explanation.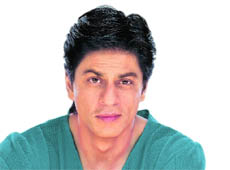 Kiss & Tell
In 22 years of his showbiz career, Bollywood superstar Shah Rukh Khan has perhaps hardly ever locked lips with his heroines and says he never will. He admits he is not just uncomfortable about kissing on screen, but doesn't even know how to do it."I don't kiss on screen because I don't know how to do it. I don't do it because I feel weird...and I feel those who do it in films, do it well already," Shah Rukh said.

ROCK SOLID:Shah Rukh Khan

Now you can bathe in chocolate
Fancying having a hot chocolate bath? Well your wait is finally over as confectionary giant Cadbury is all set to launch a range of bath products. The product will smell like three new flavours of its Dairy Milk Bliss bar.


Graffiti Aradhika & Sesh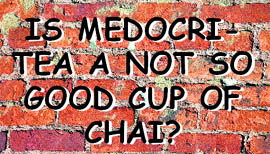 History recreated
Director Sukhwant Dhadda was in the city to promote his movie based on the teachings of Guru Gobind Singh
Sukhwant Dhadda, of Ek Chaddar Maili Si' fame, was in the city to talk about his latest cinematic experiment Sant Sipahi. The movie is broadly based on the teachings of Guru Gobind Singh. Working on the movie since the past one-and-a-half years, Sukhwant is excited to watch his efforts transform on to the big screen.
Get rid of the smell
Many people suffer from body odour, but there is no need to despair, say experts who give their reasons for the predicament and suggest helpful tips.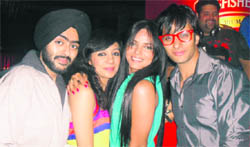 Party, your ishtyle!
There is no ideal party setting; it all depends on the mood as well as the occasion. It is rather an ever-evolving process
At five, fun meant playing dolls in a tree house. At seven partying was about musical chairs at a birthday. Come 16 and make it all about parties that extend at least up till four in the morning! At 25, perhaps, it's been there, done that, moved on and what next? Youngsters' ideas of ideal partying are never the same.



(L-R): Karan Chhabra, designer Ankita Chaudhary, actress Neetu Chandra & Sameer

Kiss & Tell
In 22 years of his showbiz career, Bollywood superstar Shah Rukh Khan has perhaps hardly ever locked lips with his heroines and says he never will. He admits he is not just uncomfortable about kissing on screen, but doesn't even know how to do it.

Extracurricular activities are integral to the learning process of any child today. Some even convert a hobby into a career
With an increase in the number of offbeat job opportunities available nowadays, the paradigm of education is changing from 'bookish' to 'extra-curricular'.

In sync: Mihir Raina