Yu-DIva!
In Chandigarh to anchor an IPL match, VJ Yudhisthir, shares how he loves food, books, meditation and the world of cinema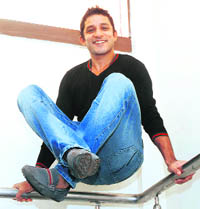 Left alone, he would lock himself up in a room, draw the curtains, pull out a DVD or a book from his bag, depending on his mood of course, and immerse himself in the amazing world of cinema or words. Quiet unlike his profession we thought. And he smiles, not surprised by our observation. VJ Yudhisthir, unlike the blabber that you hear on screen, needs to be coaxed to speak. A curious case that we found pretty interesting!



cool quotient: Yudhisthir
Terminating Marriage?
Former California Governor Arnold Schwarzenegger and his wife Maria Shriver said on Monday they are separating "while we work on the future of our relationship."
Not COMIC anymore
Has the growing popularity of the Internet led to a sharp decline in the number of readers of the good-old comic books? Vasudha Gupta finds out…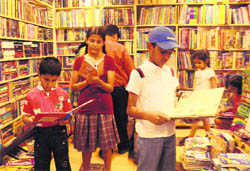 There was a time when reading comics was a coveted hobby — Billo, Pinki, Chacha Chaudhary ruled the Hindi scene, while Astrix, Tintin and Archies was a favourite with the English readers. The picture has changed much since then. While the readers of Hindi comics have declined substantially, the ones for English are also dwindling at a rapid rate.


READ ON: Children dig into comics at the Capital Book Depot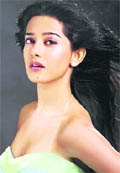 Amrita's kalakaari
Bollywood actor Tusshar Kapoor, who will be seen sharing screen space with Amrita Rao in the upcoming film Love U…Mr Kalakaar!, says he is inspired by his co-star's work ethic. "She (Amrita) is a very professional actress. Methodical, meticulous and a detail oriented person, which I didn't really know. So it was very motivating, very inspiring for me to work with her," the 34-year-old actor said. "Working with such an actor keeps you on your toes all the time because someone who is a perfectionist can only make you want to do better."


role model:

Amrita Rao

Anurag prefers a shoe-string budget
Filmmaker Anurag Kashyap, who has co-produced small budget films like Udaan and the upcoming Shaitan among others, says Bollywood wastes too much money on luxuries while making a film.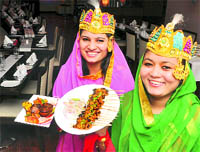 DAL meets KEBABS
If you never thought of having kababs with the mundane dal, Punj Spice, a fine dining restaurant at hotel Park Plaza has put the two at a food festival. The variety of the dishes would not cease to amaze you. The cuisine here combines the variety from all over India in an effort to go beyond Punjabi and Mughlai dishes.
Dressed to kill
Rani Mukerji dresses to please and impress. She looks stunning with make-up. Now, that she has become slim, she flaunts her toned legs in dresses. At 32, she looks and dresses better than before. She loves wearing wedges, dresses, sarees, and chunky neck-pieces. Check her out.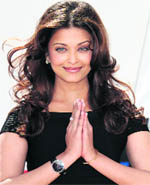 Ash is Madhur's Heroine
Bollywood actress Aishwarya Rai Bachchan will be playing the lead role in National Award winning director Madhur Bhandarkar's upcoming film Heroine. A formal announcement of the movie, a joint production of Bhandarkar and UTV, is expected to be made at the Cannes Film Festival. The movie is being touted as a hard-hitting and realistic take on a heroine's life. "Aishwarya has agreed to be part of the project. Madhur and Aishwarya both will make the final announcement of this project at the Cannes Film Festival on May 13," a source said.


Perfect role:

Aishwarya Rai Bachchan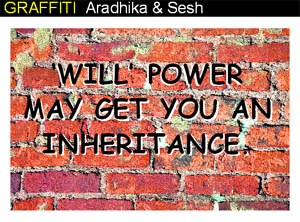 Hit and fun
Director Rohan Sippy is very happy with the success of his latest film, Dum Maaro Dum. The director talks to us about his experience while shooting for the film and more…
Opening BEATman
After singing for the big screen in films like Singh Is Kinng and Khatta Meetha, Bollywood hero Akshay Kumar is going to lend his voice for the title song of his upcoming action-adventure reality show Khatron Ke Khiladi 4.
Draped affair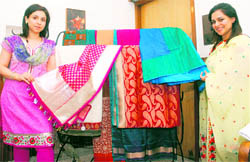 Vanita Sahni pursued her love for the weave of Banarasi sarees and embraced modern fabrics into the fine weave to bring us an exquisite exhibition of Banarasi sarees…all breathtakingly beautiful. As you get to see the sensual Indian drape-the saree, Vanita narrates the story of falling in love with Banarasi silks eight years back to the three-day exhibition 'Motifs and weaves' at her Sector 8, Chandigarh.
Master Chef
Sweet something
Vivek Bhasin from Forno-35 shares the recipe of Tiramisu dessert. Tiramisu, which is a popular Italian dish, is a dessert for the summer.
Double addiction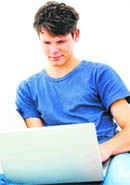 Teenagers who drink alcohol spend more time on their computers for social networking, downloading and listening to music compared to peers who don't drink. These results are based on an anonymous survey of 264 teenagers by Weill Cornell Medical College researcher Jennifer Epstein. "It seems likely that adolescents are experimenting with drinking and activities on the Internet," Epstein was reported as saying by the journal Addictive Behaviours. In turn, exposure to online material such as alcohol ads or alcohol-using peers on social networking sites could reinforce teens' drinking, added Epstein, assistant professor of public health at Weill Cornell.
GET PHYSICAL
Be a different kettle (bell) of fish!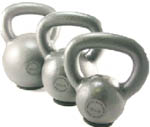 Forget machines, forget isolation and instead think total body integration with this ancient yet sophisticated conditioning tool. Unconventional training methods like Indian clubs, sand bag training and kettlebell training are rapidly gaining popularity all over the world. This sort of training is a huge departure from common body-building equipment and techniques that are more commonly in use, but, nevertheless, extremely effective in building functional strength and stability.
It's rocking
A different tune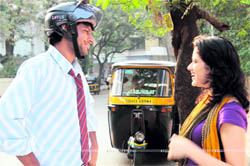 The track, Saibo from the movie, Shor In The City s is surprisingly minus any noise. The slow song in the melodious voice of Shreya Ghosal is a welcome change from mindless drum beating of item numbers. It's a huge hit, with all the major radio stations and music channels playing it several times a day. Lyrics by Sameer and music by new music director duo-Sachin and Jigar is being well appreciated by music lovers.
Roadside romance: A still from Shor in the City

Pose perfect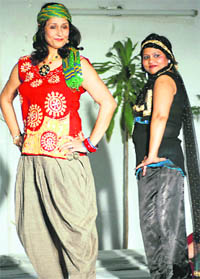 Members of Central Club Tuesday organised a fashion show. Photo: S Chandan

Reality check
A study has found that teenagers are distinctly unrealistic about how much they will earn as an adult. The survey revealed the average teenager expects to be paid more than 60,000 pounds a year by the time they are 35.