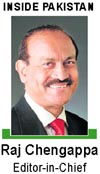 The sea-blue board hung outside a circular complex of cream-coloured buildings says boldly, "19 Division Deradicalisation Centre". "Is it the Pakistan Army you want to deradicalise?," I joke with Colonel Tarique Qadir of the 19th Division, who is escorting us on this whirlwind tour of the Swat region, which was, till recently, the hotbed of the worst Taliban-like militancy that threatened to overwhelm the entire country. The affable, clean-shaven colonel slaps me on the back and laughs heartily.
If the Pakistan Army has something to smile about, it is the way the much-maligned force decisively flushed out militants holed up in the Swat Valley after they had unilaterally declared it a Taliban state and restored federal control over the sensitive region. In Pakistan's Wild West, Swat is the gateway to Islamabad for the restive northern areas. It also adjoins the troubled Federal Administered Tribal Areas (FATA), that includes South and North Waziristan. This is where some of the grimmest battles are being fought to root out the Taliban and Al-Qaida both by the Pakistan Army and by the US forces stationed in Afghanistan who use drone attacks with devastating effect.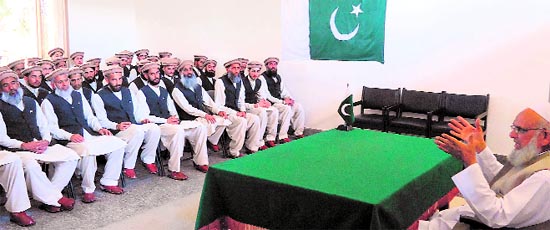 A deradicalisation class in progress in Swat's Barikot town. Photos: Raj Chengappa
Inside a makeshift conference room at the Barikot deradicalisation centre, Lt. Col Zia-ur-Rahman says that the 100 students currently at the centre were those who had carried out militant acts against the state in the past. They are now being put through a 30-day programme designed essentially to brainwash them into giving up their violent ways. Psychologists, moderate religious preachers and vocational teachers work on them during the rehabilitation process to get rid of their negativism and equip them with skills to lead a normal life.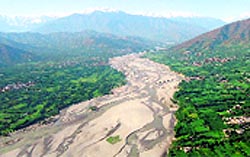 A view of the Swat Valley that was once a tourist resort till it was overrun by the Taliban forcing the Army to step in and drive out the militants. Photos: Raj Chengappa
We are ushered into a room full of intense-looking bearded men wearing Afghan-like berets or Pakol who are being educated on the "right path" by a local mullah. "Killing or injuring a Muslim without a valid reason is strictly forbidden in Islam,' he intones, adding: "Suicide bombing is haraam in Islam." Then he goes on to say, "Muslims cannot initiate an armed aggression against their state even if there are grievances against the government." The class, a mixture of young and old, patiently suffer his monologue.
In other rooms, vocational education is being imparted. Four detainees huddle over a computer learning about software. Not far from them is another group fiddling aimlessly with wires and bulbs as part of a basic electrician course. In a third room is a class on home appliances repairs and carpentry. All the rooms appear freshly painted and the clothes and shoes of the interns newly purchased.
The feeling of it being a Potemkin like set-up grows. But the Pakistan army appears serious and they claim that the curricula was evolved based on research carried by Rand, the US based think-tank. Rahman admits, "Deradicalisation is a difficult and tedious process but it is considered mandatory for long-term peace and stability of Swat and its neighbouring regions."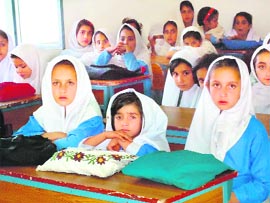 After the Pakistan Army drove out the Taliban from the Swat region, girls who were banned from going to school were able to return to their classrooms.
There is little doubt though that the success of flushing out terrorists and weaning people away from militancy is vital if Pakistan and the world has to succeed on the war on terror. For it is in the vast mountainous terrains and valleys of the Swat region and FATA, which act as an imperfect territorial boundary between Pakistan and Afghanistan, where some of the top Taliban and Al-Qaida leaders are believed to roam freely and wage war. Till recently, it was believed that even Osama bin Laden was holed up here, along with Mullah Omar and the like. That myth was shattered by the US Special Forces, who in a midnight raid on the garrison town of Abbottabad, just 90 km from Islamabad, killed bin Laden. In doing so it severely dented the Pakistan Government's credibility and that of its army. Bin Laden's body may be rotting some 20,000 leagues under the sea, but the violent face of Islamic fundamentalism that he spawned is still alive and plotting.
Before we set out for Swat by helicopter, in Rawalpindi, Major General Athar Abbas, the suave director general of Pakistan's Inter-Service Public Relations (ISPR), had his team put up an impressive power-point display of how the Pakistan Army had been working in the past two years to neutralize the threat of extremism in the Swat region and in the lawless FATA region.
The Taliban overran FATA and Swat
His deputy, Brigadier Syed Azmat Ali, shows a slide indicating the degree of state control of the FATA and Swat areas in 2009. There are huge red blotches in Swat, Bajour, Mohmand and North and South Wazirstan where terrorists are in total control. Then there is a swathe of yellow across the 1,600 km border with Afghanistan where control remained contested. Followed by patches of green where the government still retained control.




"We have turned the corner. The militants in Swat are fighting for their survival. There is no chance for them to return. The people will not let them."— Maj Gen JI Ramday General Officer Commanding, 9th Division



"When you see your own capacity you have to rethink how many fronts you can open up. There is always the danger of over-reach and total rollback." — Maj Gen A. Abbas, Director General, ISPR
The Pakistan army then launched its almost corporate like strategy of Clear, Hold, Build and Transfer in the region. Ali shows a slide indicating the status as of April 2011. The red and yellow areas have shrunk to barely five per cent of the zone and the green dominates indicating government or Army control. Abbas elaborates, "It is a long drawn war and there is no time to declare victory. In most of FATA, we have cleared the area and we are in command of roads. We have disrupted militant supplies and their strongholds and denied them freedom of movement."
If the Pakistan army had cleared up much of FATA and Swat in just two years, why can't they tackle militants hostile to India like the Lashkar-e-Taiba that seem to have a free run in Pakistan? Abbas answer is measured: "The LeT is a banned organization and has been contained." Then speaking generally he says, "Sometimes when you see your own capacity you have to rethink how many fronts you can take on at the same time. There is always a danger of over-reach in the application of power. And if you do that, what is the next line of defence? It may result in a total rollback."
The Pakistan Army appears to have adopted a multi-pronged strategy: In case of militants that directly threatened the integrity of Pakistan, the army would move swiftly to decimate them. Since these militant groups operated largely in the Afghanistan border, the Army could use it to demonstrate to the world especially the US that they were serious about tackling terrorism. But to ensure that it retains its strategic depth in Afghanistan it would continue to tacitly support groups like the Jallaluddin Haqqani faction of the Taliban which the US has constantly complained about.
As regards India, it was important for the Pakistan Army to keep the LOC quiet while it tackled the Western front. So it gave its assent to the civilian government to resume the stalled dialogue. But at the same time, it did little to contain militant groups hostile to India like the Lashkar. Already under fire for appearing to be a stooge of the US, it didn't want to show any signs of weakness on Kashmir. The terror card was still an ace up its sleeve and the Pakistan army is unlikely to either degrade its effectiveness or give it up totally in the near future.
Pakistan Army's double game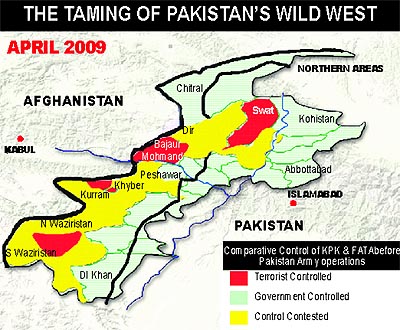 The dangerous game of duplicity that Pakistan appears to be playing stood exposed when bin Laden was found to be holed in Abbottabad. It blew the Pakistan army's carefully constructed narrative, severely dented their credibility and threatened to undo the gains they had made in clearing up the Swat and FATA region.
Swat though remains a case study of how if the Pakistan Army and the Government wanted to act they could do so decisively and well. On our way to Swat by an army helicopter, we flew over Abbottabad nestling below the foothills of a giant Himalayan range. It was barely a week before the US forces struck with such decisive force and eliminated bin Laden.
With the Hindukush mountains as the backdrop and the Swat River gracefully weaving its way through lush green valleys, the region has a picture postcard beauty to it. For many years it was a favourite for both Pakistan and foreign tourists who regarded it as the 'Switzerland of the East.' It even boasted of an 18-hole golf course.
In the 1980s, the winds of the civil war that engulfed Afghanistan after Soviet occupation blew across the Khyber Pass and into FATA and the Swat region. But it was in 1990s that militant forces began to challenge federal and provincial authorities. Sufi Muhammad, a cleric, started a campaign to introduce the Islamic justice system calling it the Tehreek-e-Nafaz-e-Shariate Mohammadi (the struggle for the enforcement of Islamic Law) or the TNSM.
Mullah Radio takes charge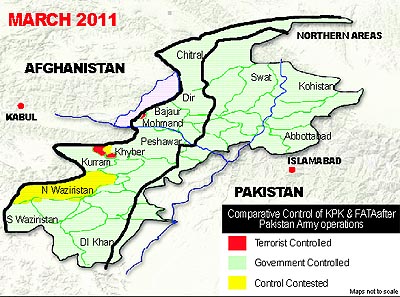 Soon after 9/11, with the Pakistan government clamping down on religious groups TNSM was banned. It was then that the Sufi Muhammad's son-in-law, Maulana Fzlullah, who hauled passengers over ropeway bridges in Swat as a profession, took over the TNSM. Using unique techniques to propagate his divisive messages, including harnessing an FM radio for his religious broadcasts, Mullah Radio as he came to be known, grew the TNSM with hardcore fundamentalists who challenged the government writ by controlling large parts of the district.
With his sonorous voice, Mullah's broadcast would directly address women urging them to persuade their men folk to take up arms and join the Jihad to impose religious purity in the region. Long before, the recent Egyptian revolution, Mullah Radio understood how technology could be used as a force multiplier. At Khwaza-khela, Maj Gen Javed Iqbal Ramday, General Officer Commanding of the division that oversees the Swat operation, says: "It was a complex combination of religious extremism, class disparities, omissions and commissions by government, slow delivery of justice that saw militancy reach a crescendo."
In December 2007, militancy in both Swat and FATA regions took an ominous turn for Pakistan and the multi-national coalition forces led by the US engaged in Afghanistan. Over 40 militant leaders, including Maulana Fazlullah of Swat, commanding over 40,000 fighters congregated in South Waziristan. They decided to end their traditional rivalry and unite under the banner of Tehrik-e-Taliban Pakistan (TTP). It was apparent that the TTP was an extension of the feared Al-Qaida and was part of its strategy to extend its war to Pakistan. The TTP-led insurgency spread like wildfire and engulfed the seven tribal regions in FATA and the Khyber Pakhtunkhwa (KPK) province of which Swat is part.
In Swat, Mullah Fazllulah established a brutal regime and the valley became a model Taliban state. A draconian verison of the sharia was imposed that saw girls being forbidden from attending school and over 400 schools destroyed, females were prevented from taking jobs and forced to wear burqas while moving around, barbers were ordered not to shave beards, music, videos and cable-networks were banned, and every family had to hand over one male member to wage jihad and a daughter to be wedded to a Taliban. Any disobedience would result in beheading. A wave of killings was unleashed against government officials, tribal leaders and families who opposed them and town centres were converted to public gallows where bodies of those executed were hung for many days. As we went around Matta town, we were shown where the hangings took place.
Tehrik-e-Taliban Pakistan rules
Only after the coalition government led by the Pakistan People's Party was established in 2008 and General Ashfaq Pervez Kayani, the chief of Army Staff, began to assert his authority that action was taken. On February 16, 2009, a peace deal was signed between the KP provincial government and Maulana Sufi in which the government accepted the Nizam-e-Adl (system of justice) in Swat in return for the Fazlullah-led militants surrendering arms and ending the violence.
Peace, though, was short-lived with the Taliban not only refusing to turn in their arms but also spreading their movement to neighbouring districts and even appeared to march towards Islamabad. As fear and revulsion grew across Pakistan, the government moved to take decisive action. On May 7, 2009, Prime Minister Yousuf Raza Gilani addressing the nation declared that his government was launching an all-out offensive against the Taliban.
Op Rah-e-Rast is launched
Code-named operation Rah-e-Rast (the correct path), the Pakistan Army launched a well-planned assault in the Swat region. In order to avoid collateral damage, the army told the people to immediately evacuate and head to specially provided shelters at a distance away. Some half a million people fled to these camps as the operations began. Then adopting a pincer strategy backed by attack helicopters, Ramday says, "We cleaned the area hill by hill and town by town. We shocked them with firepower, softened them and then cleaned them up. The kinetic operations went on for at least a month." Mullah Radio escaped the assault and is believed to have fled to Afghanistan.
The Army then got down to the difficult task of rebuilding houses, bridges, roads, schools and government offices that had been destroyed by the militants. But in July 2010, just when they thought the worst was over, the Swat region was devastated by a major flood that caused enormous damage and displaced thousands again. The Army took the calamity as another opportunity to rebuild trust with the local people and worked with the civilian authorities to bring relief.
A year later on the surface it appears as if normalcy has been restored. We visit the newly opened women's home science college where girls move around freely. We are taken to schools that have been restarted where little girls, who were earlier banned from entering, sit with large innocent eyes listening to the teacher. As regards militancy, Ramday, says confidently, "We have turned the corner. The militants are fighting for survival. There is no chance for them to come back. The people will not let them." Pakistan, India and the world are keeping their fingers firmly crossed.
Editor-in-Chief Raj Chengappa was invited to visit Pakistan between April 20-27. This is the second in the series of articles. For comments, write to editorinchief@tribuneindia.com