Nursery of art
As the Government College of Art, Chandigarh, nears its 61st year, Nonika Singh reflects on whether an institution shapes its alumni or the celebrated students go on to define a college

Poor is the pupil who does not surpass his master
— Leonardo da Vinci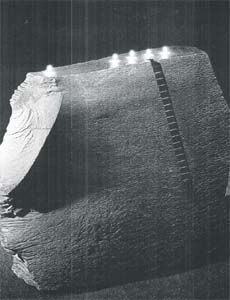 A sculpture by Avtarjeet Dhanjal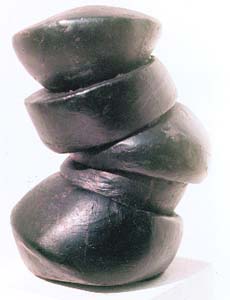 A metal sculpture by Shiv Singh, which is in the collection of Galerie-d' ART Moderne, Helsingborg, Sweden

AS the Government College of Art, Chandigarh, is all set to celebrate its diamond jubilee, the quote acquires a new meaning. A host of its distinguished alumni have clearly surpassed what their teachers may have taught them once. Much like the prodigal sons and daughters they stand tall, as many have earned a permanent place for themselves under the sun.
Without doubt, it is a vital relationship the significance of which can't be wished away. Or better still, as renowned sculptor Shiv Singh puts it, "No one can create an artist. Institutions only provide the right ambience." So did the GCA? Well, when he studied in late 1950s it was Government Art and Craft School at Shimla. Back then, not only were students taught crafts like lacquer blacksmith carpentry, etc which he thinks are an essential imperative but teachers like S L Prasher, the founding-principal of the school, would come to the class.
Reminisces Singh, "He would create along with the students and thus set an inspiring example." And often the stimulation, asserts eminent painter Viren Tanwar, would come from a simple refrain — change your colour palette. He recalls teachers like Raj Jain and Harjit Kular, whose house they could visit anytime and clarify their doubts. Never mind that today many feel that the adhocism has marred the appointment of the principal since 1989, or that the contractual system, wherein nearly 40 per cent teachers are employed on contract system, has affected teaching quality.
Teachers, in fact, are remembered with great fondness by most. Be it veterans like Prem Singh or new generation young artists like Jiten Thukral or Vibha Galhotra, all seem to owe a debt of gratitude to
their teachers.
Though acclaimed sculptor Avtarjeet Dhanjal candidly, albeit bluntly, refuses to look back at the college through rose-tinted glasses. The man, who came from a village background with zero awareness of what sculpture means and later went on to study at St Martins School of Art London, discovered the true meaning of freedom and creativity in an alien soil only. He had even audaciously burnt the certificate that the college (then Government Art School, Chandigarh) gave him. He says about the GCA: "The only memorable thing that I remember is when one of the teachers told me — we don't have what you are looking for."
Come to think of it, the college has one of the finest buildings designed by Le Corbusier, including a museum next door. But in all those years Ranbir Kaleka, one of the brightest stars on the international horizon today, can't remember a single scholarly trip to the museum next to the college. The college library which is well-equipped today, however, did provide an opportunity to read and opened a world of design and designers, he asserts. Other rewarding experiences were occasional visits of eminent art scholar Dr B. N. Goswamy.
Amazingly, Dr Goswamy's presence in the city, even though he was not part of the college, has been a fountainhead of motivation over the years for the college students. Be it well-known lensman Diwan Manna, chairperson, Chandigarh Lalit Kala Akademi or Galhotra, all credit him with making Chandigarh, a culturally vibrant place.
Down the memory lane of the college, too, there have been men like Jagmohan Chopra, who brought in refreshing winds of change. Under his helmsmanship as principal, the college played host to many international exhibitions while a significant number of artists from the college exhibited their works at the national exhibition in New Delhi.
With classical music playing in the studios, the ambience, asserts Tanwar, was just right for creativity. He taught at the college in those days. But thereafter, somewhere the momentum was lost.
Galhotra, whose works are today part of Asia Art Week New York, Project 88, and many more prestigious exhibitions, says that when she studied here, "Few teachers of the college were aware of the international modern art scene. So where was the question of guidance?"
But on hindsight she feels, "This oblivious-to-the-world approach helped by default for one was not influenced by other artists."
However, unlike Dhanjal, she doesn't discredit the role of the institution in her life or otherwise and rates it on par with others in the country at least in terms of infrastructure. She still can't get over how the college would provide them the expensive zinc plates and acid as well as best-quality easels.
Jiten Thukral, who has teamed up with Sumir Tagra and made a name for himself in the international market, is exceptionally proud of being a GCA product. In fact, wherever he goes, he remains first and foremost a product of GCA, never of Delhi College of Art, from where he did his MFA.
So what stops it from being a true successor of the premier institution that British had set up in Lahore? Prem Singh, one of its significant alumnus as well as former principal, who spent 34 years in the college, opines, "It's the failure to update the syllabus and inability to keep in sync with the times that had held the college back."
D. S. Kapoor, present principal of the college whose association with the college spans three generations, talks of recent enabling efforts like the wi-fi system, special sculpture park.
Manna, too, agrees that more steps like artists in residence, visiting professors and state-of-the-art studios can truly uplift the college and expose students to the very best. Of course, at the end of the day, he feels that "the college allowed me to be myself" and asserts that one has to chart one's own course. The college can, at best, help develop the vision. As Constantin Brancusi said, "To see far is one thing going, there is another."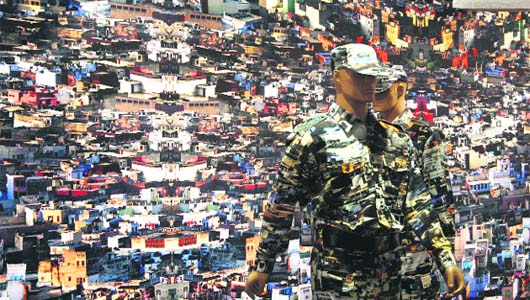 Neo-Camouflage by Vibha Galhotra. Variable, digital print on vinyl and fabric
and mannequins, 2008


Sohan Qadri may have passed away but the art world would remember him as the artist, who strived to achieve contact with the world within and liberated the word meditation from its fashionable context through his remarkable paintings on the theme.

Avtarjeet Dhanjal, world-renowned international sculptor based in UK, has had the proud privilege of exhibiting with luminaries such as Henry Moore and Barbara Helworth. The Institute of International Visual Arts, London, celebrated 25 years of his art journey in a major show in London and published a monograph in 1997.

Ranbir Kaleka, another star that shines bright on the international horizon, has captured the attention of the world with moving images on canvas redefining both video art and video projections. A Jewish museum in Chicago has commissioned him to make a multi-media installation.

Jiten Thukral, whose work sold at Sotheby's for a whopping Rs 1.8 crore, exhibits from Turin to Tokyo. His admirers include pop star Elton John and art czar Frank Cohen.

Vibha Galhotra is among the few women artists whose name begets attention. Her experimental techniques have earned her a unique place in the contemporary art scene.

Shiv Singh's site-specific works not only dot the City Beautiful but also many cities in Germany.

Viren Tanwar whose paintings were picked up by art collectors like Chester Herwitz way back in the 1970s, can boast of having his works in prestigious museums such as Peabody Essex Museum USA as well as individual collection of Lakshmi Mittal.

Diwan Manna's works can be seen across museums such as Museum of Asian Art, Berlin, Germany and Museum of Modern Art, Saint-Etienne, France. For one particular photograph he was paid Rs 8 lakh, rather steep for a photograph in edition of 10.

Sidharth is another notable painter, whose paintings have a meditative quality and have been acquired by British, Mexican and Swedish ambassadors; the Düsseldorf Museum; Heda, Sweden. He has also made 15 documentaries on Indian temples, art and architecture.

Prem Singh has won the prestigious Triennale India International Award in 1994. His works adorn the Rashtrapati Bhavan, the National Gallery of Modern Art, New Delhi, Lalit Kala Akademi, State Museum, Chennai, Sahitya Kala Parishad and Punjab Raj Bhavan

Other names that bear mention are Mumbai-based Gurcharan Singh younger brother of Prem Singh, Canada-based R.S. Rania and Harjit Kular.