M A I N N E W S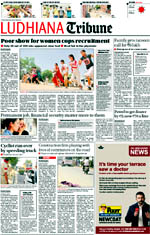 The all-new Ludhiana Tribune
The new-look Ludhiana Tribune being distributed in the city today reflects much more than just a change of design.
It encompasses a wider range of local topics from the city and the district and will bring many new features to you.
An accessible, contemporary design, a new typeface and improved navigation, will, we are sure, enrich your reading experience. We do look forward to your comments.
— Editor-in-Chief