Engrossing self-portrait
Reviewed by Lt Gen (retd) Baljit Singh
Autobiography of Mark Twain: Volume 1
ed. Harriet Elinor Smith. University of California Press, Berkeley. Pages 737. Rs 2,250.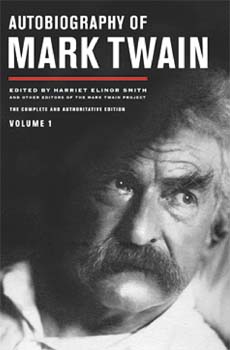 THE book arrived with the elating note, "this is the first copy sold in India; shipped by air". Who could grudge the hefty price tag considering the 737 pages of text, on paper the size of A-4 (almost), inside covers solid as mahogany door-shutters, weighing 1.83 kg of delicious nourishment for those who live on the reading diet. There is not a line which is superfluous and almost each page holds the reader riveted to new episodes, personalities and happenings which mould men and minions into responsible societies.
Perhaps most readers would know that Mark Twain had dictated a 2,650-page autobiography and sealed it with instructions to publish it one hundred years after his death. The book reproduces Mark Twain's handwritten justification for that decision, the only of its kind in this field, thus: "As from the grave. In this autobiography I shall keep in mind the fact that I am speaking from the grave `85 because I shall be dead when the book issues from the press ... I can speak, therefore, freely. When a man is writing a book dealing with the privacies of his life ... he shrinks from speaking his whole frank mind`85. The frankest and freeist and privatest product of the human mind and heart is a love letter. The writer gets his limitless freedom of statement and expression from his sense that no stranger is going to see what he is writing ...he never would have unbosomed himself to that large and honest degree if he had known that he was writing for the public`85"
Having stated all that he was yet to settle on the textual format till it finally flashed across his mind in 1904: "I hit upon the right way to do an autobiography: start it at no particular time of your life; wonder at your free will all over your life; talk only about the thing which interests you for the moment; drop it the moment its interest threatens to pale and turn your talk upon the new and more interesting thing`85"
"Also, make the narrative a combined diary and autobiography. In this way you have the vivid things of the present to make a contrast with memories of like things in the past and these contrasts have a charm which is all their own..."
His one biographer who met his admiration was his daughter, Susy. He frequently quotes in his autobiography from Susy's biography. And it is through Susy that we learn of his scanty formal education: "`85 how readily would papa pretend to be dying so as not to have to got to school. So grandma let him go into a printing office to learn the trade. He did so and gradually picked up enough education to enable him to do about as well as those who were more studious in early life." And of course he went on to author 16 books, each acclaimed a best-seller. Ultimately, he also acquired Honorary LL.D degrees both from Oxford and Missouri universities. With the very first publication in 1867, Samuel Langhorne Clemens chose to be known to the world as Mark Twain.
What Mark Twain states as "one of the happiest half-dozen moments of my life" was when Livy (Olivia) consented to marry him, provided both families so agreed. As the two families lived on the extremities of the two coasts of America, Livy's father asked Clemens who his friends were. And he wrote to the seven of them to inquire about his antecedents. When all the replies arrived, he sent for Clemens. He handed him the seven letters to open and read them out. Livy's exasperated father said, "What kind of people are these? Haven't you a friend in the world". I said, "Apparently not." Then he said: "I'll be your friend myself. Take the girl. I know you better than they do."
Perhaps it was in the 1960s that an interviewer's account of why Clemens had taken "Mark Twain" as pen-name had appeared in a magazine. His sense of mischief came to the fore and he promptly invented this tale. He told the interviewer that his mother had had twins born thirty minutes apart. When the labour-room nurse brought the first, the mother named him Mark and the second Michael. Their mother used to bathe them together in a tub. One day after she had removed one from the tub and dried him with the towel, she moved to the kitchen to put out the cooking-fire. In the meantime the second twin had drowned himself. And in all innocence Clemens ended the tale that no one actually knows. "Whether I am Mark or Michael" but as the first one out of the womb was Mark, so mother persisted with that name for me and hence I remain Mark Twain to eternity!"
Mark Twain's friendship with Ullysses Grant had resulted in the finest portrayal of the General, the President of the USA and above all, the man Ullysses. And he emerges way above the entire pantheon of Greek heroes of eternity put together.