Friends forever
Reviewed by D S Cheema
Shades of Olive Green
by B P S Mander Unistar. Pages 164. Rs. 295.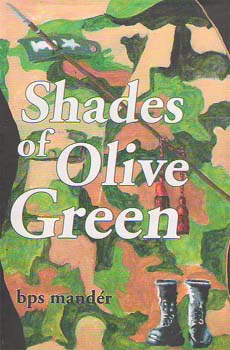 TRUE friendship can result in the highest form of human relationship; a bond purely voluntary and between equals, compelled only by empathy and self-less love.
This book is the story of four friends who galvanise their Lawrence School, Sanawar and National Defence Academy (NDA) background into a unique bond for the sole aim of redeeming the honour of one of them treated unjustly by Army.
Personal and professional lives of four friends with just the right doses of romance, adventure, lust, joy, despair, drama and pathos, make the book a highly readable and valuable fiction. Though the author, a retired Army officer, likes to emphasise that the book is 'entirely a work of fiction' and 'some ideas have been taken from real life incidents', it is hard not to believe that it is a 'personal history' which has been suitably camouflaged to avoid any kind of controversy as Mander's honest confessions and confidential fantasies are reflected in some of the incidents he narrates. The book is set in the backdrop of Kashmir valley where Indian forces have been engaged in low intensity conflict since the creation of Pakistan.
The story of the novel revolves around the lives of four friends referred to as ABCD; the first letters of their first names. The hero is "B" ie Major Baksh Mohammad, who due to certain unforeseen turn of events, gets cashiered from service for using excessive force against Pakistan while posted on Line of Control (LoC). This has major impact on the lives of other three friends, also established professionals. The only aim of Baksh's life after his disgraced exit from the Army is to redeem his honour and pride and get his love, Alima out of the clutches of a terrorist group which is keeping her hostage. Baksh plans a very ambitious mission for this purpose. All his friends support him to the hilt in facing the challenges of this hazardous task.
His friends Aloke, who left the Army and is now a journalist of repute, Chranjit who rises to become the commander of the brigade deployed in the area of interest and Daljeet , a renowned advocate, devote all their efforts to help and support Baksh. Thanks to the competence and untiring efforts of his freinds, Baksh is ultimately cleared of the stigma as he is declared to have been wrongly punished. Charanjit has to sacrifice his life to get Alima her freedom.
The author has chosen an uncommon style for telling an uncommon story. He relates each chapter with a specific time period and scripts the story around activities of different characters during that period He has been immensely successful in weaving a compelling pattern of events in to a beautiful story, forcing the reader to go through all the pages in one go, a rare achievement by a debut author.
The author's description of regimental traditions and service ceremonies is very interesting. When a senior Army officer who himself has been through the thick of counter insurgency operations, tries to wrap the ground realities in the cover of saleable fiction, he may inadvertently and unwittingly reveal some information labeled 'classified' or 'restricted' at that point of time. Some events, actions by different players and happenings are not a perfect fit in the scenarios painted by Mander, but this cannot undermine the quality of the book, since the author has presented it as a work of fiction. For the benefit of an average civilian reader, the author should have added a page to explain certain uncommon Army terms used in the book.
The author presents a deep understanding of human nature in general and that of men in uniform in particular. Mander recalls in print some keen observations of his own feelings during the years spent in Army, with a finesse which many established authors find it hard to achieve. For a reader who can relate with the emotions in the story, dipping in to each chapter is like tasting a favorite dish, which one keeps asking for more. The result of author's profound experiment with prose is bound to encourage him and please the reader.