Love conquers all
Reviewed by Aditi Garg
Delayed Monsoon
by Chitralekha Cedar Books. Pages 232. Rs 150.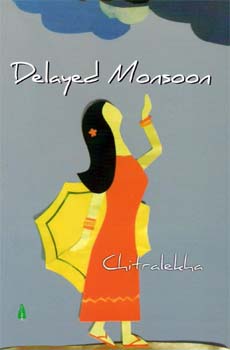 THE way to a woman's heart is, well, through her heart. You can shower her with gifts, get her the moon and do all that you can think of and more and still be nowhere close to her heart. This eternal mystery has a simpler solution. Listen to her, hold her hand, lend her your shoulder to cry on and love her and truly mean it. It will probably win you more brownie points than all the riches in the world put together.
Delayed Monsoon is the debut novel of Chitralekha, wife of an ex-Air Force officer. Her academic particulars are impressive; she holds a Post-graduate degree in Philosophy and has also done her LLB from Calcutta University. She has also taught at various educational institutions before pursuing Law. She is a member of Supreme Court Bar Association and practices in Delhi. Her foray into writing is another feather in her cap. Her writing is simple and but not devoid of depth.
Abhilasha, the central character of Delayed Monsoon, is a very real person, just like you and me or at least someone we know. Her life is plain and ordinary but the choices that she makes are not. She rises above the mundane, follows her heart and finds peace. For some her sense of loyalty may seem skewed but life is not black and white, it encompasses the various shades in between with aplomb. Her loneliness draws her towards the internet, a medium she had known nothing about previously. It is there that she finds companionship. Though it seems an unlikely place, she strikes up friendships that mean something in her otherwise empty life. She learns to deal with the fleeting nature of certain relationships. It also teaches her that there is no point in brooding over things that can't be undone. She finds love in all its variants and cherishes it.
The book gives one an insight into the life of an Air Force officer. It is not for those who shy away from change; nor for those who hanker for stability. On one hand there is the romanticism of new places and newer avenues opening up with each posting, but on the other hand it also means leaving behind good friends and shaking up a routine. In Abhilasha's story, spanning three generations, there is but one constant – the bonding of mother and daughter. When people are faced with dire circumstances there are always choices to be made. The choices that you make define you. You can let the negativity drown you or you can emerge a winner by channelling all you have and turning it into a success. Abhilasha takes the road she feels makes her life easier and worthwhile. She has a spirit that is not easily defeated and finds her hope in the happiness of others.
The author tells her story without judging Abhilasha for the choices she makes and doesn't necessarily defend her. She keeps her characters rooted in reality; neither singing paeans for Abhilasha nor painting the husband as a totally negative character. The only thing that grates is the inclusion of many sub-plots that seem out-of-sync. At times it feels more like reading a blog.