Guardian of the ghazal
In this age of remixes and seasonal stardom, ghazal maestro Jagjit Singh attributes the longevity of his stay in music to dedication and discipline
S. D. Sharma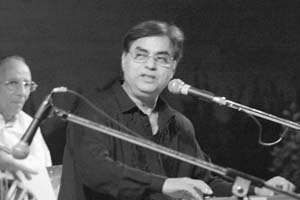 Jagjit Singh devotes two hours to riyaz and exercise daily Photo: Manoj Mahajan
WITH over five decades of sustained and incredible brilliance in vocal music, ghazal supremo Jagjit Singh, along with life partner Chitra Singh, emerged as a doyen of the modern ghazal with the memorable album, Unforgettable, way back in 1976.
Pioneering newer dimensions and directions of ghazal gayaki, Jagjit Singh has maintained his tradition of excellence as a singer and music director in over 50 top-selling albums and films. In City Beautiful for a charity concert for NGO Pararambh, the maestro shared his`A0journey and views on the contemporary music scene.
Hailed as the Shahenshah of Ghazal the world over, with 50 golden years in music, you are still going strong. What is your driving force?
It is imperative to apply the right focus and have crystal-clear aims and objectives, which must be framed with an honest assessment of your calibre and professional potential. A minimum of two hours of riyaz, a long walk, light exercise and yoga keep me rejuvenated for a dayís work.
From the era of ornate poetry of Mirza Ghalib to the present-day lyrics of Munni badnam hui, comment on the music scenario.
Meaningful or mundane poetry had been prevalent in the past also, with takers for both. There is an overall deterioration in lyrics and compositions in films. Fakirís nazm, Kagaz ki kashti, Nida Fazliís Duniya jisse kehte hain or Kafeel Aazerís Baat niklegi are close to lifeís realities and have thus become immortal. Mirza Ghalib was more of a philosopher than a poet, as he talked much ahead of the times, and Shiv Batalvi is another immortal poet.
How are the reality TV shows affecting Indian music and budding singers?
Much has been said about the sentimental blackmail of budding singers, who are too na`EFve to appreciate the centuriesí old rich classical musical heritage of India and fall victims to the alluring designs of the commercial giants, who guarantee overnight stardom and success. The Indian media should educate the talented music prodigies about the exploitation ruled by market considerations. It took over 20 full years of learning and riyaz to register my presence on the musical scene, which today is guaranteed through an SMS or the click of the mouse.
What are the plans for celebrating the completion of your 70 years?
Holding over 70 ghazal concerts in India and abroad, a few albums and reaching out to my audience. After February 8 this year, when the celebrations commenced with an all-India mushaira and concerts with the likes of Pt Hariparsad Chaurasia, Zakir Hussain and others, this was my 24th concert at the PGI and we are just leaving for concerts in Paris, London and other places. A devotional album, Goverdhan, is already out, while a ghazal collection is due for release in July next, all as part of the`A0year-long bonanza.
What makes your ghazal albums so popular and bestsellers?
I believe in quality and longer shelf life of musical creations rather than quantity. I am very choosy about the poetic content. In my performances, I sing the same ghazals but with an entirely different approach and andaaz, duly embellished with jugalbandi by my accompanying instrumentalists.