Tete-a-tete
Firebrand fervour
Nonika Singh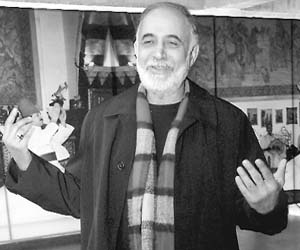 Theatreperson M. K. Raina rues the fact that the space for arts in modern India is dwindling Photo: Parvesh Chauhan
BACK in time when he had just passed out of the National School of Drama (NSD), he had the gumption to throw away an award on the stage. Since then, eminent theatreperson M. K. Raina may have accepted many honours like the Sangeet Natak Akademi Award, Sanskriti Sanman and others. But he has neither lost his courage of conviction, nor the fire in him.
Provoke him, prod him a little and beneath the affable charming demeanour you encounter the fierce intensity of a man possessed. Equally passionate about theatre and life, more so lifeís injustices, he quips: "I am a theatreperson but I am also a human being." Thus, he is as perturbed by insensitivity towards arts as by the plight of street children and other underprivileged sections of society.
Hailing from the state of Jammu and Kashmir but obviously his sensibilities have been shaped both by the turbulence in his home state and its rich heritage, particularly its folk traditions like Bhand Pather. Working with traditional artistes since a long time he says: "The vitality of folk traditions has to be preserved. Only one canít do it as an outsider and has to become part of the folk performers." The urge for turning to oneís roots he explains simply, "When we encounter the limitations of western techniques we dig into our own national reservoir." So itís not J&K alone that beckons him but the whole length and breadth of India.
Come to think of it he who has just come back from a workshop in Nepal takes pride in being a South Asian and feels the "need to connect with our neighbours and create a South Asian cultural bridge." And this he did by creating a performance in Nepali, based on Dharamvir Bharti "Andha Yug."
On the relevance of revisiting plays such as this modern classic, he says, "Indeed, there is a need to reinterpret. Classics anyway have an inherent capacity to be relevant to all times. Thatís why we do it else it would be dead inorganic matter."
Theatre, he firmly believes, has to reflect the times we live in. "From the origins of man, theatre became ritualistic, then religious, then social and political and later, as manís social consciousness developed, theatre responded with the changing of times and histories." he adds.
History, he avers, has to be told again and again for people suffer from amnesia and forget quickly. So, he is planning to make a telefilm out of his hugely successful play "Karmanwaali" based on K. L. Zakirís novel that hovers around Partition. He is also toying with a play taking inspiration from female characters of the Mahabharata. Literature has been a recurring leitmotif in his repertoire ó be it plays like Buhe Barriyan, Tum Sadat Hasan Manto Ho, or telefilms like the one based on Brechtís Caucasian Chalk Circle.
"The trigger," he agrees, "can be a literary piece, a poem or an article, though not all writing can be translated on stage or on small screen." On sailing in different waters ó television, theatre and cinema ó he asserts, "There is no set design or method. Right from the beginning of my career, I have been involved with all three mediums both as an actor and director." And it is not for survival that he has turned to television ---- he has been making documentary films for years and has made Sacred Dances at Hemis Festival for Indira Gandhi National Centre for Arts --- but for sustenance of his creative impulses.
Does being a fine actor, who has acted in several Hindi movies like Taare Zameen Par, New Delhi Times, 27 Down and many others, make him more demanding as a director? He smiles, "On the contrary, I am a fun director." More so, when he works with children, who, he opines, are not to be treated as actors but must be given the freedom to imagine and explore and find their own space.
Alas, he rues that space for arts in modern India is dwindling. Peeved by the renovated Tagore Theatre at Chandigarh, which he dubs as "a monstrosity", he questions agitatedly, "For whom was this place created? For corporates to hold their functions or for arts? By making the rentals exorbitant, Tagore Theatre has become out of bounds for theatre groups, yet no one is bothered." To the cultural czars sitting in the government offices he entreats, "Donít do tamasha in the name of promoting arts. Take measures that will change artistsí lives that will sow the seeds of culture firm and deep." The government departments he observes are more keen on organising festivals where their own functionaries can be garlanded.
Spoken like the true uninhibited Raina, who canít resist taking a jibe at the powers that be. The candour, he confesses, hasnít come easy. "One has to pay a price for it." Yet nothing has and is going to stop this cultural activist from saying it the way it is or doing things the way he believes. Arts, he understands, canít usher in a revolution but like small waves that can shape rocks, it can be a significant tool of change.