food talk
Pack a meal
This roti-subzi wrap can be enjoyed hot or cold, doesn't leave behind greasy fingers and can be portioned easily
Pushpesh Pant

SUMMERS are, in our mind, indelibly etched as vacation time. "No more Hindi, no more French! No more sitting on the hard old bench!" It has always been the season to take off on trips and excursions — preferably to hill stations, and of course, to change the menu in sync with the rising mercury. And, talking of travel, our mind goes into reverse gear in the time machine to relive mouth-watering moments — devouring goodies from the tiffin-carrier packed from home — puri, kachori, parantha, matthi and what not. Those were the days when 'packed fixed-price meals' weren't served by the Railways and air travel was beyond the reach of even the comparatively well-heeled. This was the time when disease-causing microbes multiplied and eating at the roadside dhaba was strictly prohibited. To cut a long story short, the monotony of the fare was oppressive. Packed sandwiches were even more boring. As a child and adolescent, one yearned for fast finger food while on the move. This was till we discovered the curry puff prepared by the enterprising khansamah in an obscure Dak bungalow. This was a small crescent in puff pastry packed with leftover mince spiced up for reusing. Better than a patty, more exotic than a samosa; needless to say that we fell in love with it at first sight. The problem was that it required extraordinary baking skills to produce the filling snack. Ages passed before we encountered a calizza, a folded pizza that reminded us of the long lost friend but this delicacy, too, was hard to have regularly at home. Since we have come across many 'wraps' desi and firangi but have not really been wowed by any. The recipe we share with our readers this time is a deserving candidate for the prime spot in homemade travel food category. Its beauty is deceptively bewitching. Bare to bones, it is a roti-subzi wrap that mimics the curry puff and can be enjoyed hot or cold, doesn't leave behind greasy fingers, can be portioned easily and the recipe avoids heavy difficult to digest ingredients. It can be paired with a wide variety of accompaniments and in addition, it lends itself to infinite variations. The stuffing may be savoury or sweet; in short it fully deserves the title gujiya e nayaab!
Gujiya Nayaab
Ingredients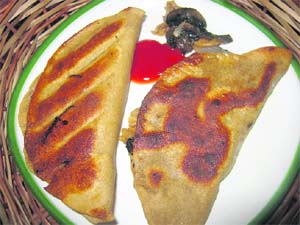 Prepare dough for chapattis 8-10
Button mushrooms (wiped,
clean and sliced) 100 g
Sweetcorns (boiled-steamed
for a couple of minutes) 100 g
Onion (large, peeled,
chopped fine) one
Fresh ginger (scraped
and diced small) 1 inch piece
Oil 2 tsp
Green chillies (deseeded
and chopped) two
A sprig of fresh coriander/mint (chopped fine)
A large pinch of garam masala or dried mixed herbs of choice
Salt to taste
Method
Roll out the dough into discs of about 15 cm diameter. Grease a thali lightly with oil and put the chapatti in it. Heat oil a non-stick frying pan and add the onions, corn and mushrooms in it. Stir-fry on high flame for three to four minutes.
Now add garam masala/mixed herbs and salt. Reduce flame and cook for two more minutes. Remove and add chillies, coriander, mint and ginger. Divide in equal portions and place on one half of the chapatti disc. Fold over to form a crescent. Press to seal and bake in a pre-heated oven at 180`BA for 15 minutes or pan-grill till brown patches appear. Enjoy.