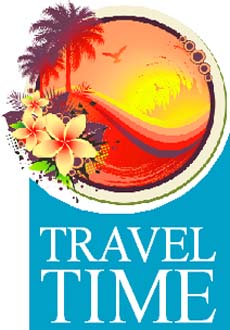 STAR TREK
Celebrities spell out their favourite summer destinations in a chat with Jyothi Venkatesh
Partying in panvel
SALMAN KHAN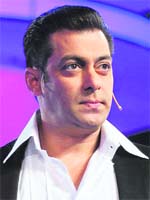 IF you ask which is my favourite holiday place in the entire world, without hesitating even for a minute, Iíd say that it is an exotic lush location with lots of open spaces, where I make it a point to go at least once in every three months, with all the members of my family, including my parents, brothers, my sister Alvira and brother-in-law Atul Agnihotri. If you are still wondering, which is the place that I am so fond of, hereís the cue: Itís name starts with the letter ĎPí. No, it is not Poland, as you may think, but Panvel, which is near Mumbai in Maharashtra. I am fond of the place because we have a big and lovely farmhouse there, where I grow a lot of fruits and we have many dogs, too.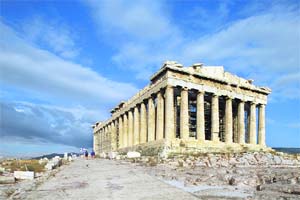 Greek grandeur: Athens holds an ageless appeal for Arjun Rampal and his family Thinkstockphotos/getty images
Gaga about Greece
ARJUN RAMPAL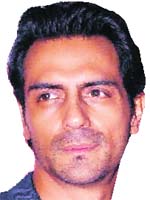 If I had to pick the most beautiful country for me to holiday in with my family, Iíd say: East or West, Greece is the best. It is almost like a ritual for us to plan an annual holiday. Though we have still not decided where to chill out for the summer this year, it was Greece where we went last year. It is simply fabulous. I do not know about the others, but I plan a trip only during my daughterís summer holidays, so that we all can get enough time to be with each other and enjoy ourselves.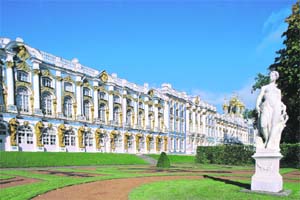 Sights of st petersburg: This summer finds Bipasha in Russia, for the shooting of Players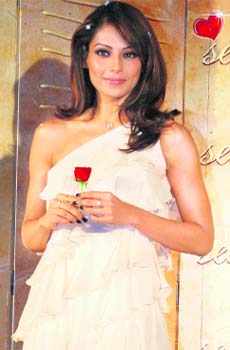 From Russia with love
BIPASHA BASU
I have been to various places all over the world, both on personal vacations as well as for work. In fact, I am quite excited about being in Russia, where I will be shooting for Abbas and Mustanís latest film Players, with Abhishek Bachchan, this summer. It is not only a nice way to beat the sweltering heat of Mumbai, but also a cool place to chill out as well as work. However, the drawback you have to face as an actress is that when you have shooting schedules back to back, even if you do go abroad, it is all work and little play. Hence, you really cannot enjoy your foreign holidays. As far as India is concerned, all that I can say is that I prefer to chill out in Goa. I simply adore the blue sky, golden beaches, pools, spas and the yummy food that is available at joints in Goa.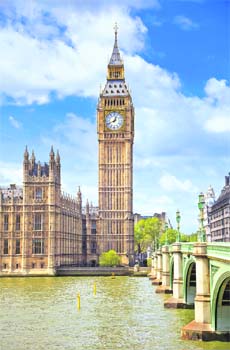 Big Ben Beckons: London is the second home and preferred shopping spot for Shakti Kapoor
Lounging in London
SHAKTI KAPOOR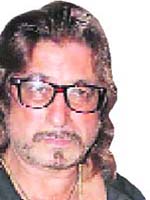 I like two places in the world a lot. They are London and Thailand. I have shot for a lot of films in London. I like it for its good food, though I must say that a stay in London can be quite expensive. Thailand is quite cheap and you can fly to there at cheap ticket rates, which cost 80 per cent less than even Delhi. I have always preferred to spend my summer holidays in London with my family, In fact, for my wife Shivangi, son Siddharth and daughter Shraddha, London is like a second home and it is our shopping destination, too.
I like to buy shop for shoes and jeans in London because not only are they sturdier but also of better quality than what you get in the US, though they cost you just half the amount compared with London. The shoes bought from London do not wear out even after three years. Yet, all said and done, I feel that India is the best place for shopping nowadays.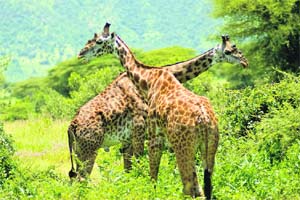 Safari struck: Music director Shravan loves Nairobi
african allure
SHRAVAN
I simply love Nairobi, because it is one of the rare places on earth which is very neat and clean. The climate in Nairobi is also excellent almost throughout the year. The mornings are pleasant and the evenings are chilly. I remember having gone to Nairobi when I was just a 17- year-old teenager, with my younger brother Roop Kumar Rathod and father. As a child, I loved the fact that the place abounds with giraffes and elephants. We brought some lovely pendants from Nairobi to distribute to our relatives at that time. Nairobi, thus, tops my wishlist of places for a long vacation.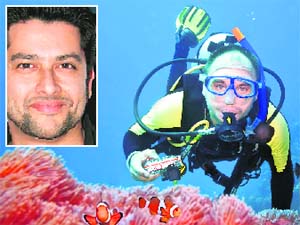 water baby: Aftab plans to go scuba diving in Thailand
High on Thai
AFTAB SHIVDASANI
Since I am very fond of scuba diving, I am eagerly looking forward to going to Thailand this summer, not just to spend a vacation but also to enroll myself for an advanced course in this adventure sport.
I always make it a point to go chill out and enjoy my summer vacation, instead of signing films left, right and centre.
After Aloo Chat, I have not launched any other film.