Carnival to remember
If you are in London during the tulip season, you must visit Regentís Park to see these flowers in full bloom, says Daksha Hathi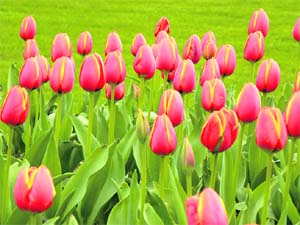 Tulip is a flower with resemblance to the royal turban of the East Photo by the writer
THERE was a tulip carnival on at Regentís Park in London in April, and the good news was that it was free! This huge garden for the public, in Central London, had gone mad with tulip fever, and it was hard to cover the whole visit in one day.
On my first trip, I fell upon the tulip deluge in two long rows in its floral court. It was so enchanting that it robbed two hours of the day, gifting it with every possible colour and design of this flower that has made people steal, lie, rob and go to prison for it in the countries where it blooms. It is the flower with its resemblance to a royal turban of the eastern world, which makes it often triumph over the rose.
Tulip is the Latin translation of the Turkish word for turban, tulbend. It also often resembles a very stylish cap worn by Vogue models. It can be whiter than milk, post-box red, bronze, yellow-gold-orange-red or plain purple.
When a band of mixed rainbow turbans climb high over a lion-legged bowl to greet the sun with their beauty, one knows what the word exotic really means.
Tulips grew in Turkey before they were introduced to France and Holland and England by a French botanist named Carolus Clusius. They quietly began to travel around the world with their solemn sweetness. Tulipomania splashed down upon the Europe gardening world in 1630 with prices skyrocketing for single bulbs. Speculators went mad trying to make huge profits from this new prince of the garden.
Walking through the tulip maze in Regentís Park, it was easy to imagine how this floral enchanter could have caused such a manic carnival of huge profits and losses, disharmony, hatred, and all things unpleasant wherever human malice and greed multiply. Luckily, poets and artists redeemed this dark dribble of human pettiness with their imagination and creativity. The Dutch are foremost today in cultivating and exporting tulips.
In Regentís Park it is fun to gloat over tulips in the company of fat, white and grey blue pigeons, small squirrels and other birds who walk along side you bravely, hoping to get a few titbits from your picnic lunch of sandwiches. Carrying a bag of grains with the lunch makes the day for an army of pigeons who collect for a family picnic, gobbling up the leftovers while the tulips turn the day over into unbelievable magic. Beyond the floral carpets, there is the lake filled up richly with all the varieties of ducks, swans and other water birds that Regentís Park is so amazingly wooing with its bird-friendly practices.
But to fall for the tulip, you only have to reach Regentís Park in London through the underground in April and May, and you will lose your heart without any regrets. But to lose your soul you must meet the water birds, and that is another story.
As I click photos of the heavenly flowers, my Nikkon Coolpix regretfully says: "Battery is exhausted." I reluctantly head home, thinking no jealousy lives in the floral circuit, or else the rose would need to be sorely troubled by this serene stunning turbaned upstart in the garden.
If you are ever in London during the tulip season, take the tube to Waterloo, then get into the Bakerloo line to reach Regentís Park. It is then a five or seven minute walk to the Tulip Festival. Remember to get into the tube after 9-30 when you pay half the rate for your all day ticket to go all over London.