On the movie trail
Journey has been a recurrent motif in our films. Deepa Karmalkar takes a look at Hindi films that had travel as the protagonist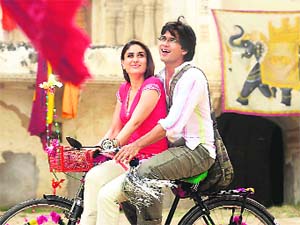 The lesser-known towns of Bathinda and Ratlam acquired a glamorous sheen when Kareena and Shahid travelled through them in Jab We Met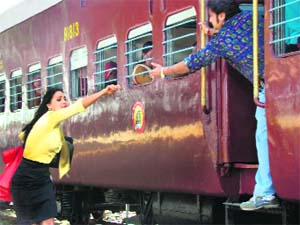 Chalo Dilli had Lara Dutta sharing a ride with Vinay Pathak from Jaipur to Delhi
RECENTLY when filmmaker Anurag Kashyap missed his flight while attending CPH-PIX film festival in Copenhagen, Denmark, he had to take six trains to reach Rome! This unique travel adventure has inspired him to make a new film.
Well, this won't be the first time a filmmaker is incorporating element of travel in his film. Travel has been a recurrent motif in our films. Most recently, Chalo Dilli had Lara Dutta sharing a cab with Vinay Pathak from Jaipur to Delhi as her flight develops a technical snag — and evidently the crazy, bumpy ride results in strange attraction between the two. Similarly, when Ranbir Kapoor and Priyanka Chopra made a suicide pact in Anjaana Anjaani and assigned last 20 days to travelling to Las Vegas and swimming in the Atlantic Ocean, the last leg of travel altered their viewpoint completely.
Of course, the lesser-known towns of Bathinda and Ratlam acquired a glamorous sheen when Kareena and Shahid Kapoor travelled through them in Jab We Met. Then Shah Rukh Khan romanced Kajol on the Euro train in Dilwale Dulhaniya Le Jayenge! Train travel has always had a romantic connotation in films. Remember Raj Kumar's baritone in Pakeezah urging Meena Kumari ,"Yeh paon zameen par mat rakhiye`85maile ho jayenge" then Rajesh Khanna yodelling away merrily "Mere sapno ki rani`85" in Aradhana with a dimpled Sharmila looking out of train window, and Dev Anand singing "Uparwala jaan kar anjaan hai`85" in Kala Bazar to Waheeda Rahman reclining on the berth above. Indeed in the recent times, "Chaiyya Chhaiyya" from Dil Se and Saif Ali Khan singing "Kasto mazaa hai`85" on the toy train to Darjeeling in Parineeta have added fun to films.
Bus travels have also been inspiring filmmakers, like Honeymoon Travels Pvt Ltd had six couples on a four-day bus trip from Mumbai to Goa. And years ago, when Mumbai was called Bombay — a gawky Amitabh Bachchan wooed a gauche Aruna Irani on a bus in Bombay to Goa. Way back in 1956, Raj Kapoor and Nargis took a bus ride to Bangalore in Chori Chori. This version of Shakespearan Taming of The Shrew was revived 35 years later as Dil Hai Ki Manta Nahin with Aamir Khan and Pooja Bhatt.
Recent road movies include Ram Gopal Varma's Road in which Vivek Oberoi and Antara Mali, travelling in an SUV, end up giving lift to a psychopathic killer played by Manoj Bajpai. Then, Heroes had two friends taking a motorcycle trip to three diverse destinations in India — verdant Punjab (Preity Zinta), mountainous Ladakh (Mithun Chakraborty) and the forested climes of Himachal Pradesh (Sunny Deol) to deliver special letters. From being merely picturesque locations, travel has graduated to playing an important 'role' in films.