Mamata to take over as Bengal CM on Friday
Tribune News Service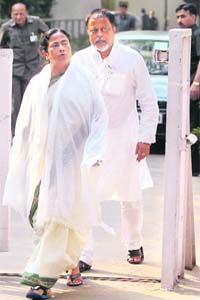 TMC supremo Mamata Banerjee with party leader Mukul Roy after meeting with Congress chairperson Sonia Gandhi in New Delhi on Monday. — PTI
New Delhi, May 16
Carrying a big bouquet in her hands and a broad smile on her face, Trinamool Congress leader and West Bengal Chief Minister-designate Mamata Banerjee met Congress president Sonia Gandhi this afternoon and followed it up with the Prime Minister Manmohan Singh to invite them both to attend her swearing-in ceremony.
While his busy schedule may not permit the Prime Minister to attend the ceremony, Sonia is expected to be there in Kolkata on Friday when Mamata is sworn in as the Chief Minister.
Mamata also invited the Congress to join her government. "I have invited the Congress. They will let me know," a beaming Trinamool chief said after she emerged from Sonia's 10 Janpath residence. While a section of party leaders would like the Congress to stay away, sources indicated the Congress would join Mamata's government, in the same ratio they won the seats vis-a-vis the Trinamool Congress.
Sonia was seen putting her arm around Mamata's shoulders and guide her inside her residence. Asked who would be the next Railway Minister, Mamata said the Trinamool Congress would like to retain the portfolio. Currently holding the Railway Minister portfolio, speculations are that she would like Trinamool Congress general secretary Mukul Roy to succeed her in the Centre.
"Mukul (Roy) is the general secretary of the party. Mukul was not there when I met Soniaji. The Prime Minister will decide who will be the next Union Railway Minister, but the Trinamool Congress wants it to be with us... but it is the Prime Minister's choice," she said as she proceeded to meet the Prime Minister at his 7 Race Course Road residence.
Later, she said she had told the Prime Minister that she would like another member of her party to get the Railways portfolio. "He is a good man," Mamata said, adding, "I won't ask for more portfolios". The Prime Minister is likely to reshuffle the Cabinet after he returns from his foreign tour.